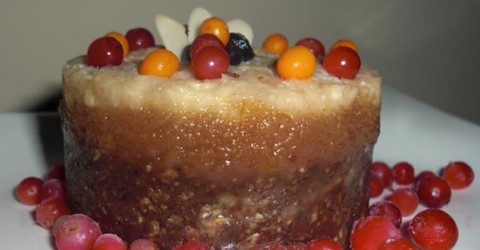 Ingredients:
5 apples
½ tsp. & ¼ tbsp. cinnamon
1 tbsp. raisins
1 tsp. flax-seed flour
4 spoons chopped walnuts
1-2 tbsp. baby oat flakes
6 dried plums
6 dried apricots
¼ tsp. Bourbon vanilla powder
1 small quince or 4 tbsp. dried cranberries
¼ tsp. fresh ginger
Drops of fresh lemon juice, honey and water
Optional
Acacia honey or 1 tsp. carob powder
PREP
10 mins

READY IN
30 mins

SERVES
4 People
Instructions:
Bottom layer:
2 Apples (core-free), 1/2 teaspoon cinnamon, 1 tablespoon raisins, 1 teaspoon flax-seed flour, few drops of water. Optional: 1 teaspoon of carob powder and few drops of acacia honey. Blend to get a smoothie or mix it in a food processor. Add and stir in 4 spoons of chopped walnuts and 1-2 tablespoons of baby oat flakes or oat flakes flour and rest for 15 min to absorb the liquid and give a firm consistency. Arrange the bottom layer using a metal ring and pressing slightly to make sure it settles equally.
Middle layer:
3 Apples (core-free), 6 dried plums, 6 dried apricots, 1/4 teaspoon Bourbon vanilla powder. Blend slightly for a few seconds all ingredients or mix shortly in a food processor with few teaspoons of water (or without water if you soaked the dried fruits for few hours previously). Add it on top of the bottom layer, using the metal ring and settling equally.
Top layer:
Fresh quince or dried cranberries jam (1 small quince or 4 tablespoon dried cranberries mixed in a food processor with acacia honey, ¼ teaspoon of fresh ginger, few drops of freshly squeezed lemon juice, ¼ tablespoon cinnamon). Add it on top of the second layer and decorate with fresh fruits.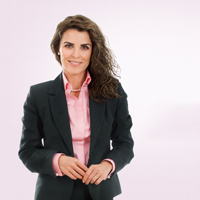 Cristela Georgescu is a certified health coach practicing in Europe, advocating for health and whole food, plant based diets within corporate wellness or community workshops. She is graduate from the CNS/eCornell plant based nutrition program.