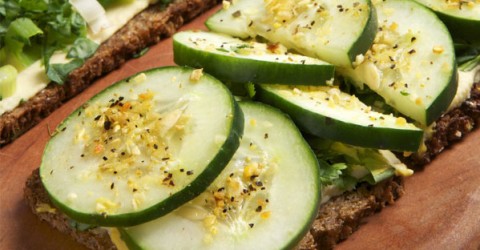 The layer of kale and mustard together in this sandwich is delicious, particularly when you use a great mustard. We love True Natural Taste Sweet and Spicy Creamy White Mustard, available at truenaturaltaste.com.
PREP
5 mins

YIELD
2 servings
Ingredients:
2 slices whole-grain bread, toasted
2 to 3 tablespoons hummus prepared without tahini or oil
1 green onion, chopped
¼ cup fresh cilantro, chopped
2 medium kale leaves, chopped into bite-size pieces (about the size of cilantro leaves)
½ small cucumber
Mustard of choice
Lemon pepper (Mrs. Dash and Frontier brands have no salt)
Instructions:
Spread the toasted bread generously with hummus. Sprinkle the green onion, cilantro, and kale evenly over the hummus.
Slice the cucumber into 8 rounds and spread each round with a thin layer of mustard.
Place the cucumber rounds, mustard-side down, on top of the cilantro-kale layer and press down, if necessary, so they stay in place.
Sprinkle the open-faced sandwich generously with lemon pepper, cut in half or quarters, if desired, and serve.

Reprinted from The Prevent and Reverse Heart Disease Cookbook by arrangement with Avery Books, a member of Penguin Group (USA) LLC, A Penguin Random House Company. Copyright © 2014, Ann Crile Esselstyn and Jane Esselstyn.