Grains Newsletter for May 2014.
Whether the latest diet debate centers around gluten-free, Atkins or Paleo, carbs are a hot topic these days. The problem is, the discussions typically cluster all carbs into one category: "bad", and thus all carbohydrate-rich foods, such as grains, are also labeled. The reasoning goes like this: all carbs, and therefore all grains, are unhealthy, fattening and strictly to be avoided, to the point where some shoppers will pay $10 a package for Paleo Wraps. The fallout of this oversimplification keeps a lot of us steering clear of a really important fiber and nutrient source.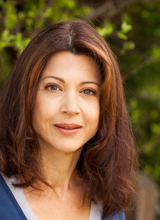 Elizabeth Borelli completed her eCornell Certificate in Plant-Based Nutrition in 2012. She is an award-winning author for her new book Beanalicious Living, mother-of-two, blogger, speaker, yogi, and enthusiastic home chef. For delicious plant-based whole grain recipes, visit ElizabethBorelli.com.