Center for Nutrition Studies Staff Picks for Best Plant-Based Restaurants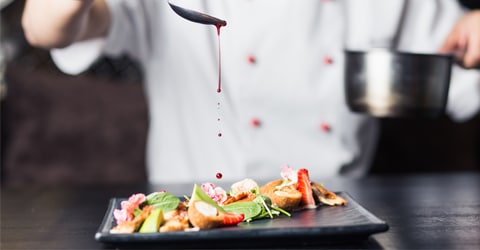 The T. Colin Campbell Center for Nutrition Studies does not endorse any products or services. The following are "staff picks."
For some people, eating a whole food, plant-based (WFPB) diet will require dramatic lifestyle changes. But regardless of whether you are first starting on a WFPB diet or are a long-time veteran of the healthy lifestyle, you do not need to skimp on delicious tastes, textures, or options! It's easiest to sustain a WFPB diet at home; when we cook (and even better, grow our own food) we can control exactly what we put into our bodies. But what about those days when we do not feel like cooking, or when we want to gather with a group of friends and/or family to enjoy a meal prepared by someone else as a treat?
It is no secret that maintaining a WFPB diet while dining out is more difficult than doing so while cooking at home. Added oils are common, excess sugar is everywhere, processed foods are hard to avoid, and plant-based options can be hard to come by depending on where you live. But do not fear! Plant-based, vegetarian, and vegan options in restaurants are gaining popularity, making them more commonly accessible for restaurant-goers worldwide.[1] Sites like Happy Cow make it easier than ever to find plant-based options near you.
While WFPB options might be on the rise, plant-based beginners and veterans alike can still benefit from a few pointers when it comes to dining out. Here to share some of their top picks for plant-based restaurants are the WFPB staff at the T. Colin Campbell Center for Nutrition Studies.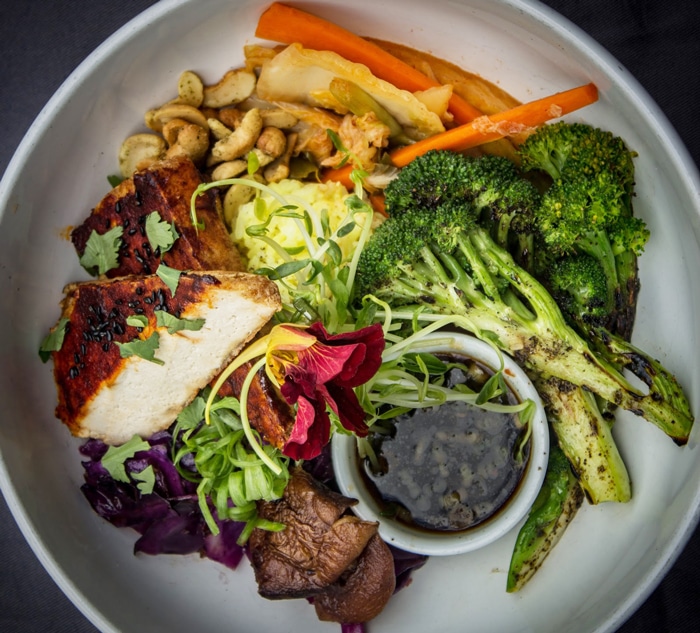 Photo Courtesy of Plant Vegan Restaurant
April's Pick: Plant Vegan Restaurant, Asheville, North Carolina
Plant is a fully plant-based restaurant in North Carolina founded by Jason Sellers, Leslie Armstrong, and Alan Berger in 2011.[2] This midscale dining establishment offers a menu that is not only vegan but about 90% organic, often locally sourced, and mostly gluten free. CNS staff member April notes that her favorite dish is the green curry tofu. According to her, "the vegetables are always incredibly fresh, and the flavors are unique and vibrant. I also really love that purple cabbage is almost always a part of the dish! Another great dish there is the raw lasagna."
Maintaining a whole food, plant-based diet while dining out may be a learned skill, but it is not impossible. Don't be afraid to ask for your food prepared in a certain way, such as without added oils or sugar.
There are only 13 tables (47 seats total) in the restaurant, and so, "the atmosphere is small, intimate, and relaxing." Most importantly, the staff are known to be incredibly kind and accommodating to all their plant-based guests and take food allergies and dietary restrictions seriously. Because of this, it is quite likely you could ask for a dish that adheres to a WFPB, oil-free diet!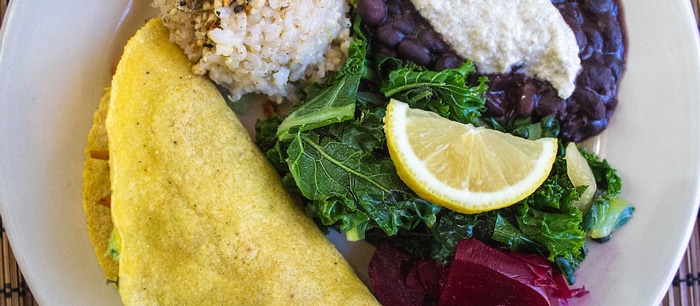 Photo courtesy of Casa De Luz
Samira's Pick: Casa De Luz, Austin, Texas
Casa De Luz is a completely WFPB restaurant that offers organic and macrobiotic menu items that are free of gluten, oil, and all refined sugars—what a place! The restaurant is part of a wellness community center that hosts meditation events, speakers, and an early education language immersion Montessori school. Samira notes that, "the atmosphere is very Zen and you really get that Austin hippie vibe. Casa De Luz really just gives you a whole body reset." Casa De Luz is also special to Samira because it is where she had her first meal with her now long-time partner.
It's a cafeteria style restaurant that serves three set meals a day. The meals consist of a soup, a salad with a nut-based dressing, and an entrée of pre-soaked whole grains and beans, dark leafy greens, and fermented and pickled foods with a nut-based sauce on the side. As the restaurant explains, "soaking improves flavors and textures, shortens the cooking time, and aids in digestion and absorption of nutrients."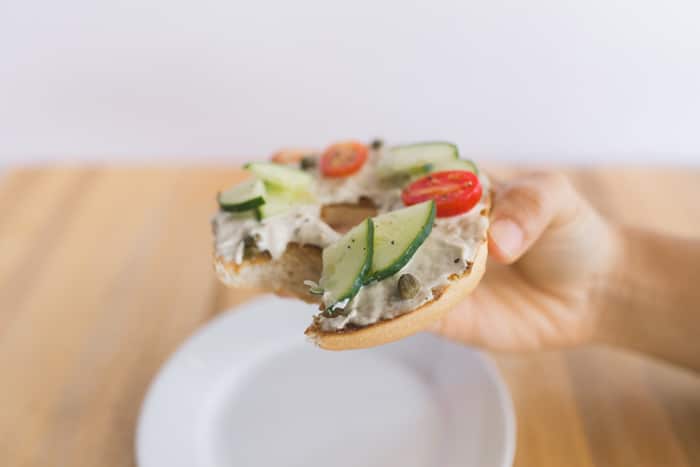 Photo courtesy of Love Food Cafe
Chef Del's Pick: GreenFare Organic Cafe, Washington D.C.
GreenFare is a fully WFPB restaurant that offers a wonderful variety. From comfort food BBQ jackfruit to wild mushroom enchiladas, everything is organic and oil free. GreenFare also serves as a community learning center that hosts, "events including cooking classes, book signings, and kickstart programs, among others to stimulate thinking about the impact of our food choices on ourselves, our families, the environment, and animals." Chef Del Sroufe has even taught one of their cooking classes! Their compassionate approach to food and community aims to nourish "healthy people and a healthy planet,"[3] making this a truly special place to eat. Both the owner, ​​Gwyn Whittaker, and the operations manager, Pericles Silva, are graduates of the Plant-Based Nutrition Certificate program from the T. Colin Campbell Center for Nutrition Studies and eCornell.
Jill's Pick: Love Food Central, St. Petersburg, Florida
Love Food Central is a fully plant-based, gluten-free casual restaurant in sunny St. Petersburg, Florida. Its menu is packed with freshly made comfort foods, including vegan burgers, cheeses, and dressings that feature organic, local, and non-GMO ingredients whenever possible.[4] Let's be honest, who could resist a, "housemade beet & black bean burger topped with arugula, roasted cremini mushrooms and avocado on toasted sourdough with spicy 'awesome sauce'"? Jill's favorite part of this restaurant is that, "the food is truly made with love. This laid-back, health-focused cafe makes everything in-house with fresh, local ingredients."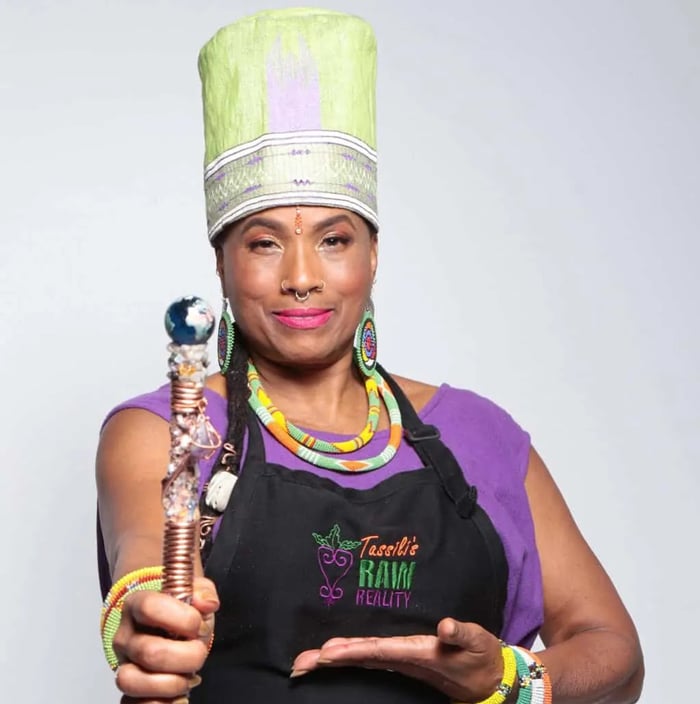 Photo courtesy of Tassili's Raw Reality
Sharme's Pick(s): Papi Ali's Plant-Based Latin Kitchen, Tucker, Georgia & Tassili's Raw Reality, Atlanta, Georgia
Papi Ali's, located in Tucker, Georgia, describes itself as "Delicious. Healthy. Plant-Based." Their menu features mouth-watering South American staples including (all plant-based) ceviches, burritos, empanadas, and tacos as well as American-style sandwiches and build-your-own bowls.
As the name suggests, Tassili's Raw Reality is a fully raw vegan restaurant. Its casual atmosphere features menu items that appeal to vegetarians, vegans, flexitarians and veteran raw plant-eaters with international dishes and Afrocentric ambiance. Tassili's Raw Reality is employee-owned, and founder Tassili opened the restaurant with seven core principles in mind, known as the Ngoza Saba:,[5-6]
1. Truth: Demonstrate integrity through credibility, reliability, and intimacy with minimum self-orientation.
2. Justice: Treat everyone fair and equal.
3. Harmony: Have a sustainable relationship with the planet, community, and local economy.
4. Balance: Take into account the big picture as well as the fine details.
5. Order: Take a systematic approach to prioritize and operate a Ma'at-based business.
6. Reciprocity: Cultivate the seeds of gratitude.
7. Propriety: Be courteous and professional at all times and demonstrate the Ngoza Saba.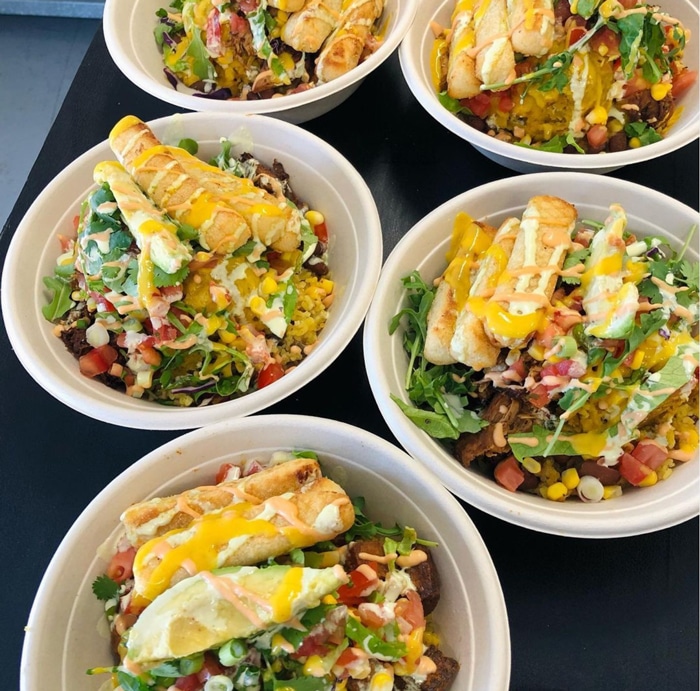 Vanessa's Pick: Boca Fresca, Orlando, Florida
Boca Fresca is a small business that offers take-out vegan Puerto Rican bowls. Diners can make a bowl and choose their own combination of white rice, rice with gandules, quinoa, jackfruit "Pernil," sweet plantains, Puerto Rican style beans, mixed greens, tofu, mofongo mash, avocado, corn, tomatoes, and an array of homemade sauces. Their mission is to "translate the flavors of our Hispanic-Latin cultures and traditions in a more sustainable recipe to our health and the health of our planet."[7] Check out their mouth-watering photos on Instagram.
LeAnne's Pick: Pizza Coco, Las Terrenas Dominican Republic
Whenever she's in the Dominican Republic, LeAnne is fortunate to eat local foods daily, consisting of many fresh fruits and vegetables, as well as the Dominican staples: rice and beans. But for a special treat, she enjoys a visit to Pizza Coco, a local pizzeria owned by an Italian couple who are 30-year expats of the Dominican Republic. It is not a fully plant-based restaurant, but dishes can easily be altered to adhere to a WFPB diet. LeAnne's favorite menu item is the vegetable pizza without cheese. "The crust is super thin and the sauce is amazing with lots of fresh herbs," she says. "They then add baked eggplant, sliced chayote (a squash that, when cooked, is similar to zucchini), artichokes and mushrooms." LeAnne describes it as an extremely special place to eat because it is located on one of the most beautiful beaches in the world. She says, "It's making my mouth water just thinking of it… which is odd because in the States I would not have chosen a pizza restaurant!" If you find yourself in Las Terrenas and looking for a nice beachside eatery, LeAnne would meet you here!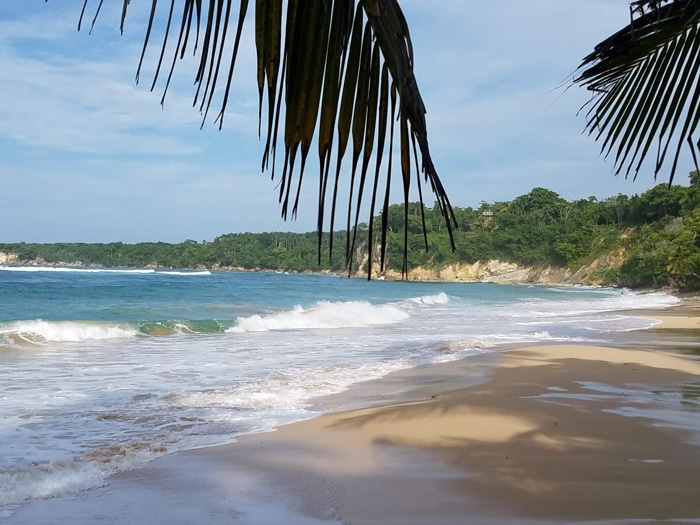 Mike's Pick: Blossom on Columbus, New York, NY
New York City is known for its world-class cuisine, and plant-based options are no exception. Blossom on Columbus and its sister location, Blossom on University, offer fully plant-based menus unique to their locations. While their menus are different, their mission and goals are shared: "bring animal-caring, health conscious cuisine to food lovers everywhere." They feature organic ingredients from local farms and distribution centers around the New York City area. Mike's favorite menu item is the jackfruit tacos, but he also says, "the 10-vegetable stir fry dish is delicious and can be made with vegetable broth and/or water instead of olive oil." An added bonus, Mike notes, is that although alcohol doesn't have a place in a WFPB diet, Blossom does offer an impressive alcohol and gluten free drink menu. At the end of your meal at Blossom, you can also benefit from a 10% discount to your bill if you support the Catskill Animal Sanctuary (either through volunteering or membership).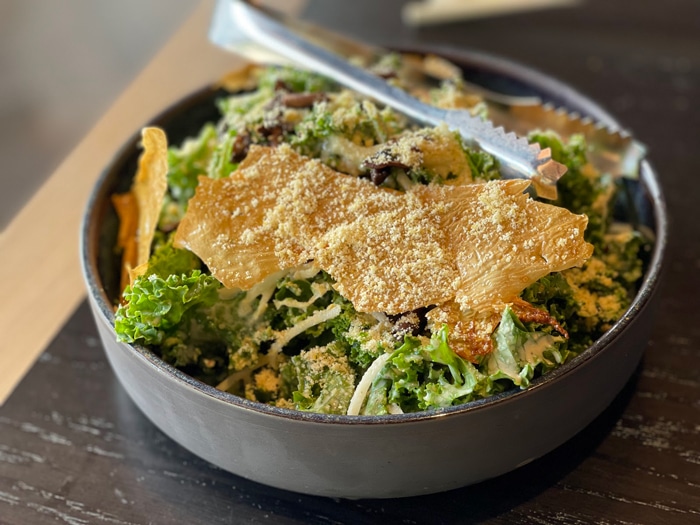 Evelisse's Pick: Planta, Coconut Grove, Florida & Casa Macro, Monterrey, Mexico
Planta in Coconut Grove, Florida is an upscale fusion restaurant featuring a fully plant-based menu and a wide variety of mouth-watering dishes for sharing (or to keep all for yourself!) With a full menu of vegan sushi, small plates starring vegetables, chilled and raw items, and dumplings. A couple of Evelisse's top menu choices are:
Pad Thai Slaw
Wonton Soup
King Caesar Salad
Bok Choy (this is only seasonal, they had eggplant available last time)
Singapore Noodles
Planta opened in 2016 with the goal to, "expand the accessibility and acceptability of plant based dining; dining as it should be — an unguilty pleasure" and to, "champion plant-based living as a way to better our health, our communities, and our planet."[8]
Casa Macro is a casual, fully plant-based, macrobiotic restaurant in Monterrey, Mexico. It offers Mexican staples such as tacos, as well as plant-based burgers and sandwiches. They also offer grain-free versions of their menu items upon request.
Jennifer's Pick: Kale Me Crazy, Wilmington, North Carolina
Jennifer loves the vegan wrap available at Kale Me Crazy when she visits Wilmington, North Carolina, as well as a number of their vegan smoothies. This casual cafe has affordable plant-based options including wraps, toasts on organic sprouted breads, bowls, salads, and other vegetarian options that can be modified to fit a WFPB diet.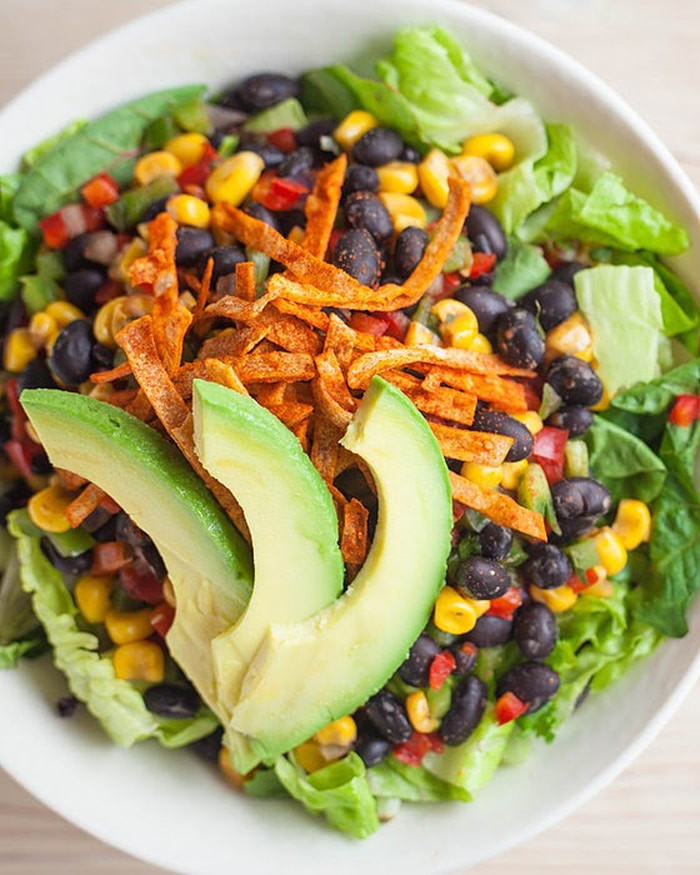 Photo courtesy of Sunflower Cafe, Nashville, TN
Natasha's Pick: Sunflower Cafe, Nashville, TN
Natasha describes The Sunflower Cafe in Nashville, TN as, "a warm, welcoming cafe with home-style food." While all the food is plant-based, not every option is oil-free and you can request dairy cheese (the default is no dairy on any dish). You can easily identify which options are oil and gluten free, or ask servers about omitting oils from your dish. They offer salads, wraps, bowls, hearty sides, and burgers and sandwiches. Natasha recommends the American Burger!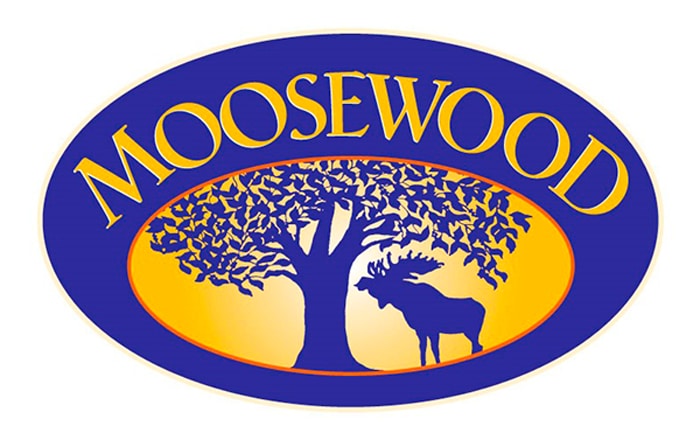 Photo courtesy of Moosewood.
Chyan's Pick: Moosewood, Ithaca, NY
Moosewood is a famous vegetarian restaurant whose menu encourages patrons to eat less meat. While not completely WFPB, there are several dishes that can be adapted to fit the diet. Chyan's favorite dish is the "Red Bean Jambalaya." Aside from the food, what makes Moosewood special is their collective effort to keep the entire establishment safe, happy, and secure. The restaurant is collectively owned and operated by all 19 of its staff members. They believe fostering a community is more important than having one boss or leader. They proudly describe themselves as "leaderless" and focus on a communal effort based on teamwork and communication. Their staff also write cookbooks to help patrons cook more at home—and enjoy the process!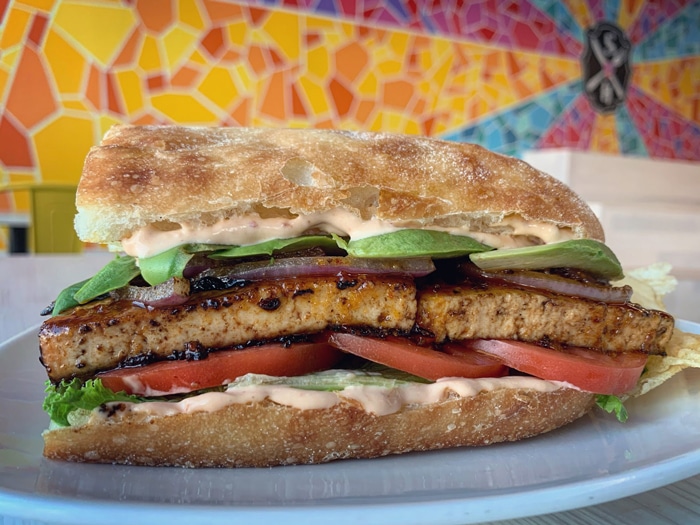 Photo courtesy of Strong Hearts Cafe, Syracuse, NY
Sarah's Pick: Strong Hearts, Syracuse, NY
Sarah's favorite vegan cafe is Strong Hearts, which has two locations in Syracuse, NY. While not all of the menu items are fully WFPB, Sarah explains that, "the staff are friendly, and the owners are awesome," so don't be afraid to ask for your dish to be prepared a certain way to help make it as healthy as possible. Sarah has been going to this cafe for 12 years. She describes its first location as, "a small cafe with charm and character," while its newer location is larger and can accomodate more customers due to the high demand for its great food! Her favorite item on their menu is the "Sweet Sassy Molassy" sandwich with grilled maple chipotle tofu, avocado, grilled onion, tomato, lettuce, on freshly made stretch bread (omit the chipotle aioli for an oil free option). Sarah also shares that many of their staff have volunteered on Sea Shepherd ships—a conservation organization dedicated to stopping illegal fishing and whaling in the open seas. This organization was featured in Netflix's documentary film Seaspiracy. Colleen Alexander, author of this article, conducted an interview with the directors of this film; watch it to learn more about sustainability in our food system and the industrial fishing industry.
Maintaining a WFPB diet while dining out may be a learned skill, but it is not impossible. Don't be afraid to ask to have your food prepared in a certain way, such as without added oils or sugar. Check sites such as Happy Cow or trip review sites to know which restaurants can accommodate vegan, WFPB, gluten-free, or oil-free diets. If you are traveling, it is worth asking locals about plant-friendly options in the area—they will know best! If you try any of these CNS staff picks, please share your dining experience in the CNS Facebook group!
References
Copyright 2022 Center for Nutrition Studies. All rights reserved.