My breast cancer treatment in early 2014, which included a double mastectomy, 9 months of chemotherapy and 35 radiation treatments, left me really scared and scarred mentally, physically, and emotionally. Sitting there bald, pale, and quivering, just waiting for the cancer they said could come back at any time. Since I knew about the health benefits of kale and acai berries, I thought maybe there was something to the idea of avoiding cancer recurrence through food. I decided to ask my oncologist. "What foods should I be eating or not eating to keep the cancer from coming back?". My oncologist answered matter-of-factly, "It doesn't matter what you eat. I want you to take these pills for the next 10 years, which are proven to reduce your risk of cancer recurrence."
I was furious as she repeated to me that food makes no difference. But then I realized she truly believed that—they served cupcakes and cheese crackers in the chemo room! So I went home and consulted "Dr. Google." I was searching "cancer and food" and "nutrition and cancer" and came across the documentary, "Forks Over Knives." While watching that documentary, I was struck by lightning when T. Colin Campbell, PhD, explained how his research found that eating animal protein turns cancer cells on and not eating animal protein turns cancer cells off. In fact, he could turn on and turn off cancer cells in the lab by changing the level of animal protein exposure every 21 days. Watching that film, I was so overwhelmed by the medical evidence showing the dietary causes of disease—cancer, obesity, type 2 diabetes, and heart disease—that I adopted the whole food, plant-based way of eating overnight. I thought, "Finally, something I can do for myself!"
Keep it simple! Start with dishes you know and love which are already whole food, plant-based instead of trying to recreate meat dishes or looking to alternative (fake) processed meat or cheese products sold in the store. Examples of naturally vegan dishes include oatmeal for breakfast, minestrone soup for lunch, and rice with beans and corn on the cob for dinner. You can also make all kinds of salads made with a variety of vegetables, grains and beans. Rely on fruit for enjoying sweets and even for breaking a sugar addiction. On my website is a free Naturally Vegan Food Cheat Sheet with more than 30 foods and snacks to help make the switch simple.
Following a whole food, plant-based diet helped me take back power over my health. It is the single biggest variable I can control and that feels good. I lost 40 pounds since finishing my cancer treatment and I've never felt or looked better in my whole life. When my husband joined me in this plant-based path a year and a half after me, he lost the extra 15 pounds he was carrying and lowered his cholesterol from high to way below the normal threshold. Even more amazing, his lifelong, chronic and debilitating daily allergies subsided after about 3 weeks, and that's what ultimately cemented this lifestyle change for him!
Right after watching "Forks Over Knives," I thought, "I've got to tell this to EVERYBODY" so I went to NYC to become certified as a Vegan Lifestyle Coach & Educator at MainStreet Vegan Academy. At first I was mainly helping people to change their food habits. I then enrolled in the Plant-Based Nutrition Certificate program as I thought it would provide me with a better understanding of why this food has the power to reverse chronic disease and how to use it that way for my clients. Since completing the program, I started a facebook group with thousands of members all going vegan for their health. I've also run several insanely successful 10-week whole food, plant-based, no-oil online group weight loss programs. In addition, I coach local and private clients one-on-one and teach online classes within private facebook groups. Last November, with my husband, I added whole food, plant-based adventure/cooking retreats! I have started to share my story at speaking engagements and I offer cooking workshops at local area VegFests and for local area plant-based physicians. My whole life has been blown wide open, and I cannot thank Dr. T. Colin Campbell enough for the work he has done. It has allowed me to change countless lives, including my own!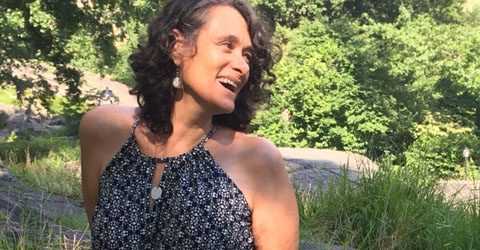 Copyright 2019 Center for Nutrition Studies. All rights reserved.