Palm Oil: Nutrition, Health Effects and Substitutes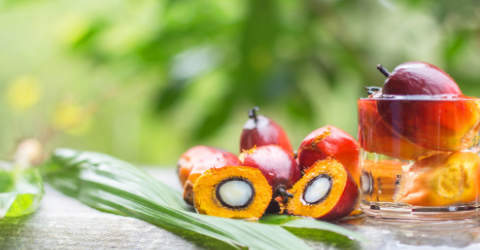 Palm oil is a common ingredient in packaged foods and a staple at several fast food and quick-service restaurants. Since it's found pretty much everywhere, it's important to understand palm oil's potential health effects and what substitutes to use if you choose to avoid this ingredient in your diet.
Why so many foods contain palm oil
Because growing palm fruit is considered both economical and efficient, palm oil is a cheap way for manufacturers to add texture to their products and prolong shelf life. It also has a high smoke point (the temperature at which an oil begins to decompose, releasing visible toxic fumes), making it a stable medium for frying chips or fast food. It also doesn't go rancid as easily as other oils, is naturally solid at room temperature, and contains no trans fats.
That's why you'll find palm oil in foods like bread, chips, crackers, roasted nuts, salad dressing, nut butters, cereal, protein bars, vegetable stock cubes, desserts, instant meals, whipped topping, and butter substitutes.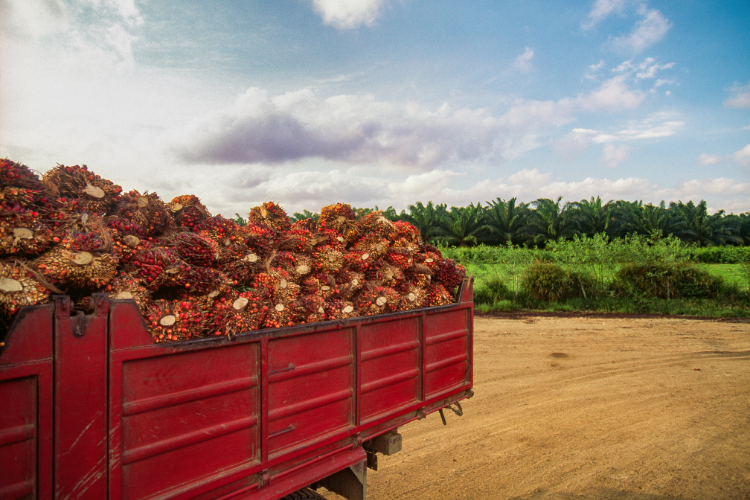 Is palm oil healthy?
Like all extracted oils, palm oil is 100% fat. However, this fact alone doesn't make it unhealthy. It does contain some beneficial fats as well as small amounts of fat-soluble vitamins. According to self.com's nutrition data, one tablespoon of palm oil contains:
119 calories
13.5 g fat
6.7g saturated fat
5 g monounsaturated fat
1.3 g polyunsaturated fat
27 mg omega 3 fats
1228 mg omega 6 fats
2.2 mg vitamin E
1.1 mcg vitamin K
The high saturated fat content is why palm oil is solid at room temperature. This may also be why some evidence suggests palm oil can raise your LDL cholesterol. Consuming old or reheated palm oil may also increase heart disease risk due to a difference in vitamin E levels.[1]
This potential risk to heart health suggests you should use caution when deciding whether to eat products containing palm oil. This isn't an issue if you avoid all extracted oils. A completely whole food, plant-based (WFPB) diet will contain no palm oil. But what if you aren't 100% WFPB all the time? Some science suggests that eating small amounts of palm oil on occasion—such as in a vegan cupcake on your birthday or a few packaged treats at Christmas—may not be harmful in the context of an otherwise healthy diet.
Palm oil health science
Reviews of multiple studies on how palm oil affects health conclude that "moderate intake … within a healthy diet" poses "no risks for health."[2] Although the reviews don't define moderate, there does appear to be a tipping point at which palm oil becomes problematic. For example, eating palm oil in place of foods high in trans fats and saturated fats from other sources appears to improve blood lipid profiles. But replacing monounsaturated and polyunsaturated fats in a Mediterranean-style diet with palm oil appears to make those same blood markers worse.[3]
One small study of 16 women with high cholesterol showed that eating palm oil compared to other oils like soybean and rice bran "significantly increased" small dense LDL.[4] This type of LDL is most likely to increase heart disease risk.[5]
However, because of its prevalence in food, it can be difficult to find a direct correlation between palm oil consumption and increased heart disease risk. Diets that include palm oil vary widely in food preferences, refined sugar intake, fat percentage and additional fat sources.[6] The position of fatty acids within the palm oil molecule may also change how the body absorbs it, which can have an impact on its health effects.[7] (Note that this particular review was funded in part by an organization with an interest in palm oil.)
Potential palm oil benefits
There is some science showing that palm oil could have health benefits:
The high vitamin E content may provide antioxidant protection for fats in the brain and help prevent damage that can lead to dementia and stroke.[8]
Switching from a diet high in trans fat to a diet that contains palm oil may lower LDL and raise HDL.[9]
However, these effects aren't unique to palm oil. You can get similar benefits (and more), with less risk, by switching to a plant-rich or completely plant-based diet.[10], [11]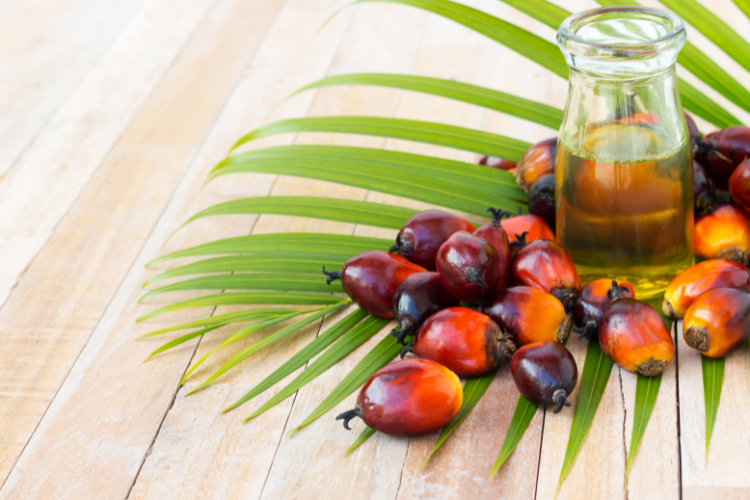 Palm oil substitutes
Avoiding palm oil in your daily diet is fairly simple if you're following a WFPB eating pattern that excludes ultra-processed foods. However, since plant-based staples like nut butter may also contain palm oil, always check ingredient labels for palm oil or its derivatives.
When you're cooking or baking and need a substitute that functions similarly to palm oil, try these alternatives:
cashew butter for moist, chewy cookies;
almond flour to add fat and moisture to baked goods;
avocado for flaky biscuits;
minimally processed or homemade plant-based yogurt in desserts; and
sweet potato or pumpkin puree in breads.
In addition to acting as fat alternatives, these substitutes provide nutrients that palm oil lacks.
However, palm oil is an interesting reminder that the nutrition story is more complex than it appears. Its effects depend on dietary context, and there's no clear consensus on a healthy or safe consumption level. Until science offers some concrete conclusions, it's safe to assume that palm oil doesn't offer any benefits you can't get from eating a variety of whole plant foods.
References
"Palm Oil: Is It Good for You? Pros and Cons, Nutrition Information, and More." WebMD. https://www.webmd.com/diet/palm-oil-health-benefits.
Gesteiro, Eva, Luis Guijarro, Francisco J. Sánchez-Muniz, María Del Carmen Vidal-Carou, Ana Troncoso, Lluis Venanci, Vicente Jimeno, Joan Quilez, Arturo Anadón, and Marcela González-Gross. "Palm Oil on the Edge." Nutrients 11, no. 9 (2019): 2008. doi:10.3390/nu11092008.
Gesteiro, Eva, Jesús Galera-Gordo, and Marcela González-Gross. "Aceite De Palma Y Salud Cardiovascular: Consideraciones Para Valorar La Literatura." Nutrición Hospitalaria 35, no. 5 (2018): 1229. doi:10.20960/nh.1970.
Utarwuthipong, T., S. Komindr, V. Pakpeankitvatana, S. Songchitsomboon, and N. Thongmuang. "Small Dense Low-Density Lipoprotein Concentration and Oxidative Susceptibility Changes after Consumption of Soybean Oil, Rice Bran Oil, Palm Oil and Mixed Rice Bran/Palm Oil in Hypercholesterolaemic Women." Journal of International Medical Research 37, no. 1 (2009): 96-104. doi:10.1177/147323000903700111.
"Small Dense LDL: Risks, Healthy Levels, Prevention, and More." Medical News Today. https://www.medicalnewstoday.com/articles/small-dense-ldl.
Ismail, Sophia Rasheeqa, Siti Khuzaimah Maarof, Syazwani Siedar Ali, and Azizan Ali. "Systematic Review of Palm Oil Consumption and the Risk of Cardiovascular Disease." Plos One 13, no. 2 (2018). doi:10.1371/journal.pone.0193533.
Gesteiro et al. "Palm Oil on the Edge." Nutrients 11, no. 9 (2019): 2008. doi:10.3390/nu11092008.
Spritzler, Franziska. "Does Palm Oil Have Health Benefits?" Healthline. February 09, 2022. https://www.healthline.com/nutrition/palm-oil#TOC_TITLE_HDR_5.
Fattore, Elena, Cristina Bosetti, Furio Brighenti, Carlo Agostoni, and Giovanni Fattore. "Palm Oil and Blood Lipid–related Markers of Cardiovascular Disease: A Systematic Review and Meta-analysis of Dietary Intervention Trials." The American Journal of Clinical Nutrition 99, no. 6 (2014): 1331-350. doi:10.3945/ajcn.113.081190.
Chauhan, Abha, and Ved Chauhan. "Beneficial Effects of Walnuts on Cognition and Brain Health." Nutrients 12, no. 2 (2020): 550. doi:10.3390/nu12020550.
"New Meta-Analysis Finds a Plant-Based Vegetarian Diet Is Associated with Lower Cholesterol." Medical Xpress – medical research advances and health news. Medical Xpress, August 22, 2017. https://medicalxpress.com/news/2017-08-meta-analysis-plant-based-vegetarian-diet-cholesterol.html.
Copyright 2022 Center for Nutrition Studies. All rights reserved.