Traditional Irish Brown Soda Bread – Vegan Style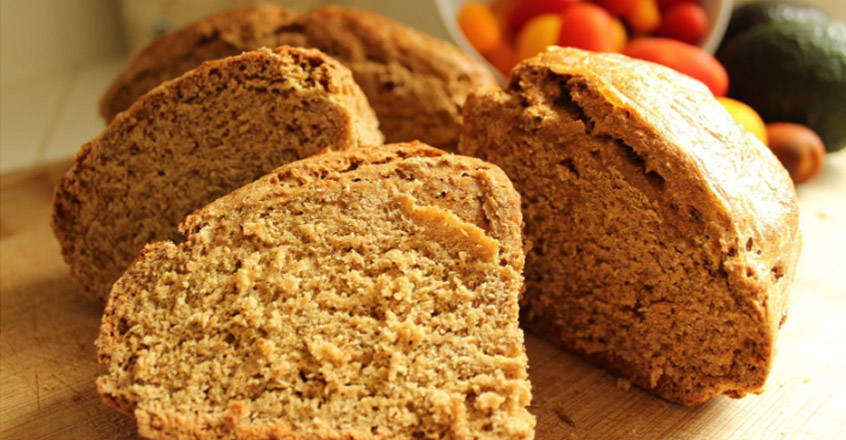 A couple of months into my plant-based journey, I began to miss my little Sunday ritual of making my Irish grandmother's traditional Brown Soda Bread. It's so simple and satisfying to make, that after trying, and spectacularly failing to find an equally delicious alternative, I decided to come up with my own vegan version of it. And although it's taken a good few weeks of fine-tuning, I think I've finally cracked it. Not wanting to stray from the original recipe too much, I substituted only what was absolutely necessary in order to keep the taste as authentic as possible. I'm super happy, and proud, of the outcome, as I know my grandmother would not only give me her seal of approval but also join me in having a nice oven-warm slice together with a delightfully strong cup of black tea!
What You'll Need
---
1-¾ cup whole wheat flour
1-¾ cup white whole wheat flour
2 Tbsp unsweetened applesauce
1 cup unsweetened, plain soy milk
How to Make It
---
1 Preheat oven to 425 degrees F.
2 Mix the ground flaxseed together with 3 Tbsp water in a bowl and leave to stand for about 10 minutes.
3 Pour the soy milk into a separate bowl and add the juice of the squeezed lemon. Let it stand for about 15 minutes – once it thickens and curdles, it's ready for use.
4 Sift both flours together and add to another bowl.
5 Add the salt and baking soda.
6 Add the applesauce, quickly kneading it into the flour with your fingertips until you reach a breadcrumb-like texture.
7 Add the flaxseed mixture, also working it in with your fingertips.
8 Make a well in the center, pouring in about 3/4 cup of the soy milk mixture.
9 Bring the dry and wet ingredients together, using your hand like a mixer to bind each together into a ball.
10 Dough should be soft, but not too sticky. Add more liquid as needed – usually only about 1 cup overall is required, but you will know by its feel/consistency if a little extra should be used.
11 Turn out onto a floured surface, and then flatten out into circular shape approximately 1½-inch deep.
12 Place on a parchment-lined baking tray.
13 Boil cornstarch and 1/4 cup water in a small saucepan until clear.
14 Cut a cross on the top, and then brush on the cornstarch glaze.
15 Bake in the oven for 15 mins at 425 degrees F, then turn down to 375 degrees F and cook for a further 25 minutes.
16 To check if cooked, insert a clean knife into the loaf and see if it comes out clean, OR, if you tap the base, it should sound hollow.
17 Remove, and cool on a wire rack.
Copyright 2022 Center for Nutrition Studies. All rights reserved.