Traditional Irish Brown Soda Bread – Vegan Style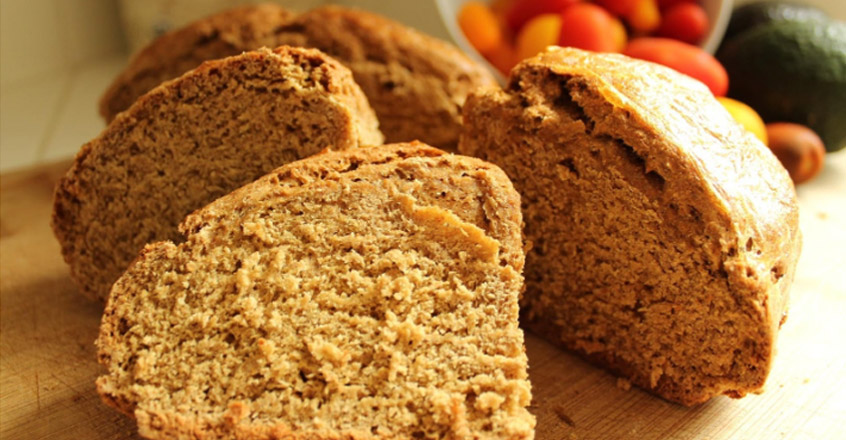 1-¾ cup whole wheat flour
1-¾ cup white whole wheat flour
2 Tbsp unsweetened applesauce
1 cup unsweetened, plain soy milk
1 Preheat oven to 425 degrees F.
2 Mix the ground flaxseed together with 3 Tbsp water in a bowl and leave to stand for about 10 minutes.
3 Pour the soy milk into a separate bowl and add the juice of the squeezed lemon. Let it stand for about 15 minutes – once it thickens and curdles, it's ready for use.
4 Sift both flours together and add to another bowl.
5 Add the salt and baking soda.
6 Add the applesauce, quickly kneading it into the flour with your fingertips until you reach a breadcrumb-like texture.
7 Add the flaxseed mixture, also working it in with your fingertips.
8 Make a well in the center, pouring in about 3/4 cup of the soy milk mixture.
9 Bring the dry and wet ingredients together, using your hand like a mixer to bind each together into a ball.
10 Dough should be soft, but not too sticky. Add more liquid as needed – usually only about 1 cup overall is required, but you will know by its feel/consistency if a little extra should be used.
11 Turn out onto a floured surface, and then flatten out into circular shape approximately 1½-inch deep.
12 Place on a parchment-lined baking tray.
13 Boil cornstarch and 1/4 cup water in a small saucepan until clear.
14 Cut a cross on the top, and then brush on the cornstarch glaze.
15 Bake in the oven for 15 mins at 425 degrees F, then turn down to 375 degrees F and cook for a further 25 minutes.
16 To check if cooked, insert a clean knife into the loaf and see if it comes out clean, OR, if you tap the base, it should sound hollow.
17 Remove, and cool on a wire rack.
Copyright 2020 Center for Nutrition Studies. All rights reserved.