Dr. T. Colin Campbell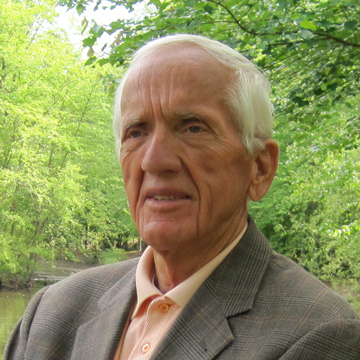 For more than forty years, Dr. T. Colin Campbell has been at the forefront of nutrition research. His legacy, the China Project, is the most comprehensive study of health and nutrition ever conducted. Dr. Campbell is a professor Emeritus at Cornell University and is most well-known for co-authoring the bestselling book The China Study with his son, Thomas Campbell, MD. In addition to his long and outstanding career as an author, scientific researcher, and Cornell professor, Dr. Campbell has been featured in several documentary films. He is the founder of the T. Colin Campbell Center for Nutrition Studies and the online internationally-recognized Plant-Based Nutrition Certificate offered by the T. Colin Campbell Center for Nutrition Studies in partnership with eCornell. He currently serves as the Chairman of the Board.
Dr. Campbell's expertise and scientific interests encompass relationships between diet and diseases, particularly the causation of cancer. He has focused on nutritional status and long term health. Surprisingly, Campbell started his life on a dairy farm, but is now widely-known for researching links between animal-based protein diets and disease.
Campbell has conducted original research both in laboratory experiments and in large-scale human studies; received over 70 grant-years of peer-reviewed research funding (mostly with NIH), has served on several grant review panels of multiple funding agencies, and has authored over 300 research papers. Campbell has served on many national and international expert committees with mandates to develop food and health policy positions and is the recipient of several awards, both in research and in citizenship.
He was trained at Cornell University (M.S., Ph.D.) and MIT (Research Associate) in nutrition, biochemistry and toxicology. T. Colin Campbell spent 10 years on the faculty of Virginia Tech's Department of Biochemistry and Nutrition before returning to Cornell in 1975 where he presently holds his Endowed Chair as the Jacob Gould Schurman Professor Emeritus of Nutritional Biochemistry in the Division of Nutritional Sciences.
Since the publication of The China Study in 2005, Dr. Campbell has given more than 600 lectures in the U.S. and abroad. More recently, Campbell published Whole (May 2013), as well as The Low-Carb Fraud (Feb 2014). He was featured in the very successful 2011 documentary, "Forks Over Knives" and 2015 documentary "PlantPure Nation". Through his ground-breaking scientific research and his on-going efforts to educate the public concerning the benefits of the whole food plant-based lifestyle, Dr. Campbell has positively impacted the lives of thousands of people including health professionals (doctors, nurses, pharmacists, dietitians, etc.), community advocates, caregivers, parents, health coaches, lifestyle counselors, massage therapists, policy makers, athletes, coaches, chefs, vegetarians, vegans, and others who value long-term health.
Photos
Research & Career Highlights