T. Colin Campbell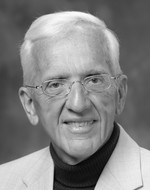 Trained at Cornell University (M.S., Ph.D.) and MIT (Research Associate) in nutrition, biochemistry and toxicology, T. Colin Campbell spent 10 years on the faculty of Virginia Tech's Department of Biochemistry and Nutrition before returning to Cornell in 1975 where he presently holds his Endowed Chair (now Emeritus), as the Jacob Gould Schurman Professor Emeritus of Nutritional Biochemistry in the Division of Nutritional Sciences.
Dr. Campbell's principal scientific interests have been on the effects of nutritional status on long term health, particularly on the causation of cancer. Campbell has conducted original research both in laboratory experiments and in large-scale human studies; received over 70 grant-years of peer-reviewed research funding (mostly with NIH), has served on several grant review panels of multiple funding agencies, and has authored over 300 research papers. Campbell has served on many national and international expert committees with mandates to develop food and health policy positions and is the recipient of several awards, both in research and in citizenship.
In 2005, Dr. Campbell co-authored the book The China Study with his son, Tom (MD, family practice), and since its publication has given more than 500 lectures both in the U.S. and abroad. More recently, Campbell published Whole (May 2013), as well as a new smaller book, Low Carb Fraud (Feb 2014). The very successful 2011 documentary movie, "Forks Over Knives" features his work and that of his colleague, Caldwell Esselstyn, MD. Dr. Campbell founded the nonprofit, T Colin Campbell Center for Nutrition Studies, which is now headed by his son, Thomas M. Campbell, MD.
Research & Career Highlights