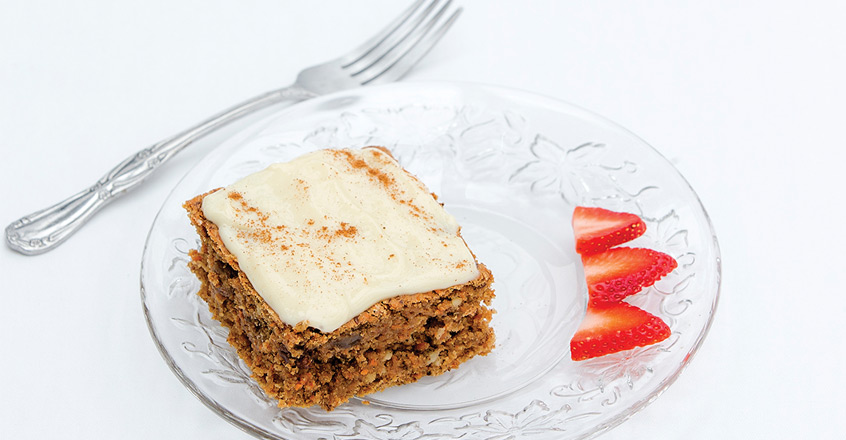 Ingredients
Carrot Cake
3 Tbsp flax meal
9 Tbsp (just over ½ cup) hot water
1 cup Sucanat
½ cup unsweetened applesauce
1 cup nondairy milk
1 tsp vanilla extract
2 cups finely processed or shredded carrots
2 cups whole wheat pastry flour
½ tsp sea salt
2 tsp baking powder
½ tsp baking soda
2 tsp Pumpkin Pie Spice
½ cup finely chopped walnuts
½ cup raisins
Frosting
7 oz extra-firm tofu
½ cup raw cashews or cashew butter
¼ cup agave nectar
¼ cup water
½ tsp vanilla extract
⅛ tsp sea salt
Instructions
Carrot Cake
1. Preheat oven to 350°F. Line a 9 × 12 inch pan with parchment paper and set aside.
2. In a small bowl, mix together the flax meal and water. Let stand for 1–2 minutes.
3. In a mixing bowl, combine the Sucanat, applesauce, milk, vanilla, carrots, and flax meal mixture.
4. In another bowl, combine the flour, salt, baking powder, baking soda, and pumpkin pie spice. Add to the applesauce mixture along with the walnuts and raisins. Gently mix until all the ingredients are wet. Do not overmix.
5. Pour the cake batter into the prepared pan, smoothing the top with the back of a spoon.
6. Bake for 20–25 minutes, or until a toothpick inserted into the center comes out clean.
Frosting
1. Place all frosting ingredients into a Vitamix or other high-powered blender and blend until smooth and creamy.
2. Refrigerate for 1–2 hours so the frosting will thicken.
Cooking Tips
1. The frosting can easily be made into a chocolate frosting by adding 1/4 cup or so of unsweetened cocoa powder. How much depends on how dark and rich you want the chocolate flavor.
2. If you do not have a high-powered blender, you may want to soak the cashews beforehand or use cashew butter instead of raw cashews
100% online, learn at your own pace
Instructor led format
No prerequisites
Continuing education credits