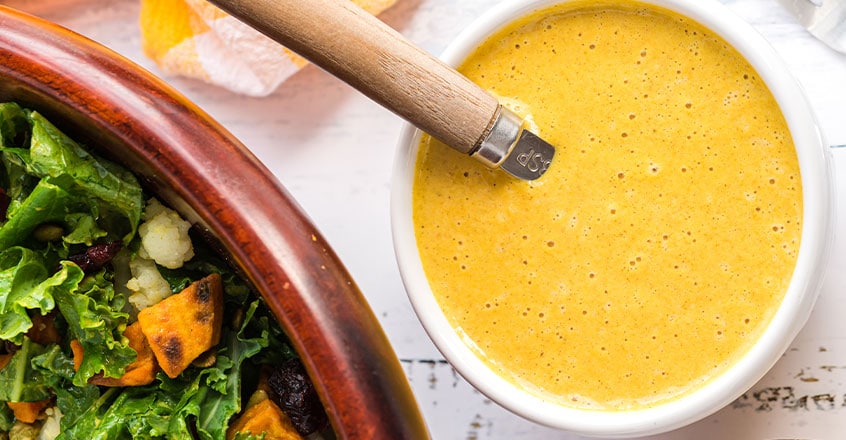 Reprinted from Dreena's Kind Kitchen: 100 Whole-Foods Vegan Recipes to Enjoy Every Day (BenBellaBooks, 2021)
What You'll Need
---
¼ cup unsweetened applesauce
1 Tbsp tahini or 2 Tbsp non-dairy yogurt
2-3 Tbsp water, plus more as needed
2 ½ Tbsp apple cider vinegar
1-2 Tbsp pure maple syrup
Freshly ground black pepper to taste (optional)
How to Make It
---
1 Combine all the ingredients in a blender or use an immersion blender, starting with 2 Tbsp of water and 1 Tbsp maple syrup.
2 Puree until smooth. If you'd like to thin it, add additional water as desired, but note that the dressing will thicken with chilling.
3 Taste and season with extra maple syrup, salt, and/or pepper to taste. Serve immediately or store in an airtight container in the refrigerator for up to a week.
Cooking Tips
The addition of a small amount of tahini adds an extra level of thickness and richness to the dressing. If using the tahini, you may need a touch more water to blend and thin to the desired consistency. If you cannot eat sesame or you want the dressing lower in fat, you can leave the tahini out or use the yogurt alternative.
Copyright 2022 Center for Nutrition Studies. All rights reserved.