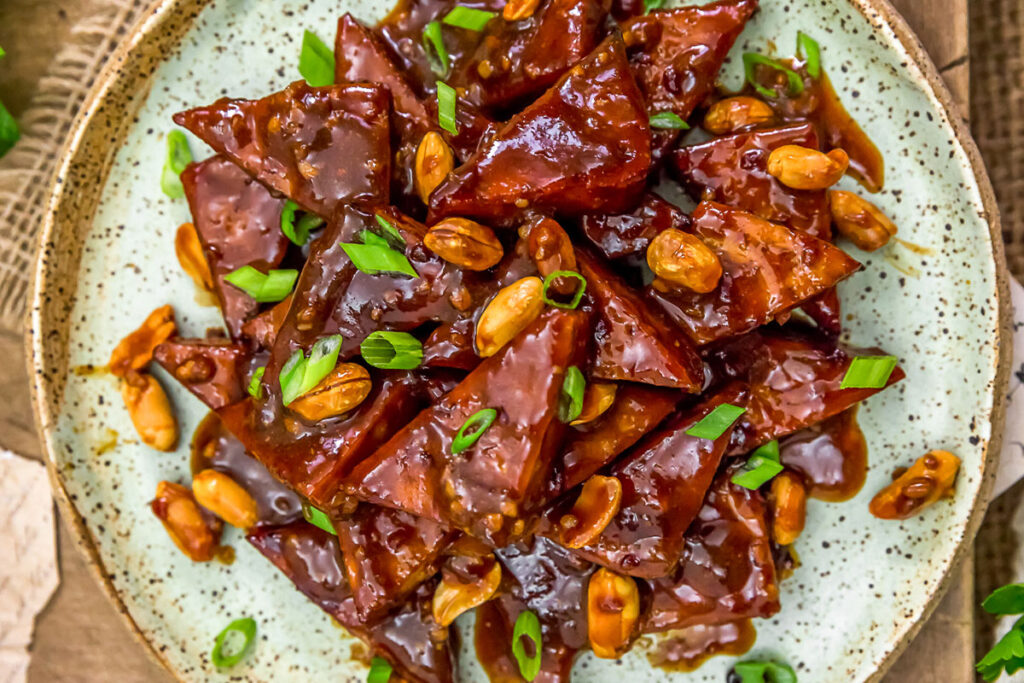 Ingredients
14–16 ounces extra firm tofu, pressed for 30 minutes
¼–¾ cup roasted unsalted peanuts (optional)
Freshly sliced green onions (optional)
Marinade
1 Tbsp minced garlic
1 tsp minced ginger
2 Tbsp reduced-sodium tamari
2 Tbsp low-sodium vegetable broth
2 Tbsp maple syrup
2 tsp molasses (see tips)
2 Tbsp rice vinegar
1 tsp tahini
¾–1 ½ tsp chili garlic sauce
⅛ tsp Chinese five-spice powder
Sauce
1 Tbsp minced garlic
1 tsp minced ginger
2 Tbsp reduced-sodium tamari
2 Tbsp low-sodium vegetable broth
2 Tbsp pure maple syrup
2 tsp molasses (see tips)
2 Tbsp rice vinegar
1 tsp tahini
1 ½ tsp chili garlic sauce
⅛ tsp Chinese five-spice powder
1–1 ½ tsp cornstarch (or arrowroot powder)
Instructions
1. While the tofu is pressing, make the marinade: place all the marinade ingredients into a bowl, whisk well, and transfer to a tightly covered flat container until the tofu is ready.
2. After the tofu has been pressed, cut it into ½-inch thick triangles (or rectangles) and place them in the container with the marinade. Gently turn the tofu over several times until it has been completely coated in the marinade. Refrigerate for a minimum of 30 minutes or overnight, flipping the tofu occasionally to ensure all sides are soaking the marinade.
3. When the tofu has completed marinating, preheat the oven to 350 degrees F. Flip the tofu once again in the marinade, then transfer the tofu onto a parchment-lined baking sheet. Bake for 15 minutes.
4. After 15 minutes, remove the pan from the oven. Dunk each piece of tofu in the marinade to coat, then return to the baking sheet. Bake for another 15 minutes before removing from the oven.
5. In the meantime, make the sauce: add all the sauce ingredients (and any remaining marinade) to a small stockpot. Heat over medium-high until the mixture becomes slightly thick, stirring constantly. Cook for several minutes more, then remove the sauce from the heat to allow it to cool slightly.
6. After the tofu has finished baking for the second time, dip each piece into the cooked sauce (coating thoroughly) and return to the hot baking sheet to set up. Repeat until all the tofu has been dipped in the cooked sauce.
7. Place the peanuts (if using) in a small bowl, add a tablespoon or two of the cooked sauce, and stir until they are all evenly coated.
8. Serve the baked tofu and sauce-coated peanuts with steamed rice and freshly sliced green onions.
Cooking Tips
1. We used Grandma's Unsulphured Original Molasses. Feel free to use your favorite molasses brand. We do not recommend blackstrap molasses due to its strong flavor that will impact the flavor profile of this recipe. You can leave the molasses out of the dish if you want—it simply adds a deep flavor reminiscent of brown sugar.
100% online, learn at your own pace
Instructor led format
No prerequisites
Continuing education credits