Everyone called him "Big Dave." He was the first one you phoned when your car got stuck in a ditch and AAA couldn't get you out. Or if you needed to move a refrigerator down from a third floor walk-up and didn't have a dolly. A strong, got your back, no nonsense type of guy. He also was overweight and had some pretty serious health issues, including lifelong epilepsy. He loved to hunt, barbeque, and eat meat. In short, Dave was the last guy you'd ever expect to eat a whole food, plant-based diet.
Dave and I have worked together for years. I've seen him power through the flu, injuries, bitter cold conditions, and even floods. (Yes, he was the guy pulling people out of the river when a massive flood hit our town in 2011.) But as he got older he couldn't power through his growing health problems — especially the debilitating effects from his epilepsy seizures, which kept him out of work for days at a time.
You never know when your life is going to change.
When I started a plant-based meal company, Dave was a natural choice to join our team. He has an amazing work ethic and he's open minded. At first, I could tell he wondered just what I was getting him into. He'd seen the impact that eating a whole food, plant-based diet had on my family, but I never pushed it on him.
So I was surprised, to say the least, when shortly after taking the job as our Plant Manager he told me he was going to try a whole food, plant based diet for a month. As you may have guessed, Dave doesn't do many things half way and he jumped in to a new way of eating 100 percent. That's a big challenge for a guy who, when asked "What do you like with your steak?" used to reply "Steak." He told me much later he did not expect a whole food, plant-based diet to do anything but make him hungry.
Dave was wrong.
Within a month Dave lost 35 pounds. He was astounded. The weight just "kind of melted off." And he said he was sleeping so much better and had more energy.
But losing weight wasn't the biggest benefit.
Dave's epilepsy symptoms and seizures started to go away. Most of his life he'd been on several medications for severe epilepsy. He would have seizures so bad he would be out of work for days at a time. But after a month of eating a whole food, plant-based diet he told me he wanted to wean off his medication — he felt that good.
I told him to check with his doctor before he did anything. We are not anti-medicine and we always want to work hand and hand with the medical community. So he checked with his doctor. Within three months he weaned off his meds. His seizures diminished, he lost more weight (65 pounds total), and at 50 years old, he reached another goal: six pack abs.
What started as a one month experiment turned into an new lifestyle. As you might imagine, a lot of people ask Dave what happened? What did you do to have such a health turnaround? To those folks, he has a simple answer…
"All I did was change my diet from foods that hurt to foods that heal."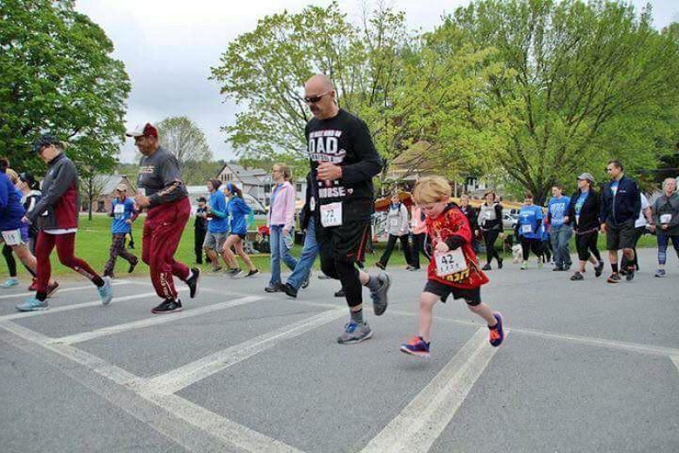 Dave recently ran a 5k with his grandson. He's fitter than he has ever been in his life. And he's still the great guy you call when you're in a jam or stuck in a ditch… except now instead of "Big Dave," everyone calls him "Plant-Based Dave."
Copyright 2023 Center for Nutrition Studies. All rights reserved.