Erythritol has become a very popular artificial sweetener, with only 6% of the calories but 60–80% of the sweetness of sugar. It is found naturally in mushrooms, pears, grapes, watermelon, miso, soy sauce, cheese, and alcoholic beverages. It is also naturally produced in the human body from glucose, and it may even improve blood vessel function.[1][2] It is commercially produced with a yeast by fermentation of glucose from wheat or corn starch.[3] It can be used as a sugar substitute or added to other artificial sweeteners like monk fruit and stevia extracts to minimize their undesirable aftertaste; it can also be marketed as "natural." In addition to being in Truvia® and Splenda Naturals Stevia®, erythritol is found in many sugar-free products. However, because the FDA does not require that food manufacturers list it on nutrition labels, most consumers are likely unaware that they are eating it. Until recently, there have been few concerns about its health risks.[4][5]
In February 2023, an article published in Nature showed an association between high levels of sugar alcohols, including erythritol, circulating in the blood and an increased risk of heart attacks and strokes in 2,149 American and 833 European patients. In this multi-staged study, researchers added erythritol to blood and saw an increase in platelet activity and enhanced blood clot formation. Researchers then fed the amount of erythritol contained in a pint of keto ice cream to eight healthy participants and observed that blood levels of erythritol elevated 1,000-fold and remained high for days before returning to the baseline level around a week later. These blood levels were well above those observed to stimulate platelet activity and blood clotting.[6] Whether this level of erythritol consumption contributes directly to the cause of the increased number of heart attacks and strokes remains to be fully determined. But for now, it appears that after consuming erythritol, there is an increased risk of blood clots for days following ingestion.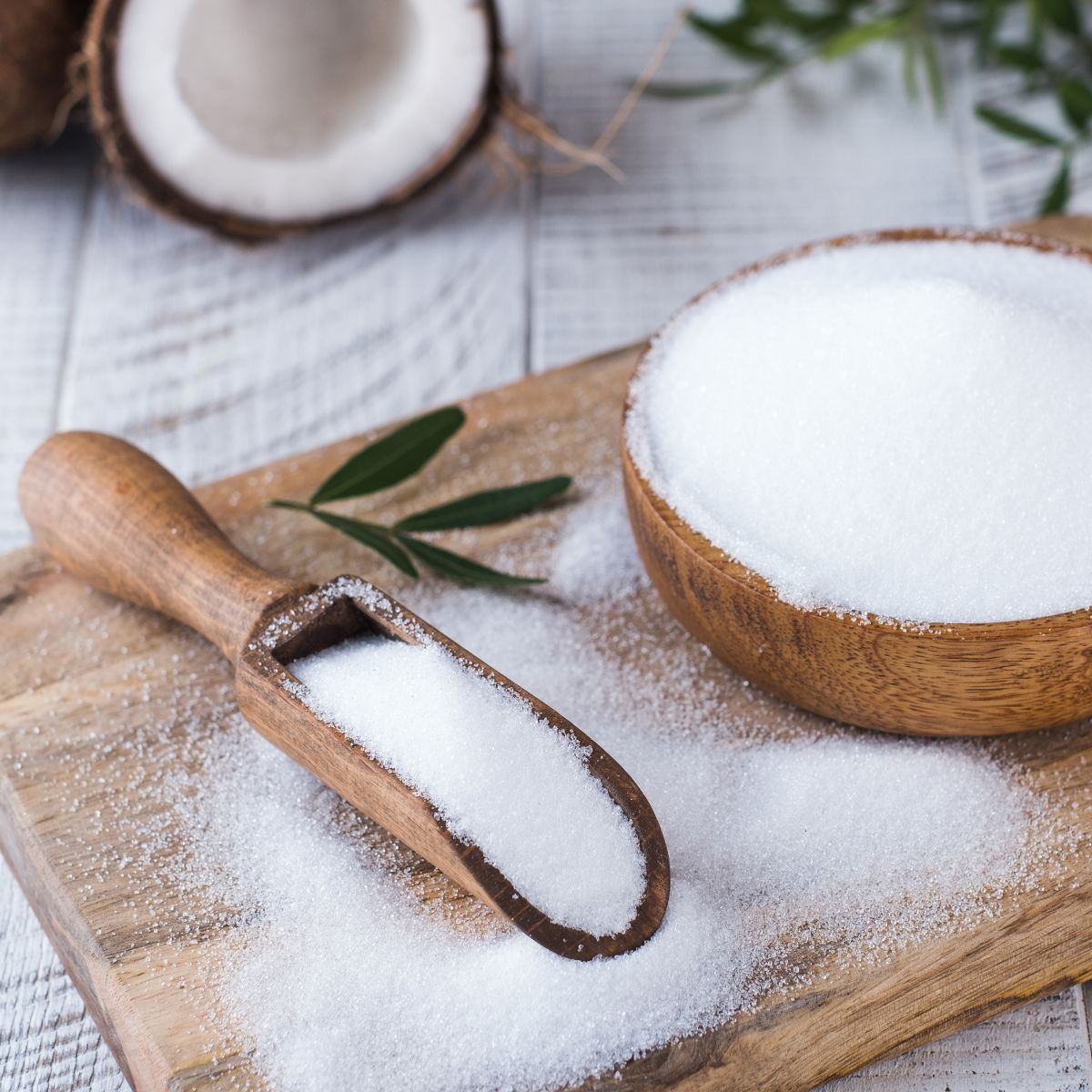 The study supports previous research showing that people who have heart disease tend to have higher levels of erythritol in their systems and further suggests that eating foods with erythritol as an artificial sweetener may increase the risk of blood clotting, potentially leading to heart attacks, strokes, significant disability, or death. Perhaps at lower levels, when erythritol forms during digestion and is naturally found in whole foods, it can play a protective and healing role in the body. But at higher levels, there appears to be a more maladaptive effect.
Human studies like these are necessary. The use of animal models can create confusion when it comes to health and safety. Toxicity studies involving animal models identify reasons for caution that are only directly applicable to animals rather than humans.[7] Animal studies only predict what will happen in humans 70% of the time, with certain animal models being as low as 43%.[8] The value of animal studies lies in helping us understand the aspects or mechanisms of disease processes.
So, in light of the research on erythritol, what are we supposed to eat? A diet based on whole plant foods! Plant foods, including those with naturally occurring erythritol, have been repeatedly associated with health. Even though fruits naturally contain sugars, they are associated with decreased type 2 diabetes and improved insulin sensitivity.[9] Fruit and vegetable intake is also associated with decreased cardiovascular risk, lower blood pressure[10][11] and lower rates of obesity [12][13][14], mental illness,[15][16] cancer, and death from all causes.[17] Fermented soybeans have wide-ranging health benefits, including lowering serum cholesterol and protecting the cardiovascular system, with effects against diabetes, high blood pressure, cancer, and damaging inflammation of the nerves and brain.[18]
In contrast, artificial sweeteners generally come with various potential side effects, some of which include increased risk of weight gain, cravings, bloating, insulin resistance, shifts in microbiota, cancer, and cardiovascular disease.[19][20][21][22][23] More specifically, high levels of erythritol circulating in human bodies are associated with heart attack, stroke, diabetes, and weight gain, and this most recent study suggests that consuming erythritol outside of a whole foods diet results in blood levels associated with potentially health-threatening blood clotting sustained for days.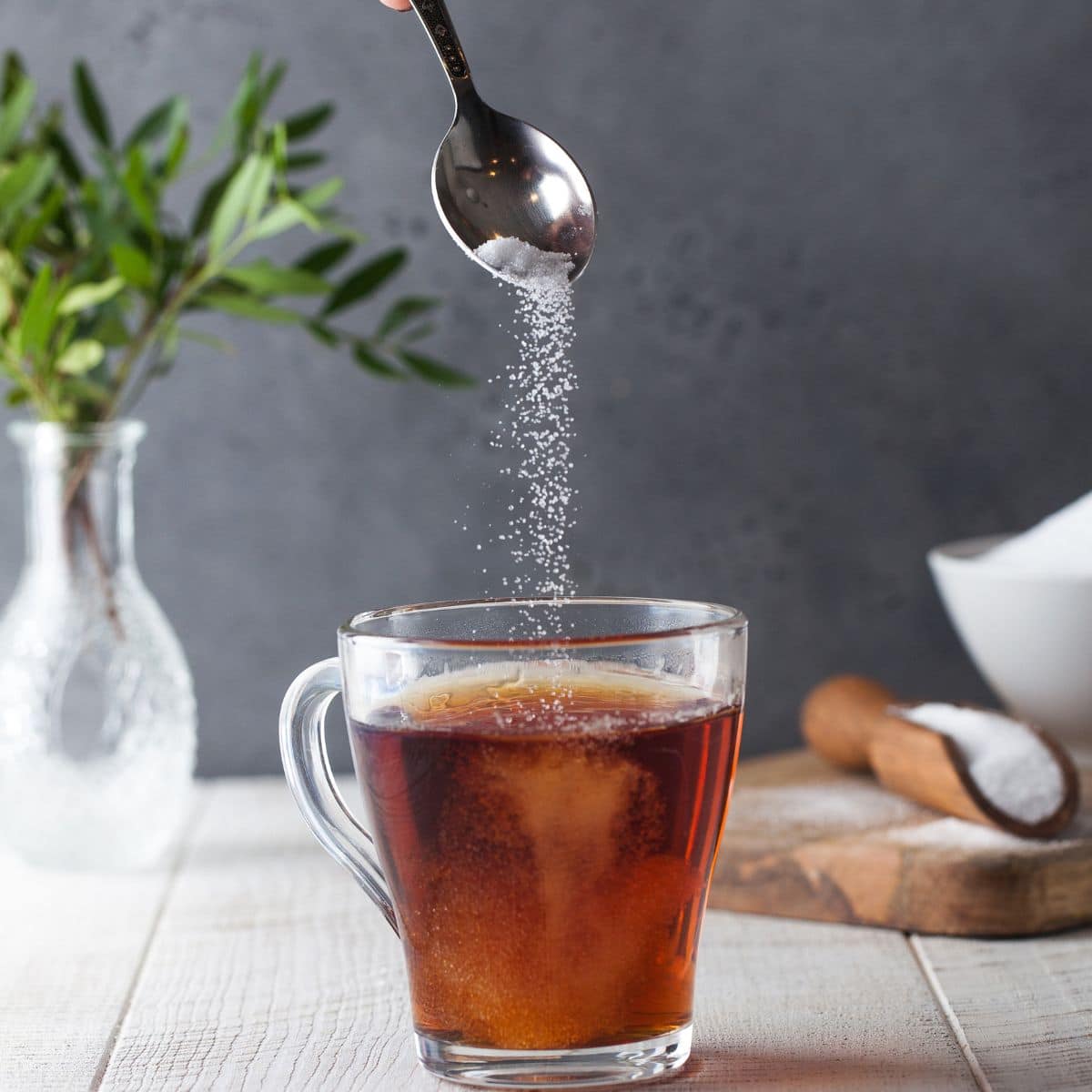 Erythritol may have benefits in specific situations. For instance, it might help with short-term weight loss and have fewer side effects than other sugar substitutes. But in light of this new information, until we know more, it seems prudent to stick with the foods that we do know support our health and can continue to enjoy without worry.
People accustomed to higher intakes of sweetness can still have hope. You don't need to rely on added sugar or sugar substitutes to enjoy your food because sweetness sensitivity can be easily regained. Your taste buds' sensitivity to sweetness can dramatically improve, and cravings can be significantly decreased after avoiding added sugars and artificial sweeteners for only two weeks.[24] And because dietary fat consumption decreases sensitivity to sweetness and increases cravings, eating mainly whole plant foods, which are naturally much lower in calories from fat, can be part of the solution.[25] Consumption of a diet abundant in minimally processed plants can also support an oral microbiome composed of bacteria that optimizes taste sensitivity.[26]
Imagine enjoying the complex tastes in foods such as potatoes and broccoli and finding them sweet. Or using fruit, sweet potatoes, or carrots to add the perfect touch of sweetness to a dish. Spices are a wonderful addition to add flavor, complexity, interest, and depth to foods as an adjunct to sweetness. You can have your poached pear and eat it too!
References
Hootman KC, Trezzi JP, Kraemer L, et al. Erythritol is a pentose-phosphate pathway metabolite and associated with adiposity gain in young adults. Proc Natl Acad Sci U S A. 2017;114(21):E4233-E4240. doi:10.1073/pnas.1620079114
Flint N, Hamburg NM, Holbrook M, et al. Effects of erythritol on endothelial function in patients with type 2 diabetes mellitus: a pilot study. Acta Diabetol. 2014;51(3):513-516. doi:10.1007/s00592-013-0534-2
Bernt WO, Borzelleca JF, Flamm G, Munro IC. Erythritol: a review of biological and toxicological studies. Regul Toxicol Pharmacol. 1996;24(2 Pt 2):S191-S197. doi:10.1006/rtph.1996.0098
Ishikawa M, Miyashita M, Kawashima Y, Nakamura T, Saitou N, Modderman J. Effects of oral administration of erythritol on patients with diabetes. Regul Toxicol Pharmacol. 1996;24(2 Pt 2):S303-S308. doi:10.1006/rtph.1996.0112
GRAS determination of Erythritol for use in human food. June 5, 2018. https://www.fda.gov/media/132946/download
Witkowski, M., Nemet, I., Alamri, H. et al. The artificial sweetener erythritol and cardiovascular event risk. Nat Med 29, 710–718 (2023). https://doi.org/10.1038/s41591-023-02223-9
Morgan SJ, Elangbam CS, Berens S, et al. Use of animal models of human disease for nonclinical safety assessment of novel pharmaceuticals. Toxicol Pathol. 2013;41(3):508-518. doi:10.1177/0192623312457273
Olson H, Betton G, Robinson D, et al. Concordance of the toxicity of pharmaceuticals in humans and in animals. Regul Toxicol Pharmacol. 2000;32(1):56-67. doi:10.1006/rtph.2000.1399
Du H, Li L, Bennett D, et al. Fresh fruit consumption in relation to incident diabetes and diabetic vascular complications: A 7-y prospective study of 0.5 million Chinese adults. PLoS Med. 2017;14(4):e1002279. Published 2017 Apr 11. doi:10.1371/journal.pmed.1002279
Appel LJ, Moore TJ, Obarzanek E, et al. A clinical trial of the effects of dietary patterns on blood pressure. DASH Collaborative Research Group. N Engl J Med. 1997;336(16):1117-1124. doi:10.1056/NEJM199704173361601
Jenkins DJ, Jones PJ, Frohlich J, et al. The effect of a dietary portfolio compared to a DASH-type diet on blood pressure. Nutr Metab Cardiovasc Dis. 2015;25(12):1132-1139. doi:10.1016/j.numecd.2015.08.006
Tonstad S, Butler T, Yan R, Fraser GE. Type of vegetarian diet, body weight, and prevalence of type 2 diabetes. Diabetes Care. 2009;32(5):791-796. doi:10.2337/dc08-1886
Huang RY, Huang CC, Hu FB, Chavarro JE. Vegetarian Diets and Weight Reduction: a Meta-Analysis of Randomized Controlled Trials. J Gen Intern Med. 2016;31(1):109-116. doi:10.1007/s11606-015-3390-7
Wright N, Wilson L, Smith M, Duncan B, McHugh P. The BROAD study: A randomised controlled trial using a whole food plant-based diet in the community for obesity, ischaemic heart disease or diabetes. Nutr Diabetes. 2017;7(3):e256. Published 2017 Mar 20. doi:10.1038/nutd.2017.3
Mousavi SM, Ebrahimi-Mousavi S, Hassanzadeh Keshteli A, Afshar H, Esmaillzadeh A, Adibi P. The association of plant-based dietary patterns and psychological disorders among Iranian adults. J Affect Disord. 2022;300:314-321. doi:10.1016/j.jad.2022.01.028
Grajek M, Krupa-Kotara K, Białek-Dratwa A, Sobczyk K, Grot M, Kowalski O and Staśkiewicz W (2022) Nutrition and mental health: A review of current knowledge about the impact of diet on mental health. Front. Nutr. 9:943998. doi: 10.3389/fnut.2022.943998
Aune D, Giovannucci E, Boffetta P, et al. Fruit and vegetable intake and the risk of cardiovascular disease, total cancer and all-cause mortality-a systematic review and dose-response meta-analysis of prospective studies. Int J Epidemiol. 2017;46(3):1029-1056. doi:10.1093/ije/dyw319
Jayachandran M, Xu B. An insight into the health benefits of fermented soy products. Food Chem. 2019;271:362-371. doi:10.1016/j.foodchem.2018.07.158
Suez J, Korem T, Zeevi D, et al. Artificial sweeteners induce glucose intolerance by altering the gut microbiota. Nature. 2014;514(7521):181-186. doi:10.1038/nature13793
Bokulich NA, Blaser MJ. A bitter aftertaste: unintended effects of artificial sweeteners on the gut microbiome. Cell Metab. 2014;20(5):701-703. doi:10.1016/j.cmet.2014.10.012
Debras C, Chazelas E, Srour B, Druesne-Pecollo N, Esseddik Y, Szabo de Edelenyi F, et al. (2022) Artificial sweeteners and cancer risk: Results from the NutriNet-Santé population-based cohort study. PLoS Med 19(3): e1003950. https://doi.org/10.1371/journal.pmed.1003950
Greenwood DC, Threapleton DE, Evans CE, et al. Association between sugar-sweetened and artificially sweetened soft drinks and type 2 diabetes: systematic review and dose-response meta-analysis of prospective studies. Br J Nutr. 2014;112(5):725-734. doi:10.1017/S0007114514001329
Fowler SP, Williams K, Hazuda HP: Diet soda intake is associated with long-term increases in waist circumference in a biethnic cohort of older adults: the San Antonio Longitudinal Study of Aging. J Am Geriatr Soc. 2015, 63:708-15. 10.1111/jgs.13376
Bartolotto C. Does Consuming Sugar and Artificial Sweeteners Change Taste Preferences?. Perm J. 2015;19(3):81-84. doi:10.7812/TPP/14-229
Papantoni A, Shearrer GE, Sadler JR, Stice E and Burger KS (2021) Longitudinal Associations Between Taste Sensitivity, Taste Liking, Dietary Intake and BMI in Adolescents. Front. Psychol.12:597704. doi: 10.3389/fpsyg.2021.597704
Leung R, Covasa M. Do Gut Microbes Taste?. Nutrients. 2021;13(8):2581. Published 2021 Jul 27. doi:10.3390/nu13082581
Copyright 2023 Center for Nutrition Studies. All rights reserved.