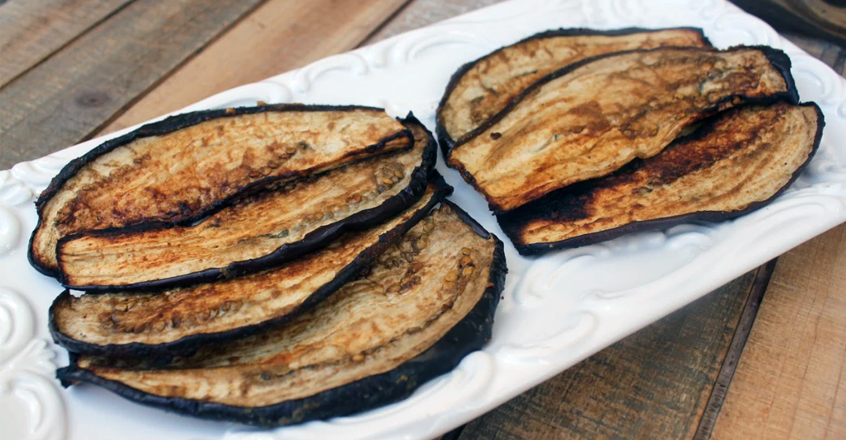 Ingredients
1 medium eggplant
2 Tbsp nutritional yeast
3 Tbsp date paste or maple syrup
2 tsp liquid smoke
2 Tbsp low sodium tamari
3 tsp onion powder
1 tsp garlic powder
1 Tbsp water
Instructions
1. Preheat oven to 325 degrees F, using "convection bake," if available, to speed cooking time.
2. Line a large baking sheet with parchment paper.
3. Cut the eggplant in half lengthwise. Then cut the two halves lengthwise once more.
4. Use a sharp knife or mandolin to slice into thin lengthwise slices.
5. Prepare the sauce by adding all the sauce ingredients in a small mixing bowl and whisking to combine.
6. Use a cooking brush to cover both sides of the eggplant slices with sauce. Arrange the eggplant in a single layer on the parchment-lined baking sheet.
7. Bake for 25-30 minutes (turning the slices halfway through cooking time) or until the eggplant is dry and slightly crisp.
8. Remove from the oven and enjoy!
Cooking Tips
1. Once cooled, store in a sealed container in the refrigerator or in the freezer. To reheat, place in a skillet over medium heat, or in an oven at 300 degrees F for 5 minutes. Be careful not to burn them.
2. You can substitute low sodium soy sauce for the gluten-free tamari.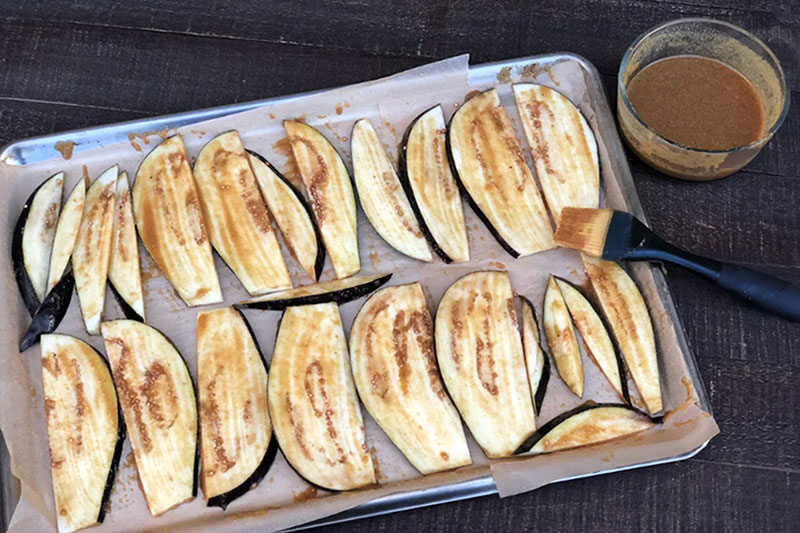 100% online, learn at your own pace
Instructor led format
No prerequisites
Continuing education credits