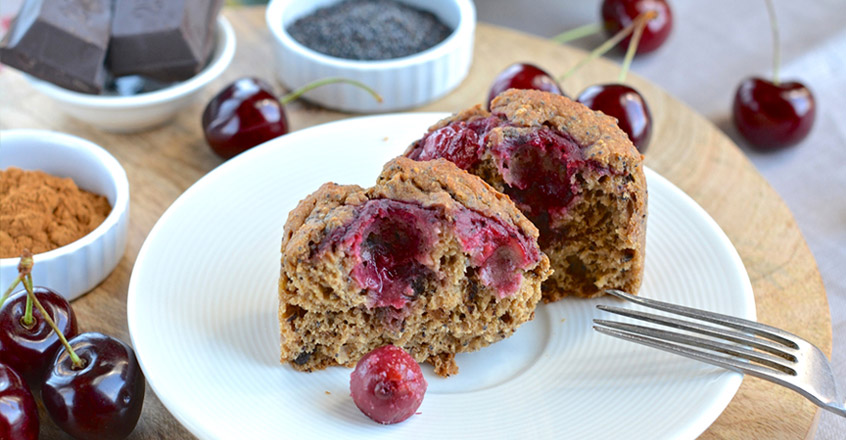 Ingredients
Dry Ingredients
1 cup buckwheat flour (substitute any flour of your choice)
1 ¼ cups oat flour (substitute any flour of your choice)
2 Tbsp poppy seeds
2 tsp cinnamon
½ tsp cardamom
2 tsp baking powder
Wet Ingredients
10 dried figs, chopped
1 cup unsweetened plant-based milk
2 ripe bananas
2 heaped Tbsp unsweetened applesauce
2 Tbsp peanut butter
Pinch of sea salt (optional)
½ cup vegan dark chocolate, chopped
24 cherries, fresh or frozen
Instructions
1. Preheat oven to 355 degrees F (180 C).
2. Chop the figs and soak in plant-based milk for at least half an hour.
3. While the figs are soaking finely chop the chocolate and set it aside. Combine all other dry ingredients in a bowl. Place the figs and milk in blender. Add all the remaining wet ingredients and blend until smooth.
4. Pour the wet mixture on dry ingredients and mix well. Make sure there are no lumps. Stir in chopped chocolate.
5. Fill 12 muffin forms (I use silicone forms) with the batter and place two cherries into each muffin.
6. Bake for 25-30 minutes. Let cool a bit before removing from the forms.
Cooking Tips
1. Try using chili chocolate for a little kick
100% online, learn at your own pace
Instructor led format
No prerequisites
Continuing education credits