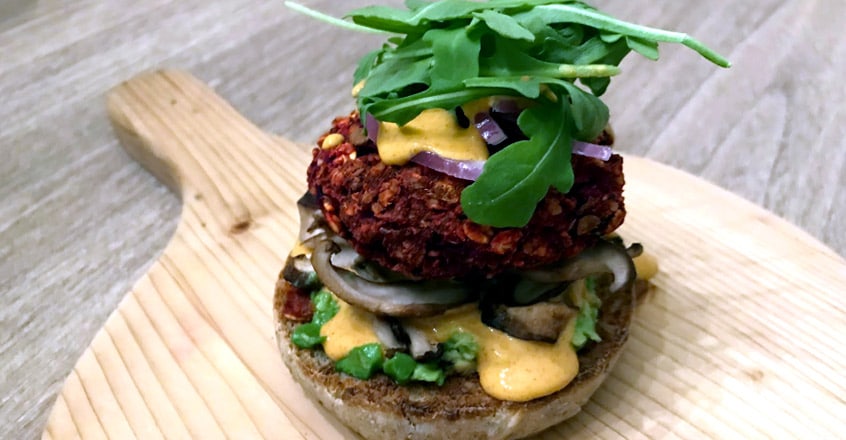 Ingredients
½ cup sunflower seeds
1 small onion, diced
2 large carrots, diced
3 garlic cloves, minced
8 oz cremini mushrooms, chopped
1 cup cooked lentils
1 cup rolled gluten-free oats
½ cup grated beets
3 Tbsp soy sauce or gluten-free tamari
3 Tbsp tomato paste
2 Tbsp ground flax seed
1 Tbsp apple cider vinegar
½ tsp smoked paprika
Instructions
1. Preheat your oven to 375 degrees F.
2. Toast the sunflower seeds in a nonstick skillet over medium heat, stirring often. Cook until browned and fragrant, then remove from the skillet.
3. In the skillet, combine diced onion, carrots, mushrooms and garlic. Cook for about 10 minutes, or until the carrots are soft.
4. In a food processor pulse the toasted sunflower seeds until they form a course powder. Add the sautéed veggies and remaining ingredients, then pulse until the mixture is well combined. Be sure to stop processing before the mixture becomes a paste.
5. Prepare a sheet pan by lining it with parchment paper. Divide and shape the mixture into 6 burgers.
6. Bake for 25-30 minutes. These veggie burgers freeze well.
Cooking Tips
1. Serve with your favorite toppings on a whole grain bun. Shown with sauteed mushrooms, sliced red onion, arugula, pickles, cucumbers, avocado, and homemade cashew cheese.
100% online, learn at your own pace
Instructor led format
No prerequisites
Continuing education credits