Summer is here, and that means it's time for outdoor grilling and picnic parties. Many of these parties will include burgers. There's nothing quite like sandwiching a burger on a hearty bun with a few slices of fresh tomatoes and crisp lettuce.
When you're trying to adjust to a plant-based lifestyle, it can be challenging to navigate your place in the burger world. However, veggie burgers offer a variety of options in flavors, ingredients, and fun toppings. Here are some tips on how to build the ultimate veggie burger.
How Do I Make My Veggie Burgers Stick Together?
Solution: Puree the mixture.
If your veggie burgers fall apart when you try to grill them, it's likely because the mixture isn't pureed enough. Sometimes it's nice to have chunks of brown rice, corn, or bell peppers in your burgers. However, once you bite into these patties, they often crumble apart, leaving you to scoop up the bits with a fork. Just as traditional meat burgers are ground a few times for a smooth mix, veggie burgers should also have a smooth texture.
Chef's Tip: Puree your bean, grain, or flavored veggie mixture using a food processor or blender until completely smooth. If you want a little bit of color or texture, add no more than ¼ cup of bite-sized "bits" for every two cups of pureed burger mix. Corn, green beans, chopped olives, and chopped herbs all work great to add texture and color.
How Do I Make My Veggie Burgers Firmer?
Solution: Start with a dryer mixture.
The veggie burger mixture should be dry enough that it holds together before baking or grilling. If it's too wet, you'll have a soft, mushy burger. You can avoid this problem with a few easy tricks:
1. Avoid Using Raw Vegetables
They have too much moisture. Cook ALL of the moisture out of your raw veggies (or at least as much as you can). Not only does this help create a firmer burger, it also intensifies the flavor.
2. Use a Binder
A binder, like brown rice flour, oat flour, tapioca flour, or cornmeal will help absorb moisture and bind the mixture together. You can always add more of this binder to get dryer burgers that will hold together better.
Avoid using nut flours (like coconut or almond). They have more fat than other flours and will end up adding more moisture to your mix.
Avoid using flours with gluten (like whole wheat or spelt). They can easily become gluey and chewy if overmixed. They also tend to give veggies burgers a taste of raw flour–not delicious.
3. Chill the Patties
Let the burgers rest for at least 15 minutes in your fridge before cooking them. This helps the flavors meld together and it will help prevent crumbling burgers. If making the burgers ahead of time, you can bake them off, then freeze. From the freezer, toss them right on the grill or into the oven and cook until heated through.
How Do I Make My Veggie Burgers Taste Better?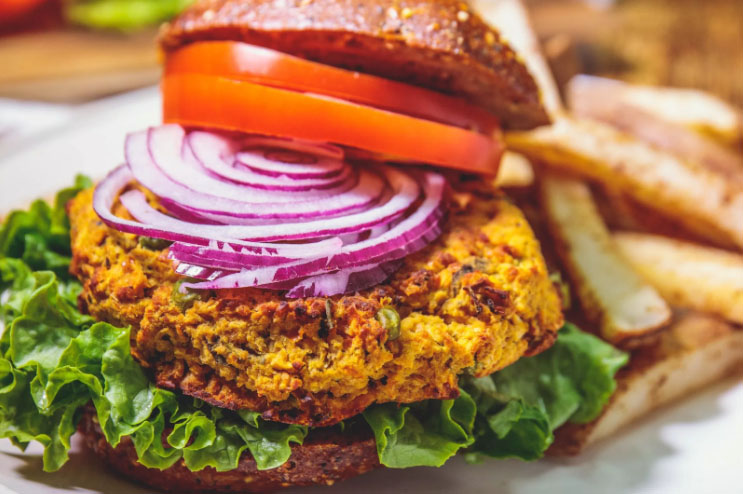 Solution: Add more flavor!
Because you're not relying on the fat in traditional meat burgers, you'll need to have a heavier hand in using spices, herbs, and other flavoring ingredients. You can increase the flavor with some simple tricks:
1. Add Spices
Add spices like smoked paprika, chili powder, garlic powder, curry powder, and cumin when you sauté the vegetables for the patty mixture.
2. Amp Up the Fresh Herbs
Veggie burgers are a great way to use up lots of fresh herbs. Fresh basil, chives, cilantro, parsley, rosemary, and thyme all add lots of flavor. Use lots of one herb or mix them up.
3. Add Acid, Heat, or Umami
An extra "kick" can come from acid (like lime or lemon juice), spice (like chili paste or cayenne), or umami (like mushroom powder, nutritional yeast flakes, or soy sauce). Add a tablespoon or so to your burger mix.
4. Let Them Sit
Once you have your burger mix ready, shape the patties and then let them sit for 10 minutes before cooking. This allows the flavors to come together more. If you throw them in the fridge, this will help them hold together before you put them on the grill or in the oven.
How Do I Create the Ultimate Burger?
Solution: Toppings, buns, and garnish!
If you've mastered the veggie burger patty, it's time to take your game to the next level. This is where the buns, toppings, and garnishes come in. When you give as much attention to the toppings as you do to your patties, you are sure to make some impressive burgers.
Delicious Spreads:
Guacamole, hummus, and baba ghanoush can replace mayo, ketchup, or cheese.
Think of colors and flavors that will compliment the burger flavors. Guacamole works great on a southwestern-flavored black bean burger. Hummus would be delicious on a garden chickpea burger. Baba ghanoush adds a smoky flavor to a Middle Eastern falafel burger.
Fun Garnishes:
Grilled pineapple, roasted peppers, and sautéed mushrooms are some simple garnishes that can have a big impact.
Fresh flavor can come from crisp Romaine lettuce, sliced heirloom tomatoes, and sliced red onion.
Caramelized onions, pickled radishes, and spicy chutneys add an extra pop of flavor.
Experiment with new ingredients like pickled ramps or caramelized tropea onions. This is a great chance to try out some produce from your local farmers market or CSA.
Beyond the Bun:
Think beyond the typical wheat bun for holding your burgers. Sprouted English muffins, whole wheat pita bread, and Bibb lettuce cups offer some yummy alternatives.
Create a Burger Bar:
If you're having a party, create a burger bar with a variety of buns, spreads, and garnishes. Guests will love coming up with their own ultimate burger creations!
Ready to Get Cooking?
Here are some delicious veggie burger recipes to get you started:
Black Bean Burger
Chickpea and Summer Squash Veggie Burger
Quick and Easy Lentil Burgers
Spicy Mushroom Burgers
Super Green Gluten-Free Quinoa Sliders
Lentil Potato Curry Patties
Chickpea Garden Veggie Burgers
Sweet Peanut Burgers
Korean Red Beet Teriyaki Veggie Burgers
Burger toppings:
Mexicrema Dressing
Speedy Two-Minute Ketchup
Oil-Free Sun-Dried Tomato Pesto
Oil-Free Hummus Spread
5 Minute Guacamole – Essential Vegan Recipe
Low-fat Vegan Cheddar Cheese Sauce
Copyright 2023 Center for Nutrition Studies. All rights reserved.