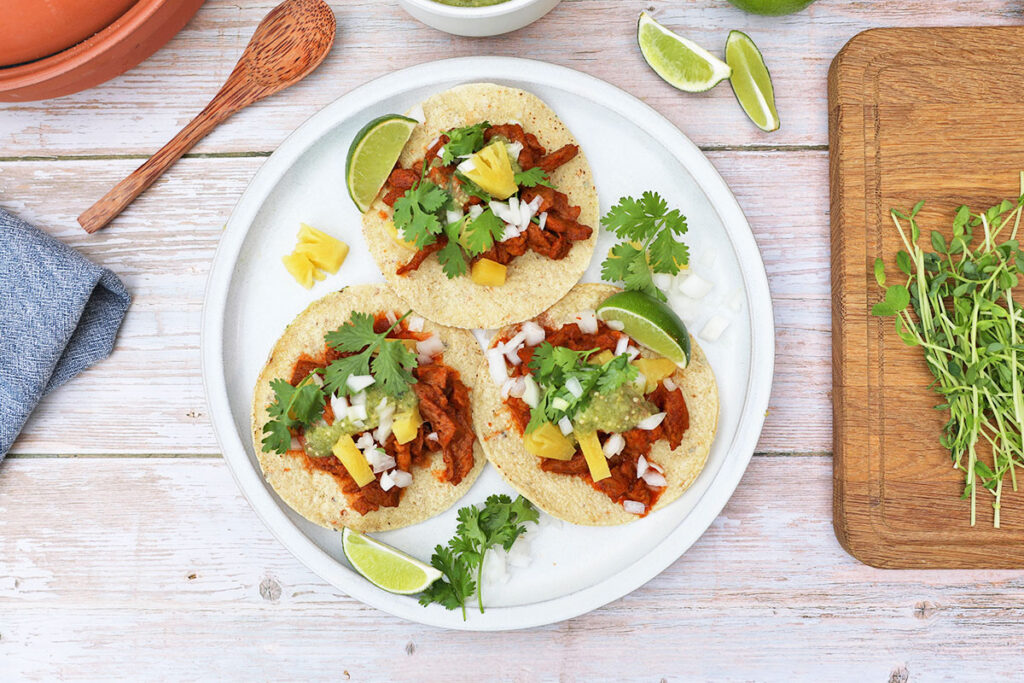 Ingredients
4 cups dehydrated diced soy curls (see tips)
3 cups low-sodium vegetable broth
Adobo sauce (see recipe)
Corn or whole grain tortillas
Optional toppings: diced onions, cilantro, diced fresh pineapple, diced avocado, and lime wedges
Adobo
2 cups boiling water
3 guajillo chiles deveined and seeded
2 ancho chiles, deveined and seeded
1 puya chile, seeded
½ medium onion, diced large
½ cup chopped pineapple
¼ cup apple cider vinegar
¼ cup freshly squeezed lemon juice
¼ cup freshly squeezed orange juice
10 whole black peppercorns
4 cloves
4 garlic cloves, peeled
1 tsp orange zest
1 tsp achiote powder
1 tsp cumin seeds
1 tsp oregano
½ tsp thyme
½ tsp marjoram
¾ tsp salt, or to taste
Instructions
Adobo
1. Add the boiling water, chiles, and onion to a bowl. Wait for the water to cool.
2. Once cooled, add the water, chiles, and onion to a blender with the rest of the ingredients. Process until smooth.
Marinated Soy Curls
1. Soak the soy curls in vegetable broth for 30 minutes.
2. Add the adobo sauce and marinate for at least an hour.
3. Cook the marinated soy curls in a saucepan for 10–15 minutes.
To Serve
1. Warm each tortilla in a skillet over medium heat.
2. Fill each tortilla with the marinated soy curls. Top with your choice of diced onions, cilantro, diced fresh pineapple, diced avocado, lime wedges, and tomatillo sauce or your favorite hot sauce.
Cooking Tips
1. You can use extra-firm tofu or mushrooms instead of soy curls. If using tofu, just cut into cubes and bake for 20 minutes at 425 degrees F. Skip the soaking step and marinate in the Adobo Sauce for at least an hour. If using tofu, just slice or shred and marinade in the Adobo Sauce.
2. Soycurls can be ordered online via Amazon or directly from the manufacturer at www.butlerfoods.com.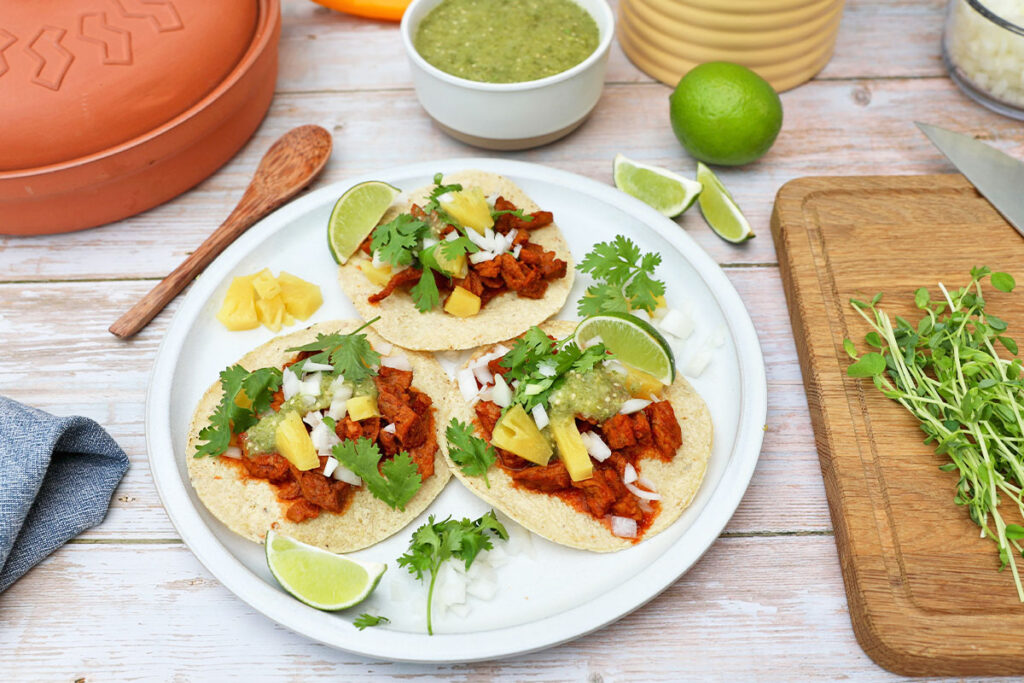 100% online, learn at your own pace
Instructor led format
No prerequisites
Continuing education credits