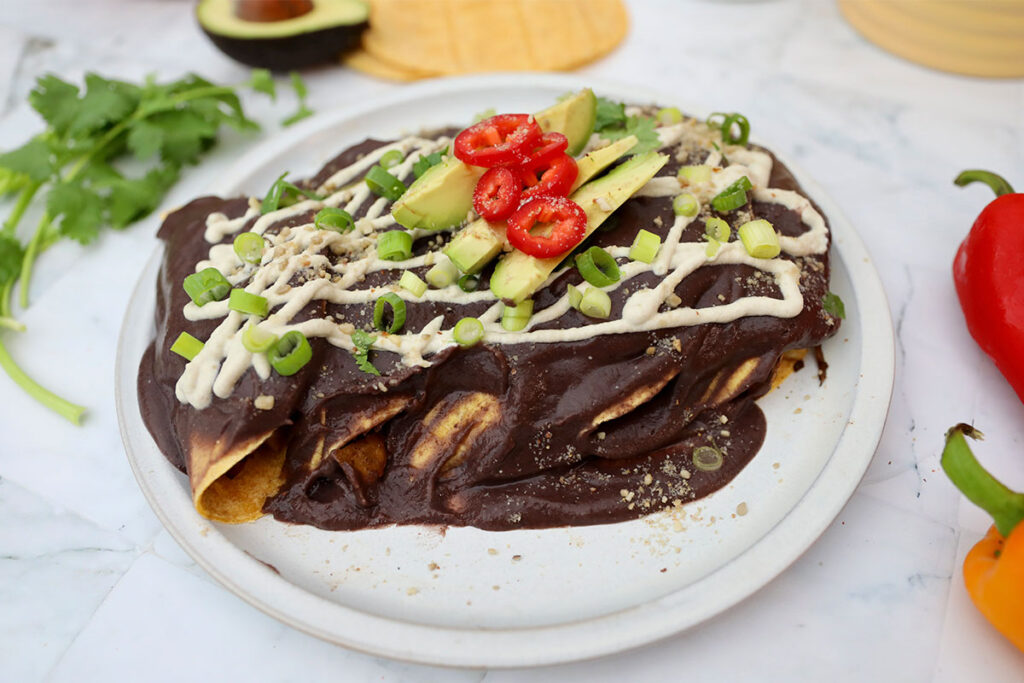 Ingredients
Bean sauce
Vegetable filling
12 corn tortillas
Optional toppings: avocado slices, diced tomatoes, diced green onions, vegan cotija cheese, chopped cilantro
Bean Sauce
2 cups dry black beans
6 cups water
1 garlic clove, peeled
¼ cup diced onion
¾ tsp salt
Vegetable filling
4 cups diced baby bella mushrooms
4 cups diced roasted butternut squash, calabaza, or sweet potatoes (see tips below)
½ tsp garlic powder
½ tsp onion powder
¼ tsp cumin
½ tsp smoked paprika
4 cups baby spinach
Salt and pepper to taste
Instructions
Bean Sauce
1. Cook the beans in water until soft. Drain the beans, reserving the cooking liquid.
2. In a blender, combine all the ingredients and begin to blend, slowly adding enough of the reserved bean cooking liquid until you reach the desired consistency.
3. Place the sauce in a saucepan and simmer for 3–4 minutes.
Vegetable Filling
1. In a heated skillet, sauté mushrooms for 3 minutes.
2. Add roasted butternut squash or calabaza and spices and cook for 2 minutes.
3. Add baby spinach and cook until wilted. Season with salt and pepper to taste.
Enfrijolada Assembly
1. Dip each tortilla in the warm sauce and place on a plate.
2. Fill with vegetable filling and fold.
3. Once you have the desired number of enchiladas on the plate, drizzle with Mexicrema and decorate with your choice of toppings.
4. Serve immediately. Save any remaining bean sauce and filling for up to 5 days.
Cooking Tips
1. You can use pinto beans instead of black beans.
2. You can add some bean sauce to the plate before placing tortillas.
3. To roast the squash or sweet potatoes, dice small and drizzle a little bit of vegetable broth over them to coat well before placing them in the oven. Bake at 425 degrees F for 15–20 minutes or until cooked through.
100% online, learn at your own pace
Instructor led format
No prerequisites
Continuing education credits