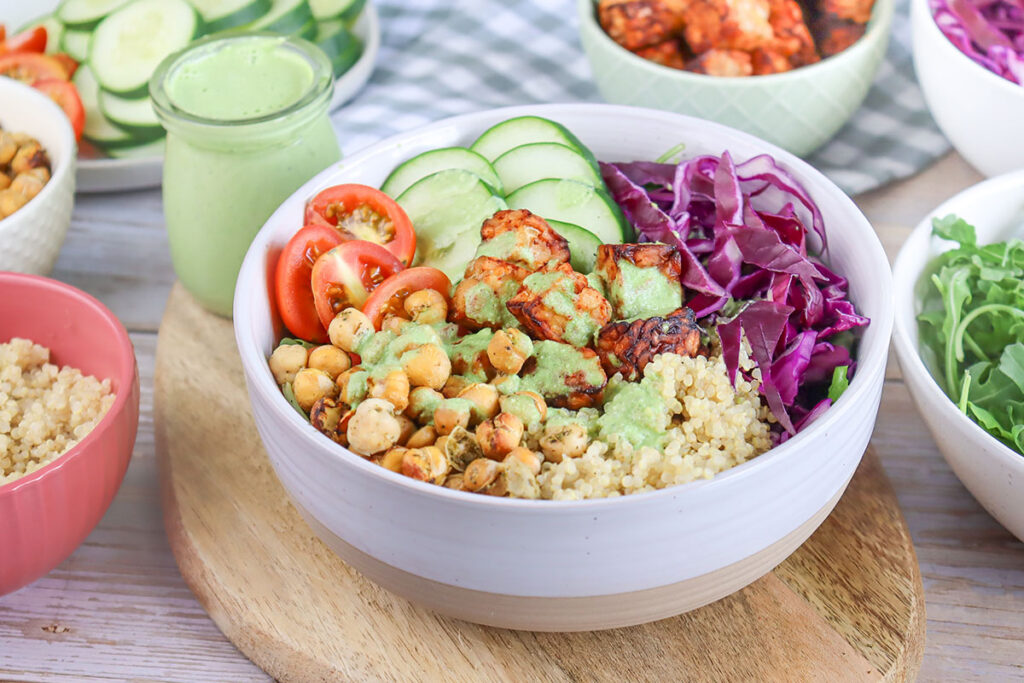 Ingredients
BBQ Tempeh
1 (8-ounce) block tempeh
¼ cup BBQ sauce
2 Tbsp flavored balsamic of your choice
Dash hot sauce (optional)
Dash yellow mustard
Pinch kosher salt and black pepper
Dressing
½ cup raw cashews
1 cup water
½ cup fresh basil
½ cup fresh flat-leaf parsley
5 Tbsp fresh lemon juice
3 Tbsp tahini
4 tsp date syrup or maple syrup
1 tsp brown mustard
1 tsp kosher salt
⅛ tsp garlic powder
Salad
⅓ cup fresh salad greens
⅓ cup shredded red cabbage
⅓ cup sliced cucumbers or celery
⅓ cup cooked quinoa
⅓ cup sliced grape tomatoes
¼ cup BBQ Tempeh (recipe below)
Instructions
BBQ Tempeh
1. Preheat the oven to 425 degrees. Line a large baking sheet with a silicone baking mat or parchment paper.
2. Slice tempeh crosswise into 16 slices, and then each slice into little squares.
3. Bring a medium pot of water to a boil, add the tempeh and boil for 5 minutes. Drain.
4. In a flat dish, stir together the marinade: BBQ sauce, vinegar, hot sauce, mustard, salt, and pepper. Add tempeh and toss until each piece is evenly coated with sauce.
5. Reserving as much of the sauce as you can, carefully place tempeh pieces onto the prepared baking sheet.
6. Bake for about 20–25 minutes, or until deeply caramelized and crispy. Remove from the oven, and toss tempeh again in the reserved sauce. Aim to coat each piece of tempeh before serving.
Vegan Cobb Salad
1. To prepare dressing, add cashews, water, herbs, lemon juice, tahini, date syrup, mustard, salt and garlic powder to a high-powered blender, and process until smooth. Refrigerate until time to serve.
2. To prepare salad, place a bed of fresh lettuce at the bottom of each bowl. Over the greens, arrange the other salad ingredients in clockwise fashion, in the order listed above, finishing with the tempeh in the center of the bowl.
3. Drizzle desired amount of dressing over salad(s), and serve immediately.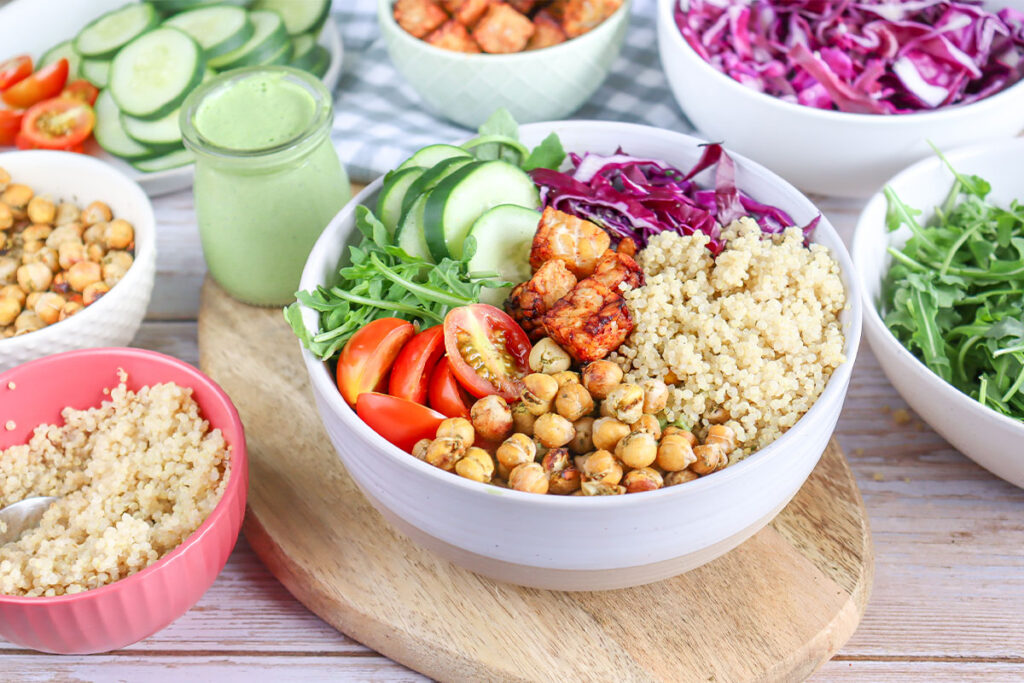 100% online, learn at your own pace
Instructor led format
No prerequisites
Continuing education credits