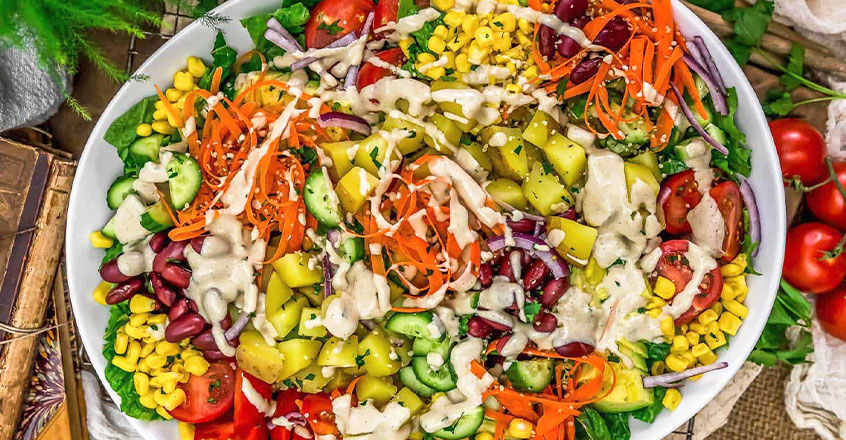 Ingredients
Salad
3 heads romaine lettuce, chopped
1 cup corn
1 carrot, sliced into ribbons
1 ½ cup cooked kidney beans
1 English cucumber, sliced
¼ cup red onion, thinly sliced
10 grape tomatoes, halved
3 to 4 medium-size Yukon Gold potatoes, cut into ½ inch cubes
Black salt "Kala namak" (optional)
1 avocado, cut in chunks (optional)
Dressing
½ cup raw cashews
¼ cup water
2 Tbsp vegetable broth
⅓ cup red wine vinegar
1 to 3 tsp maple syrup
1 Tbsp white miso
1 Tbsp nutritional yeast
1 tsp Dijon mustard
1 tsp onion powder
1 tsp garlic powder
1 Tbsp dried minced onions
1 tsp dried parsley
⅛ tsp dried dill weed
Pinch of sea salt
Pinch black pepper
Instructions
1. Place the raw cashews in a small bowl, cover with boiling water, allow to sit for 10 minutes, then drain and discard the water and place the softened cashews into a high-speed blender with all the remaining dressing ingredients. Blend on high until smooth. Set aside.
2. Place the cubed potatoes in a small stockpot, cover with cold water, then bring to a gentle boil and sprinkle with some sea salt.
3. Boil the potatoes until tender, about 7 to 11 minutes. Watch them carefully and do not overboil. Drain and run the cooked potatoes under cold water to cool them down. Set potatoes aside until ready to assemble the salad.
4. On a large serving plate, place a bed of romaine lettuce. Then, add all the other salad ingredients on top of the lettuce. When ready to serve, drizzle the salad dressing over the top, serve, and enjoy.
Cooking Tips
1. In order to get an "eggy" taste, you can lightly sprinkle the cooked potatoes with black salt before adding them to the salad.
2. Cashew-based dressings tend to get thick when refrigerated. You can easily thin it out by adding a little vegetable broth, water, or red wine vinegar.
3. If you are allergic to cashews, you can try sunflower seeds, white beans, or silken tofu instead.
100% online, learn at your own pace
Instructor led format
No prerequisites
Continuing education credits