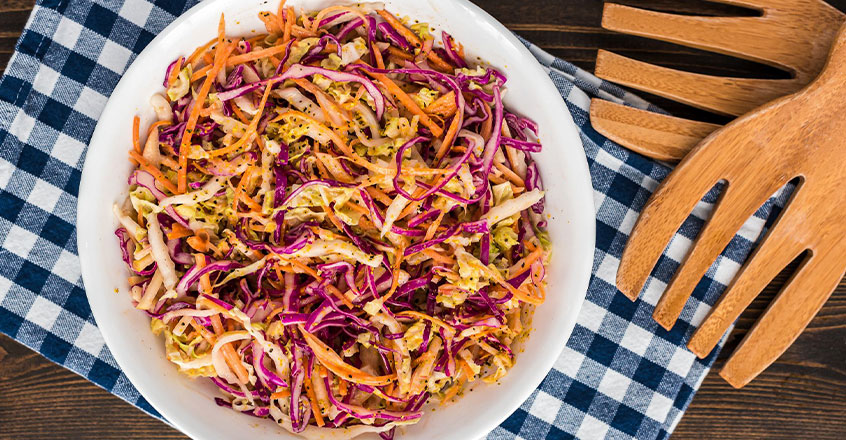 I thought I didn't like cabbage — not when it was served boiled when I was a kid, or even later when I tried coleslaw dishes. Until . . . one day I decided to give red cabbage a try. The color was so enchanting; it just called to me in the grocery store, and I was hooked! Soon after, I developed this salad with red cabbage, some carrots, and some sweetness from a julienned apple.
Reprinted from Dreena's Kind Kitchen: 100 Whole-Foods Vegan Recipes to Enjoy Every Day (BenBellaBooks, 2021)
What You'll Need
---
DRESSING
3 Tbsp plain non-dairy yogurt, unsweetened
1 Tbsp tahini or almond butter
2 Tbsp red wine vinegar or apple cider vinegar
1 Tbsp coconut nectar or pure maple syrup
Lemon pepper or freshly ground black pepper to taste (optional)
SLAW
2 cups red cabbage, finely sliced or shredded
2 cups napa cabbage, finely sliced or shredded
1–2 cups apple, julienned
1 cup carrot, shredded or julienned
How to Make It
---
1 Whisk together all the dressing ingredients in a large bowl.
2 Add the slaw ingredients and toss to coat. Taste and add extra seasoning as desired, or finish with a good twist of lemon pepper! Serve immediately for best results.
Cooking Tips
If you want to skip the napa cabbage (even though it's milder in flavor), feel free to substitute with some of the other suggested veggies!
You can use rice vinegar in place of the red wine vinegar.
Brands of non-dairy yogurt can vary quite a lot in flavor and texture. Soy or nut-based yogurt work best for this recipe because coconut yogurt can taste too sweet or pronounced in this dressing. Also, try to find a very thick yogurt for this recipe. If you don't have yogurt on hand or don't want to use it, instead use another ½–1 Tbsp tahini and a tsp or so more vinegar if desired.
Gala apples are a good choice because they don't brown much.
You can play with some other combinations of veggies in this slaw; try swapping other vegetables for the napa cabbage, the carrot, or both! For instance: 1 cup julienned red bell pepper, 1 cup julienned cucumber (remove seeds and cut lengthwise), or 1 cup julienned jicama.
If you like dried fruit in your coleslaw, try adding raisins or cranberries.
Copyright 2022 Center for Nutrition Studies. All rights reserved.