Rooted Santa Barbara County (Rooted) and the Foodbank of Santa Barbara County (Foodbank SBC) have formed an innovative education collaboration: utilizing graphic design, animation, video, and the accessibility of social media, our organizations have helped make plant-based nutrition available to our Spanish-preferring neighbors. Our organizations are committed to creating equitable access to education on the role of food in health. By coming together, we're providing nutrition expertise, cultural awareness, and a how-to plan for our community members, including our neighbors with the greatest barriers to good health.
Our organizations linked arms to develop two ten-day online jumpstarts called Comer Para Prosperar/Eat to Thrive. With the support of Feeding America and the T. Colin Campbell Center for Nutrition Studies, we developed culturally recognizable recipes replacing animal-source foods with plants. To demonstrate how to include plant-based alternative ingredients, we created short animated videos to bring the kitchen to life. The Spanish language jumpstart programs launched on the Foodbank SBC's Spanish Facebook page (FoodbankSBEspanol), and in 2023 they will be published in both Spanish and English on Rooted's soon-to-be-launched bilingual online learning platform. Additionally, expansion of the programs' reach may include extending the videos and activities to healthcare providers and clinic wait rooms, other food banks regionally, and more.
Coming together, we had a few priorities for the project:
To be welcoming and relevant to our Latinx and under-resourced communities served by Foodbank SBC.
To meet community members where they were and identify foods they were likely cooking with that were both culturally and locally accessible (small habits can lead to big changes down the road).
To support a greater understanding of the health benefits of plant-based foods, and how delicious, simple and cost-effective they can be.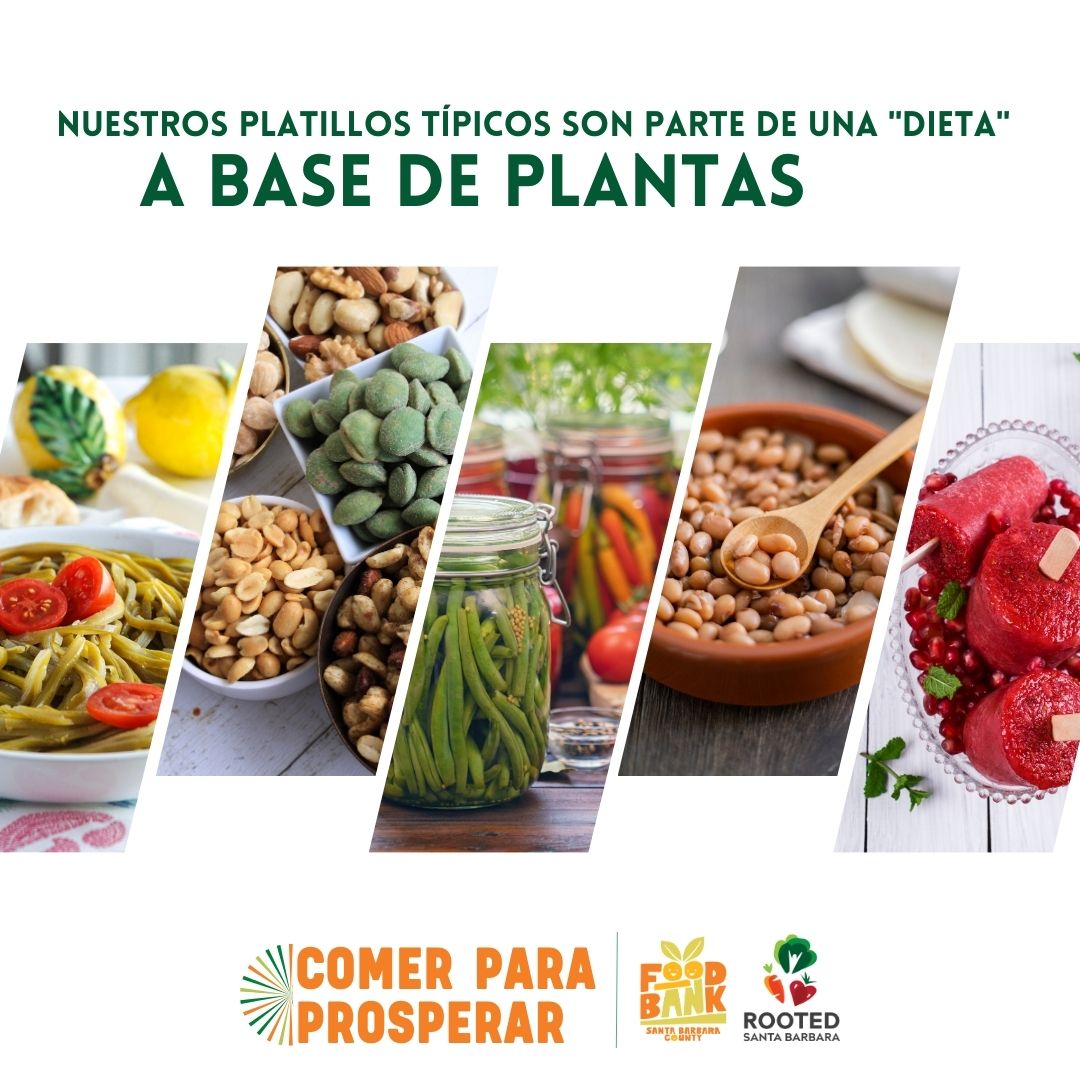 Each jumpstart cycle produced ten days of fun, quick activities and included a giveaway to stimulate engagement and feedback. Four winners selected grocery markets in their area and received gift cards mailed to their addresses. With the first cycle launching in May and the second in November, we learned that there is substantial and increasing interest in plant-based eating among our neighbors. While it can be challenging to stimulate direct interactions for new programs on Facebook, we significantly grew engagements between the first and second sessions. We used two Facebook Live events to create meaningful opportunities to connect, check in, hear from our community, and answer questions.
Our goal was to reach 2,500 county residents in the first year. We grew from a reach of 300 in cycle one to over 4,500 in cycle two! Our most viewed post featured a prompt to "¡Prueba esto! (Try this!)" suggesting alternativas de leche (milk alternatives) and reached over 4,000 people. The most direct engagement was on our Facebook Live events, one of which received 42 likes, 21 shares, and 3 comments during cycle 2 of the jumpstart program.
Our partnership is an example of how healthcare and food service community organizations can build the bridge between food and health in local communities and make healthy options feasible and more enjoyable. We saw through this program that the use of Spanish social media outlets can broaden the reach for nutrition education, with particularly high engagement when experts representative of the community being served are accessible via live social media events. The Latinx community in Santa Barbara County is clearly interested in the tools and increased access to plant-based and plant-forward resources, and that interest is growing. Through Rooted's plant-based and the Foodbank SBC's Food as Medicine programs, we're looking forward to continuing to partner to help our community Comer Para Prosperar/Eat to Thrive!
Rooted Santa Barbara County's mission is to mobilize Santa Barbara County to grow health equity and resilience through whole food plant-based nutrition education and support.
The Foodbank of Santa Barbara County's mission is to support our community in moving from hunger to health by ending hunger and transforming the health of Santa Barbara County through good nutrition and nutrition education.
Beth Skidmore, MSACN, serves as Chair and Executive Lead of Rooted Santa Barbara County. Lacey Baldiviez, PhD, is the Chief Impact Officer for the Foodbank of Santa Barbara County.
Copyright 2023 Center for Nutrition Studies. All rights reserved.