Arizona Community Garden Teaches Food Literacy and Creates Food Security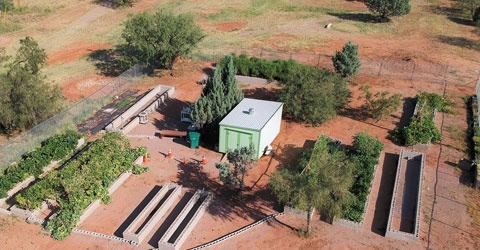 The following is an article from a Community Grant recipient.
I live in a rural community surrounding Huachuca City, AZ. We have two Dollar Generals, a Circle K, and a Chevron with no fresh produce and very few healthy food choices. In town, 34% of the population and 46% of the children live below the poverty threshold. It is impossible to reach a supermarket by public transportation, meaning that those without vehicles have to shop within this food desert. The health consequences are severe: as in so many other communities with limited food access, ours suffers from high rates of type 2 diabetes and other diet-related health problems.
In 2018, I joined with a few other committed individuals in the community who were organizing to teach gardening and healthy eating and grow vegetables for those in need at no cost. Having grown up gardening in a food desert, I know how valuable that knowledge (once common knowledge, but not anymore) can be throughout life.
We believe that this communal approach is a great way to help others transition to healthier dietary lifestyles; it's often more challenging to change eating habits alone.
By the following year, Huachuca City Community Garden was growing vegetables on a private property while trying to secure a permanent location. We produced 2,000 pounds of vegetables, which were distributed for free at the library and senior center. The library director, Suzanne Harvey, informed us of a beautiful property adjacent to the library. Only a five-minute walk from the Huachuca City School (K–8), the location was perfect for our goals of teaching healthy eating and home gardening and providing creative outdoor gardens for children. Suzanne even offered to dedicate a section of the library to books on plant-based diets and allowed us to use rooms in the library to teach healthy eating classes.
After formalizing an agreement with the town to use the neighboring land, we obtained funding from the Legacy Foundation of Southeast Arizona for fencing and raised garden beds. Then the pandemic began, food shortages, interrupted public transportation, and restrictions on public interactions followed. But those obstacles only made our work more important, and we responded. Over the next four months, we were able to grow and distribute 3,500 pounds of organic produce to those in need in four different subsidized housing complexes and poverty-stricken neighborhoods in our community.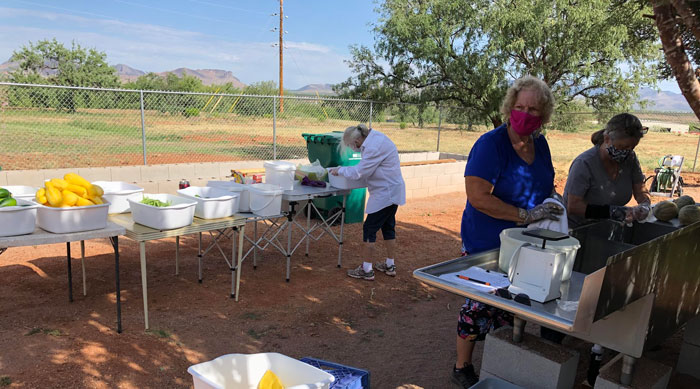 We are now developing a teaching garden for children. As part of our STEM learning program, they will learn not only how to garden and how important vegetables are for their health, but also how plant growth is controlled by elements in nature. Thanks to the grant from the Center for Nutrition Studies, we are building raised beds, establishing irrigation, setting up a handwashing station, and purchasing garden tools, children's tables and chairs, and books on plant-based nutrition.
We're also currently building a greenhouse with the help of our volunteers, and we plan on building interactive exhibits to illustrate the importance of water, air, earth and sun for plant growth. Our volunteers, soldiers from nearby Fort Huachuca, come almost every Saturday. They also help to plant and maintain the gardens, which gives us an opportunity to let them taste the vegetables, discuss the benefits of healthy eating, and even share recipes.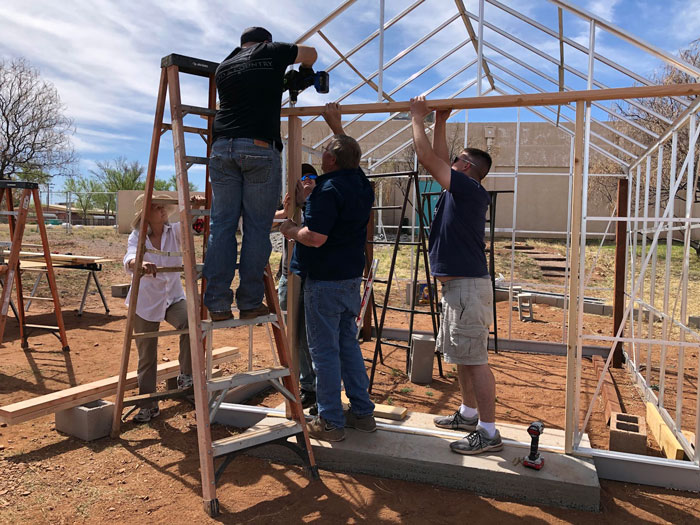 Over time, our volunteers have shared their health stories and encouraged each other to eat healthier. For example, one soldier, after studying on his own, adopted a plant-based diet to combat his health challenges, which really impressed the other soldiers. We believe that this communal approach is a great way to help others transition to healthier dietary lifestyles; it's often more challenging to change eating habits alone. The kind of informal discussions that we have with others at the garden—and helping them how to grow and cook vegetables—functions like a support group.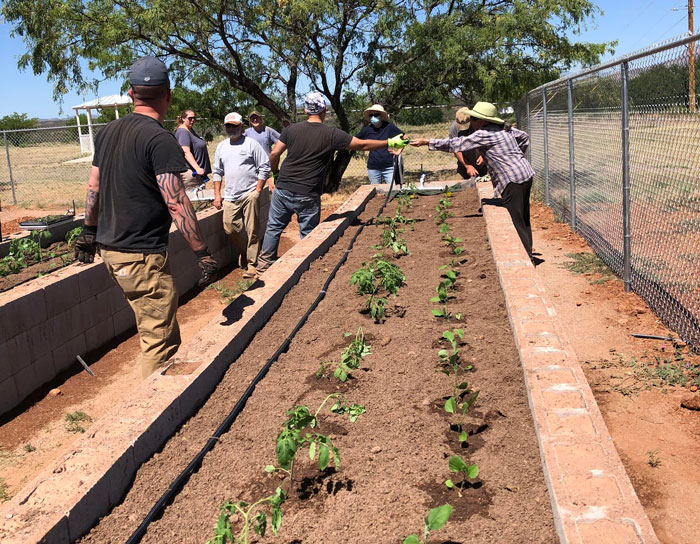 It has only been a couple of years since we began, but we're very proud of what we have already accomplished, especially given the challenges of the pandemic. We've been able to work both with people we know and with people we never would have met if not for the garden—all together for the common benefit of our community. We're growing produce for those in need and teaching healthy eating and home gardening and providing creative outdoor gardens for children. We hope that in the future we will be able to help residents establish gardens on their own properties so that they can walk from their kitchens to harvest fresh produce for their meals—true food security.
The T. Colin Campbell Center for Nutrition Studies (CNS) is committed to increasing awareness of the extraordinary impact that food has on the health of our bodies, our communities, and our planet. In support of this commitment, CNS has created a Community Grant initiative to empower sustainable food-based initiatives around the world by providing grants to enable innovative start-ups and to propel the growth of existing initiatives. Please consider making a donation to this great cause. 100% of your donation will go to support initiatives like the one you just read about in this article.
Learn more about our Community Grant program:
https://nutritionstudies.org/community-leads-service-initiative
Copyright 2021 Center for Nutrition Studies. All rights reserved.