Farm to Fork Program Creates Lifelong Healthy Eating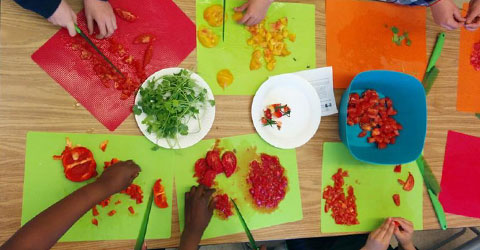 The following is an article from a Community Grant recipient.
Yoplait's blue-and-pink cotton candy-flavored Trix Yogurt. Strawberry milk. Lean finely textured beef (LFTB)—or "pink slime"—a meat byproduct paste processed with ammonia to kill bacteria. These were among the most popular items consumed at lunch while my children attended Piney Branch Elementary School in Takoma Park, MD, just outside Washington, DC. Thankfully, as a result of robust parent advocacy efforts, they have been dropped from the cafeteria menu in the last few years, but encouraging kids to make healthy food choices remains an ongoing challenge.
Enter Crossroads Community Food Network's Healthy Eating Program, which brings culturally responsive, farm-to-fork programming to Piney Branch and other local schools with high rates of participation in the free and reduced-price meals (FARMS) program; and to our farmers market, community kitchen, school and community gardens, and other community venues.
We want participants to see themselves as change agents with the knowledge and resources to actively engage with their local food system. That means making healthier food choices, but also recognizing their power as consumers to forge a healthier, more equitable local food system for all.
The Healthy Eating program began in 2010 with a small grant from the City of Takoma Park to support monthly hands-on cooking projects that brought Latin American recipes to fifth graders and their families at Rolling Terrace, a local Spanish immersion elementary school. Today, the Healthy Eating program offers participants a holistic view of the local food system, touching on a broader range of topics: seasonality, agricultural and climate challenges related to consumption, and many of the factors that influence food choices.
Ultimately, the goal is to lay a foundation for a lifetime of healthy eating. We want participants to see themselves as change agents with the knowledge and resources to actively engage with their local food system. That means making healthier food choices, but also recognizing their power as consumers to forge a healthier, more equitable local food system for all.
And it's working. The program has been tremendously popular among parents, teachers, and other "eat your veggies" enthusiasts and kids, many of whom get to taste foods like mustard greens and pea shoots for the first time. In 2019, 92 percent of students said they'd make healthier food choices, and the community's enthusiasm for growing food, sampling the bounty of our region's agriculture, and exchanging knowledge is only increasing.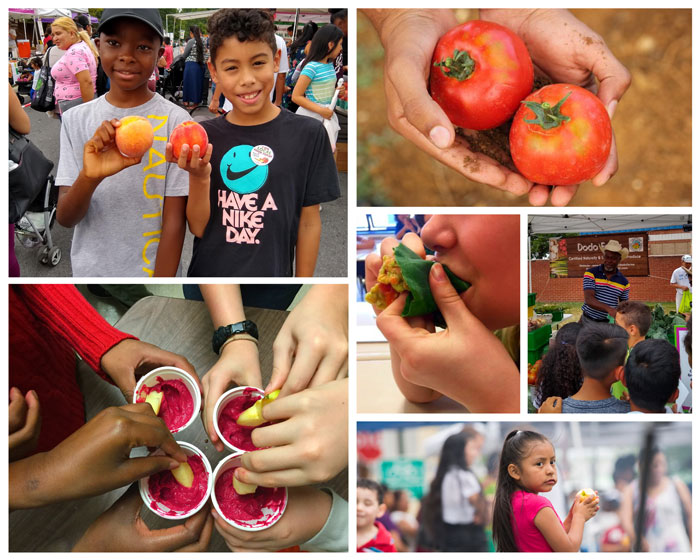 The program includes interactive cooking demos, food tastings, farmer visits, and other activities. In all of these, we emphasize hands-on learning. And although indoor activities are currently on hold due to the pandemic, we're continuing to offer interactive programming via Zoom and distribute a new bilingual healthy eating newsletter through teaching teams and community partners.
During the pandemic, we've also been able to focus more on the growing side of the Healthy Eating Program. With the help of community and parent volunteers, we have led socially distanced garden workdays with families at both the Takoma Park Children's Garden and Piney Branch's new PTA-sponsored school garden. Together we harvested sweet potatoes, planted garlic, and celebrated Dia de Los Muertos. In place of food demos at the farmers market, we've been sharing plants, seedlings, and seed kits for windowsill gardens (including garlic, onion, squash, and tomatoes) and providing take-home activities for kids. Once it's safe to do so, we will again offer food demos at the market and Healthy Eating sessions in classrooms and at the community kitchen.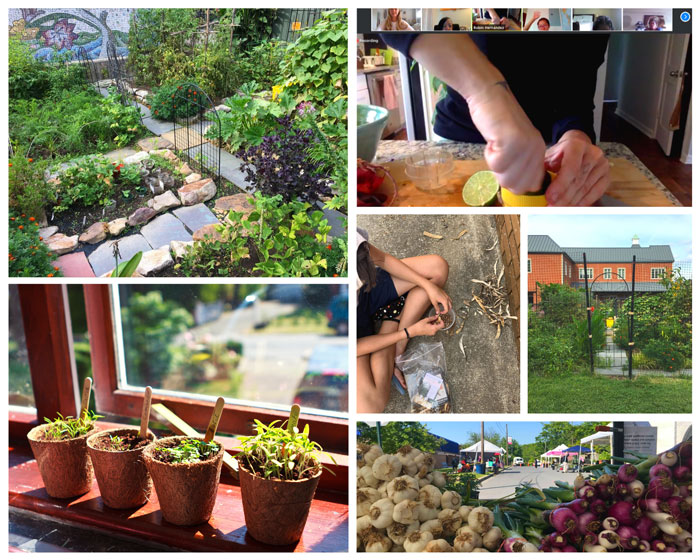 One of the final in-person Healthy Eating sessions before the pandemic hit illustrates what the program is all about. Visiting a local public school from his small farm in Brookeville, Maryland, Olaniyi "Niyi" Balogun set up a video and answered questions from teachers and volunteers about his experiences growing food in his native Nigeria. Students in the third, fourth, and fifth grade politely watched the video and listened to the adults ask Niyi questions. But it was when Niyi brought out the seeds, herbs, and fresh greens that the room lit up. The students passed around and sampled spicy mustard greens, impressed and surprised by the intense flavor and spice. Some even requested seconds. Wild boar kale was another huge hit. Its beautiful purple color reminded some students of their classmates' vibrantly colored clothes. Fresh thyme and oregano ignited their senses and reminded them of more familiar foods—pizza and tomato sauce.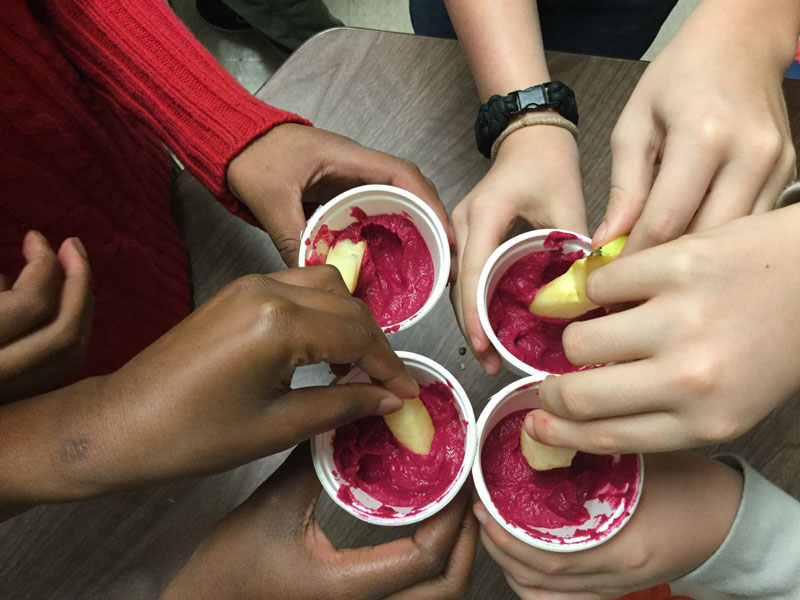 All told, the experience engaged the senses and encouraged everyone to experiment more directly with food. The students' reactions likewise affected Niyi, who was so pleased to have been involved, and asked if he could bring horse manure to the school's garden. By the time the session was over, there was a renewed excitement to get into the garden and nurture all those tiny seeds to grow into large green, edible—and tasty!—plants. What a far cry from the "pink slime" of the past!
The T. Colin Campbell Center for Nutrition Studies (CNS) is committed to increasing awareness of the extraordinary impact that food has on the health of our bodies, our communities, and our planet. In support of this commitment, CNS has created a Community Grant initiative to empower sustainable food-based initiatives around the world by providing grants to enable innovative start-ups and to propel the growth of existing initiatives. Please consider making a donation to this great cause. 100% of your donation will go to support initiatives like the one you just read about in this article.
Learn more about our Community Grant program.
Copyright 2022 Center for Nutrition Studies. All rights reserved.