When I was 10 years old, I was introduced to a book called The China Study by T. Colin Campbell, and I sent him a video telling him how passionate I was about plant-based eating and asking if I could take the Center for Nutrition Studies' (CNS) Plant-Based Nutrition Certificate. In summary, his response was, "Paige, kids like you can change the world." Shortly after that, I took the CNS Plant-Based Nutrition Certificate, becoming the youngest person ever to do so, and I had a wonderful experience with it. I remember feeling like I was doing something important and was so excited to be discussing plant-based eating with a diverse group of people ranging from food bloggers to medical doctors. After that, I was equipped with the knowledge I needed to expand my food palate, share my knowledge with others, and even write my own cookbook!
I would highly recommend this program to anyone interested in pursuing plant-based eating and exploring all it has to offer. One of my biggest takeaways from the course was that it piqued my interest in learning more about how each person can do their part to help save the environment by eating less animal foods and more whole plant foods. I was amazed at the degree to which animal agriculture contributes to the degradation of our planet and depletes Earth's natural resources. I've always loved animals and it feels great to eat in alignment with my values. If people were more conscious of what they put on their plate, they might realize the impact they could have by making different choices. A lot of young people want to be healthy but simply do not know how to in a way that suits their lifestyle. I think a lot of people correlate healthy eating with a plate full of "rabbit food." Since going through the course, I've discovered a whole new world of delicious food that also happens to be healthy.
I have always enjoyed cooking and baking, but when I was younger, I was a very selective eater. My food palate has expanded immensely after taking the CNS certificate. My younger self would be shocked that sweet potatoes, mushrooms, and tofu are now a few of my favorite foods. Over time, I began to incorporate lots of fruits and vegetables into my day, which is what I encourage others to do when they want to make a change toward eating more plants. I also tell others to focus on the new and delicious things they are adding to their diet each day instead of what they are taking out. The more I added whole grains, fruits, veggies, legumes, nuts, and seeds into my diet, the less inclined I became to choose processed and animal-based foods. I did not feel as energized and clear-minded when I was eating more standard American diet (SAD) foods like French fries, pizza, and chicken nuggets. It helped that my entire family was eating plant-based, but I think anyone who wants to do this can succeed. Just think about your "why" and make it happen.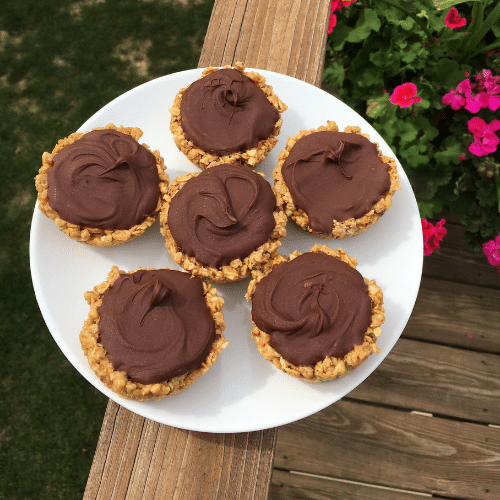 Being plant-based has become more than a way of eating; it is a significant part of who I am, and I always tell my friends and family all about the amazing food I'm eating on any given day. What people often want to know when I explain that I am plant-based is why and how. My "why" is very simple: I am the type of person who doesn't live to eat, I eat to live, and I choose to eat in a way that is beneficial to even more than my own health. As for my "how," after eating plant-based for some time, you will begin to realize it comes quite naturally.
I have always enjoyed cooking and baking, and I discovered the skill of recipe writing when I started converting some of my favorite standard American recipes into plant-based recipes by substituting plant-based ingredients for animal products like dairy and eggs. Not only do I love food and sharing food with others, it is my goal to inspire others to start on their own plant-based journeys and support them through it. Maybe that means starting out with Meatless Mondays or trying oat milk in coffee instead of cow's milk; wherever the start may be for you, all progress is good progress. Keep going and, like me, you could find yourself exploring a whole new world of food and gain so much perspective.
I have been plant-based for almost a decade now, and although my journey has evolved over time to get to the point where I am now, I simply couldn't imagine living any other way. My love of food runs deep and there is nothing I enjoy more than making a new recipe and being overwhelmingly ecstatic with the results (this happens to me often). I've developed such a passion for all aspects of plant-based eating including but certainly not limited to nutrition, saving animals, and benefiting the planet. There is very little I feel more strongly about than the way I eat. My favorite part about living a plant-based lifestyle is that you can make it your own. One day I may enjoy a beautiful, heaping "Buddha bowl" and the next it may be a giant sweet potato I tossed in the air fryer and a head of steamed broccoli. I feel so fortunate that I've been able to share my passion with a myriad of people including friends, family, teachers, people in my community, and even servers in restaurants who are slightly puzzled when I ask for a "veggie pizza with no cheese." My best advice when making the shift to a lifestyle that is optimal for yourself, the planet, and all the creatures living on it is to keep in mind that any changes you make to work toward your own eating goals will positively affect this trifecta. Knowing that I am contributing every day to an essence much larger than myself that is so intricately woven together helps me live a happier, healthier life and I believe I am leaving a positive mark on the world. Remember, you may be one recipe away from discovering the diet and lifestyle of your dreams!
The SAD is meat- and dairy-centric, so when making the shift to plant-centric eating, it takes some practice and getting used to. But once you do get used to it, you won't want to go back. I'm looking forward to sharing more about my love of eating beautiful, healthy food even more so in my cookbook, Plant-Based Snacks, Apps and Desserts, which is in the final stages of being prepared for publishing. Earning my certificate in Plant-Based Nutrition through CNS was the start of an amazing journey that will last a lifetime!
Copyright 2023 Center for Nutrition Studies. All rights reserved.