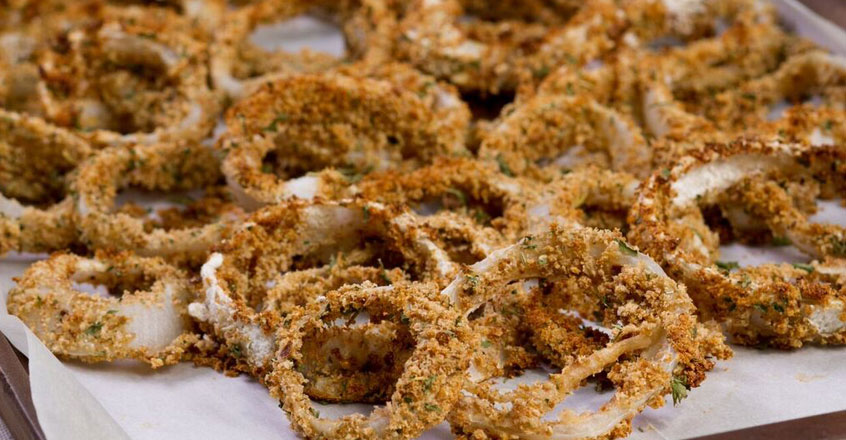 Ingredients
4 slices 100% whole wheat bread, toasted
1 Tbsp nutritional yeast flakes
2 Tbsp dried parsley
1½ tsp garlic powder
1 tsp onion powder
1 tsp Italian herb blend
1½ tsp sea salt (optional)
1½ cups whole wheat flour
1 cup unsweetened plant-based milk
2 large red or white onions, cut into ¼-inch thick slices and separated into rings
Instructions
1. Preheat the oven to 425 degrees F. Line a baking sheet with parchment paper.
2. Process the toasted bread slices in a food processor until fine crumbs form. Add the nutritional yeast, parsley, garlic powder, onion powder, Italian herb blend, and sea salt (if using).
3. Transfer the crumb mixture to a shallow dish. Put the flour in another shallow dish, and the milk in a third shallow dish.
4. Completely coat the onion rings with flour, then dip them in the milk, and finally coat them in the bread crumbs. You can do several onions rings at once.
5. Place the breaded onion rings on the prepared baking sheet and bake for 15 to 25 minutes, until golden brown and crispy. Serve warm.
Cooking Tips
1. You can save time by starting with 3 cups whole wheat breadcrumbs instead of making the crumbs from toast. Or, for gluten-free onion rings, replace the breadcrumbs with crushed Rice Chex cereal.
100% online, learn at your own pace
Instructor led format
No prerequisites
Continuing education credits