Can a dip that tastes this good really be healthy? Oh yeah. For one, unlike most traditional baba ganoush recipes, this one uses no oil. Not even olive oil. All oils are damaging to the endothelial lining of our arteries. And it's pretty easy to cook without it. So why use it?
The main star in this appetizer–the stunningly beautiful, deep purple eggplant (or 'aubergine')–is a nutrient dense food that's high in fiber and antioxidants, and low in calories. You probably know by now that the most colorful fruits and vegetables tend to have the most antioxidants, and this is certainly true for eggplant.
What You'll Need
---
2 medium eggplants, cut in ½ inch slices (see notes)
4 cloves garlic, unpeeled
Juice and zest of 1 large lemon (¼ cup of juice)
2 Tbsp chopped parsley leaves plus more for garnish
1 Tbsp chopped mint leaves plus more for garnish
Sea salt and freshly ground black pepper to taste
3-4 Tbsp water to thin while processing
How to Make It
---
1 Preheat oven to 425 degrees F.
2 Line two baking sheets with parchment paper.
3 Place eggplant slices and unpeeled garlic cloves on the sheets, spreading them out evenly, and roast for 20 minutes. Turn over, and continue roasting for an additional 10 or 15 more minutes, or until cooked through and very soft.
4 Remove from oven and set aside to cool.
5 While the eggplant and garlic are roasting, combine tahini, lemon juice and zest, miso, parsley, mint, cumin and smoked paprika in a food processor or blender.
7 When the eggplant and garlic have finished cooking, peel the garlic, then add both to the food processor or blender.
8 Process until completely smooth and creamy, adding water and/or more lemon juice a little at a time to thin as needed.
9 Garnish with chopped parsley and mint if desired.
Cooking Tips
Eggplant skins can be tough, especially on larger eggplants. Look for smaller, younger eggplants if you want to leave the skin on.
This recipe also works great with grilled eggplant. Eggplant slices will cook on the grill in about 10 minutes. If using a gas grill set to medium high. The garlic can also be grilled. Place cloves in a foil pouch or a small grill basket.
Since we're not using oil, you will need to thin the dip either with water or more lemon juice.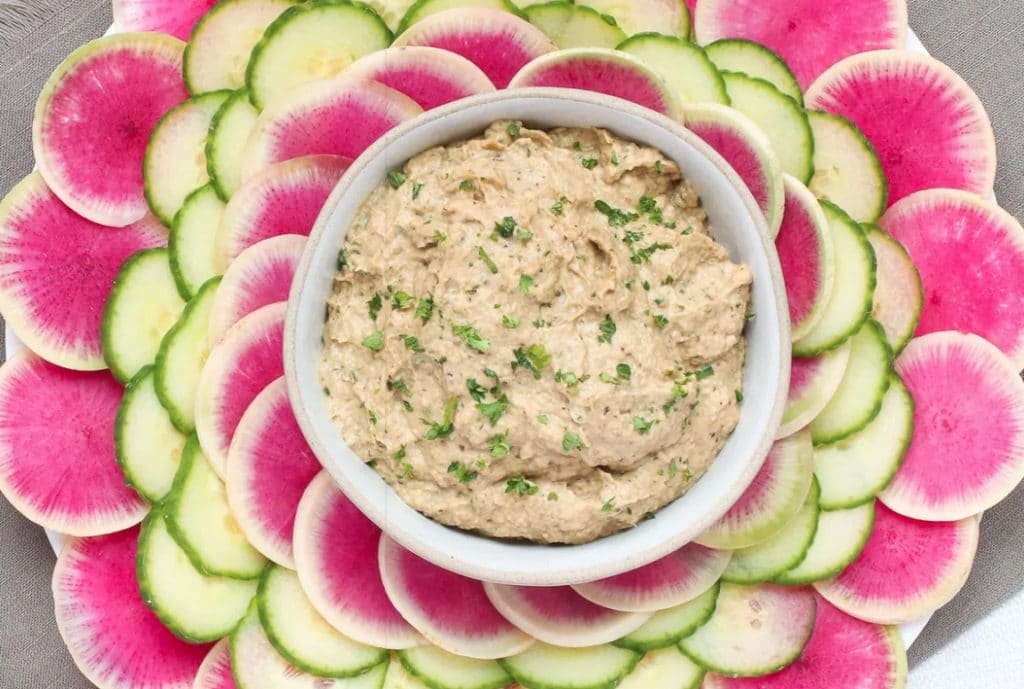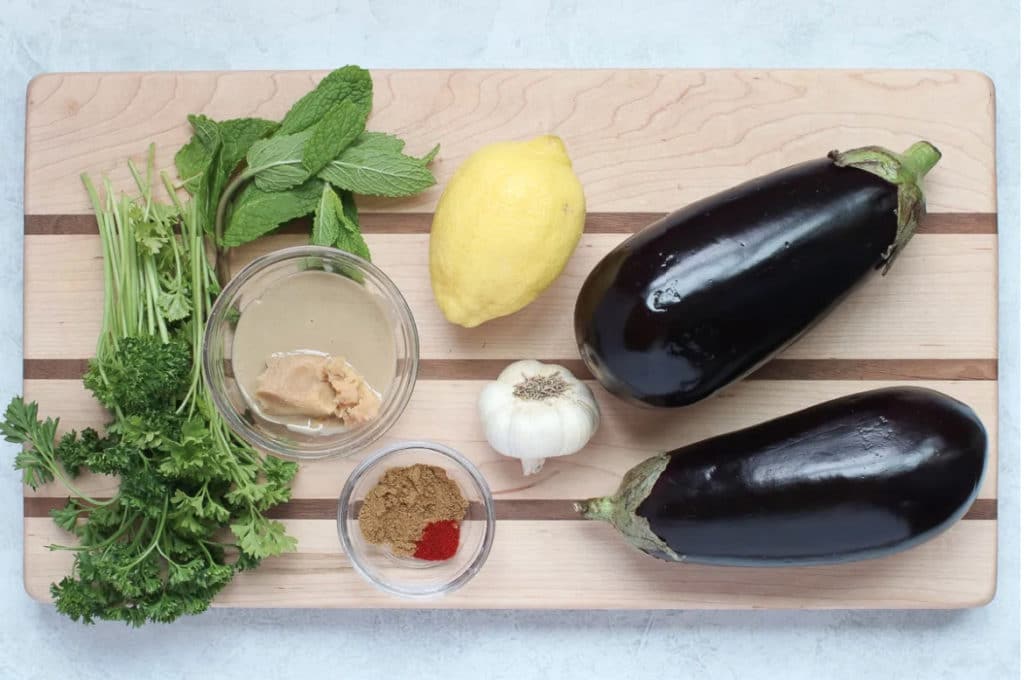 Copyright 2022 Center for Nutrition Studies. All rights reserved.