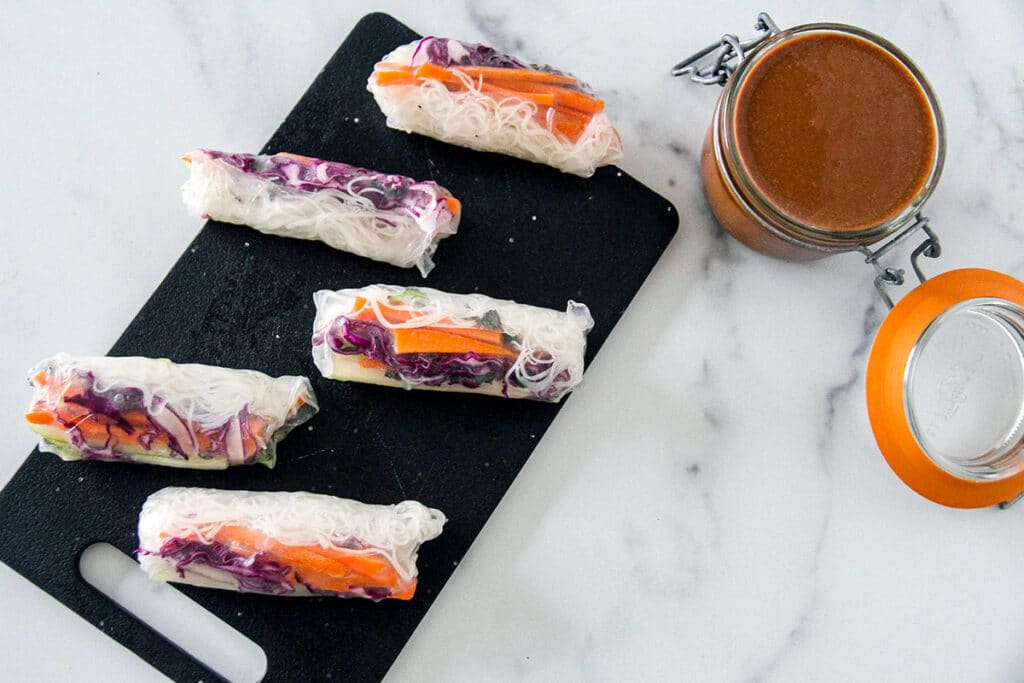 Ingredients
Peanut Sauce
1 cup peanut butter powder
¼ cup water, more as needed
¼ cup low-sodium tamari
2 Tbsp rice vinegar
¼ cup maple syrup or date paste
¾ tsp ground ginger
¼ tsp cayenne pepper (optional)
Summer Rolls
2 ounces rice vermicelli, or maifun brown rice noodles
2 green onions, thinly sliced (about ¼ cup)
¼ cup chopped fresh cilantro
¼ cup chopped fresh mint
2 cups very thinly sliced red cabbage
2 medium carrots, peeled and cut into matchsticks
1 small cucumber, thinly sliced into matchsticks
1 Thai red chile pepper, thinly sliced (optional)
8 sheets rice paper (spring roll wrappers)
Instructions
Peanut Sauce
1. Combine all ingredients in a bowl and whisk well to combine.
2. Store refrigerated in an airtight container for up to 7 days.
Summer Rolls
1. Cook the rice noodles according to package instructions. Drain and rinse them to cool.
2. Fill a large bowl with two inches of water. Fold a lint-free tea towel in half and place it next to the bowl.
3. Combine the green onion, cilantro, and mint in a separate small bowl. Stir to combine.
4. Place one rice paper in the water and let it rest for about 20 seconds, until the sheet is pliable. Carefully lay it flat on the towel.
5. Leaving about 1 inch of open rice paper around the edges, cover the lower third of the paper with a few pieces of cabbage, a small handful of rice noodles, and a few strips of carrot, cucumber, and Thai chile peppers. Add a generous sprinkling of the herb mix.
6. Fold the lower edge up over the filling.
7. Fold over the short sides like you would to make a burrito. Roll it up.
8. Repeat with the remaining ingredients.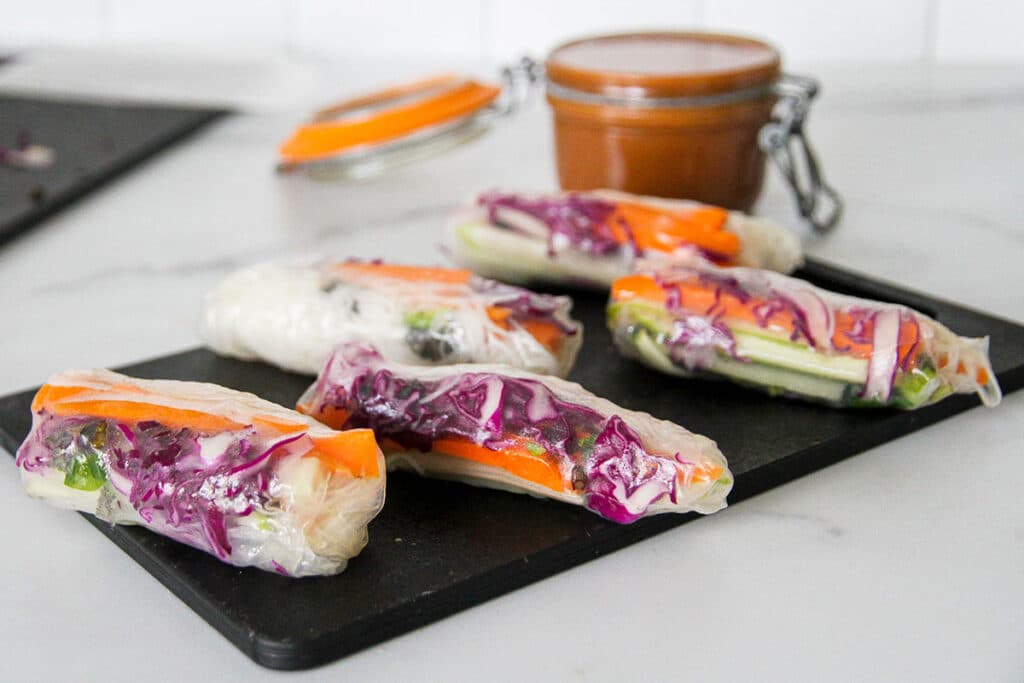 100% online, learn at your own pace
Instructor led format
No prerequisites
Continuing education credits