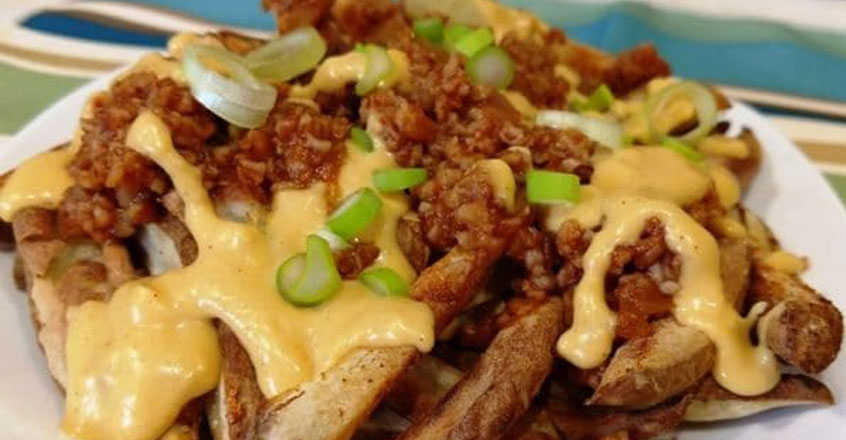 Ingredients
Potato Fries
4 medium potatoes
½ tsp onion powder
½ tsp garlic powder
Salt to taste
Vegan Chili
½ cup onion, diced
½ cup veggie broth
2 cups bulgur, cooked
½ cup ketchup
1 Tbsp worcestershire sauce without anchovies
1 tsp chili powder
½ tsp smoked paprika
½ tsp onion powder
½ tsp garlic powder
½ tsp season salt
Small pinch cayenne pepper (optional)
Vegan Cheese Sauce
1 cup potatoes, peeled and diced
¼ cup onions, diced
¼ cup carrots, diced
1 cup reserved broth from veggies
½ cup raw cashews OR ½ cup white beans
4 Tbsp nutritional yeast flakes
1 Tbsp lemon juice
1 tsp salt
½ tsp garlic powder
1 tsp paprika
Small pinch cayenne pepper (optional)
Instructions
Potato Fries
1. Preheat oven to 400 degrees F.
2. Cook the potatoes whole in the microwave, wrapped in a damp paper towel for 3 minutes. If you prefer, they can be parboiled for about 5 minutes (slice them first). Precooking is important or they will come out chewy and less crisp.
3. Once the potatoes are precooked and cooled, slice to the thickness that you prefer. Peeling the potatoes is optional. Season with garlic powder, onion powder, and a little salt. Place in the oven or air fryer at 400 degrees F for about 25 minutes. Flip halfway through.
Vegan Cheese Sauce
1. In a medium pot, bring 3 cups of water to a boil. Place potatoes, carrots, and onion in the pot and cook until veggies are tender, approximately 15 minutes.
2. When the veggies are finished, drain and place in a blender. NOTE: reserve 1 cup of the broth, and add to blender. Add the remaining cheese sauce ingredients, and blend until smooth.
3. Makes approximately 1 quart and can be stored in the refrigerator up to 2 weeks.
Vegan Chili
1. In sauce pan, saute diced onions until caramelized in 3 Tbsp of the veggie broth. Add veggie broth 1 Tbsp at a time as needed.
2. Add the remaining chili ingredients and simmer for approximately 5 minutes. NOTE: Bulgur does need to be precooked. Bulgur is a whole wheat grain that is cooked exactly like rice in about 15 minutes (follow package directions). Bulgur adds a ground beef texture.
Chili Cheese Fries
1. Start with the crispy fries then spoon the chili over the top and finish by drizzling with cheese sauce. Serve and enjoy!
Cooking Tips
1. The cheese sauce can also be used as a nacho cheese dip, for mac-n-cheese, as a topping for steamed broccoli, or any recipe that needs a creamy, cheesy sauce.
2. For even more flavor you can top your chili cheese fries with diced green onions.
3. I like to make a big batch of bulgur in my rice steamer and store in the freezer to use in recipes like tacos, stews, chili beans, etc.
100% online, learn at your own pace
Instructor led format
No prerequisites
Continuing education credits