Cauliflower Breakfast Scramble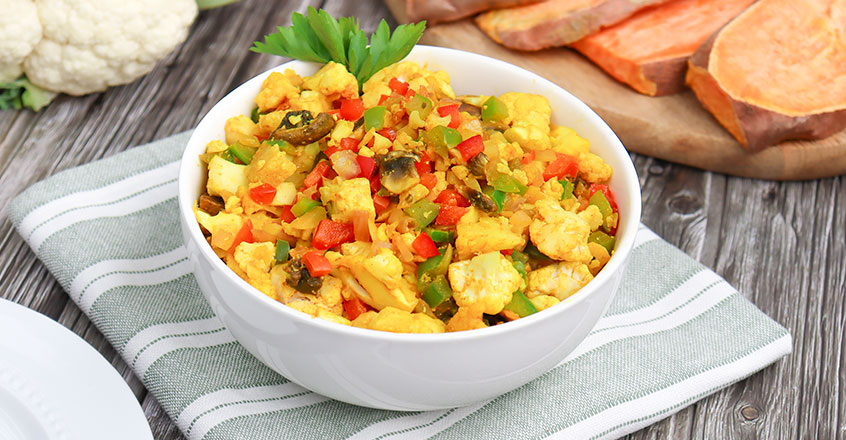 Adapted from Forks Over Knives, The Cookbook (The Experiment, 2012).
What You'll Need
---
1 red onion, peeled and cut into ½-inch dice
1 red bell pepper, seeded and cut into ½-inch dice
1 green bell pepper, seeded and cut into ½-inch dice
2 cups sliced mushrooms (about 8 ounces whole mushrooms)
1 large head cauliflower, cut into florets
½ teaspoon freshly ground black pepper
¼ teaspoon cayenne pepper, or to taste
3 cloves garlic, peeled and minced
1–2 tablespoons low-sodium soy sauce
¼ cup nutritional yeast (optional)
How to Make It
---
1 Place the onion, red and green peppers, and mushrooms in a medium skillet or saucepan and sauté over medium-high heat for 7 to 8 minutes, or until the onion is translucent. Add water 1 to 2 tablespoons at a time to keep the vegetables from sticking to the pan.
2 Add the cauliflower and cook for 5 to 6 minutes, or until the florets are tender.
3 Add the salt, pepper, turmeric, cayenne, garlic, soy sauce, and nutritional yeast (if using) to the pan, and cook for 5 minutes more, or until hot and fragrant.
Copyright 2022 Center for Nutrition Studies. All rights reserved.