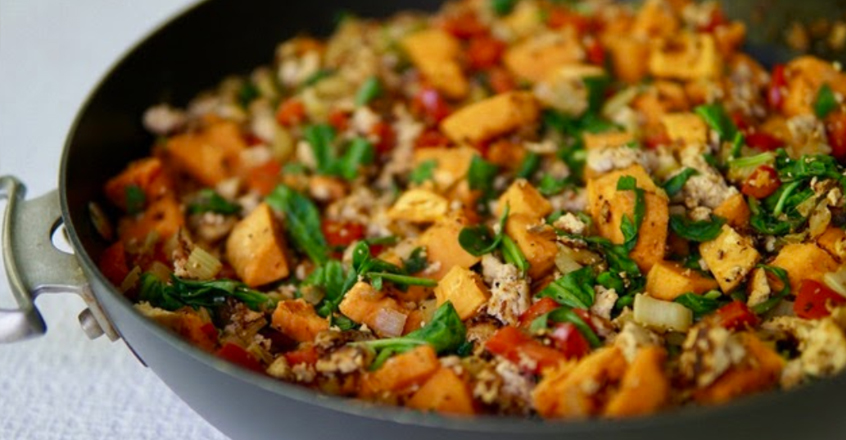 Ingredients
1 onion, diced
1 red bell pepper, diced
2 stalks celery, diced
1 package extra firm tofu, crumbled
2 Tbsp Scrambler Seasoning
Sprinkle of extra curry, to taste
A few dashes of hot sauce, to taste
A few dashes of low-sodium soy sauce, to taste
2 large sweet potatoes, steamed and diced
2 to 3 cups fresh baby arugula, kale, or spinach, chopped
Scrambler Seasoning Mix
1 cup nutritional yeast flakes
5 Tbsp plus 1 tsp onion powder
4 tsp curry powder
4 tsp ground turmeric
4 tsp ground cumin
4 tsp salt
1 to 2 tsp ground pepper
Instructions
1. Combine all ingredients for the seasoning mix and store in a covered jar.
2. Heat a large skillet over medium-high heat.
3. Add onions and dry sauté until translucent.
4. Sprinkle a little bit of water, as needed, to prevent sticking to the pan.
5. Add bell pepper and celery, and continue to sauté briefly.
6. Add tofu and Scrambler Seasoning Mix.
7. Continue cooking over medium-high heat, stirring occasionally until tofu is rich in color and begins to turn golden brown.
8. If desired, season with an extra sprinkle of curry, hot sauce, and soy sauce.
9. Add sweet potatoes and greens, and continue to cook until potatoes are heated through and greens have wilted.
10. Remove from heat. Season with additional salt and pepper to taste, and serve hot, with sprouted whole grain Ezekiel toast or English muffins.
Cooking Tips
1. You can substitute tamari for soy sauce for a gluten free option.
100% online, learn at your own pace
Instructor led format
No prerequisites
Continuing education credits