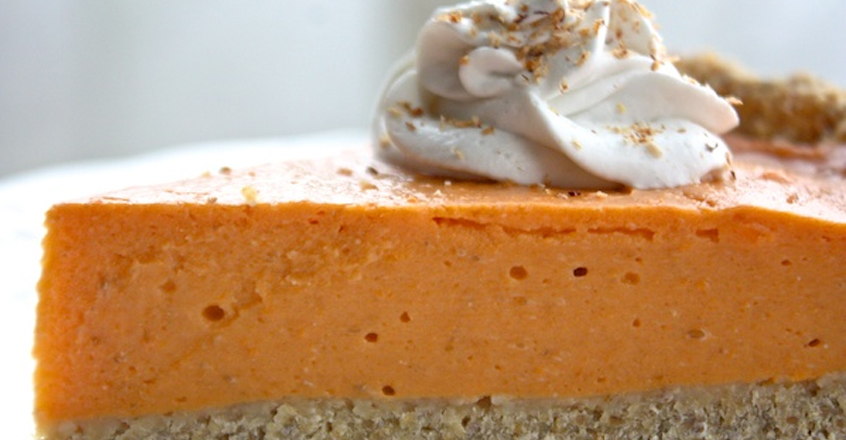 Ingredients
Crust
2 ¼ cups rolled oats
½ cup raw cashews
2 Tbsp chia seeds
2 Tbsp sucanat or raw sugar
½ tsp cinnamon
½ cup water
1 pinch salt (optional)
Filling
2 cups mashed sweet potatoes, without the skin
1 12-oz package silken tofu
½ cup maple syrup
1 Tbsp tapioca starch
2 Tbsp potato starch
1 Tbsp ground chia
3 Tbsp water
½ tsp ground nutmeg
Instructions
Crust
1. Preheat the oven to 375 degrees F.
2. Place all ingredients, except the water and 1/4 cup of the oats, into a food processor and process until you have a course flour.
3. Add the remaining oats and pulse just to combine.
4. With the food processor running, add the water a little bit at a time. The mixture should come together as a thick dough, but it will be crumbly. That's okay. It should stick together when you pinch it.
5. Line a pie plate with parchment paper.
6. Dump the dough into the pie plate, squishing it down and up the sides with your hands. I used my handy-dandy pastry roller, which makes this process so much easier. Either way, you will gain upper body strength making this crust! It's very thick. Just take your time and enjoy the process.
Filling
1. Combine the ground chia with the water and set aside.
2. Place all remaining ingredients in a food processor and process until smooth and creamy. Add the chia mixture and process again until smooth.
3. Pour onto the pie crust and smooth with a spatula.
4. Bake for 45-50 minutes, until the top is firm.
Cooking Tips
1. Top with a dollop of your favorite vegan whipped cream and a sprinkle of ground nutmeg for an extra tasty treat!
2. I bake my sweet potatoes before mashing to bring out the sweetness, though you could also boil them.
3. This cookie-like crust can be used for just about any pie, as a bottom crust only.
100% online, learn at your own pace
Instructor led format
No prerequisites
Continuing education credits