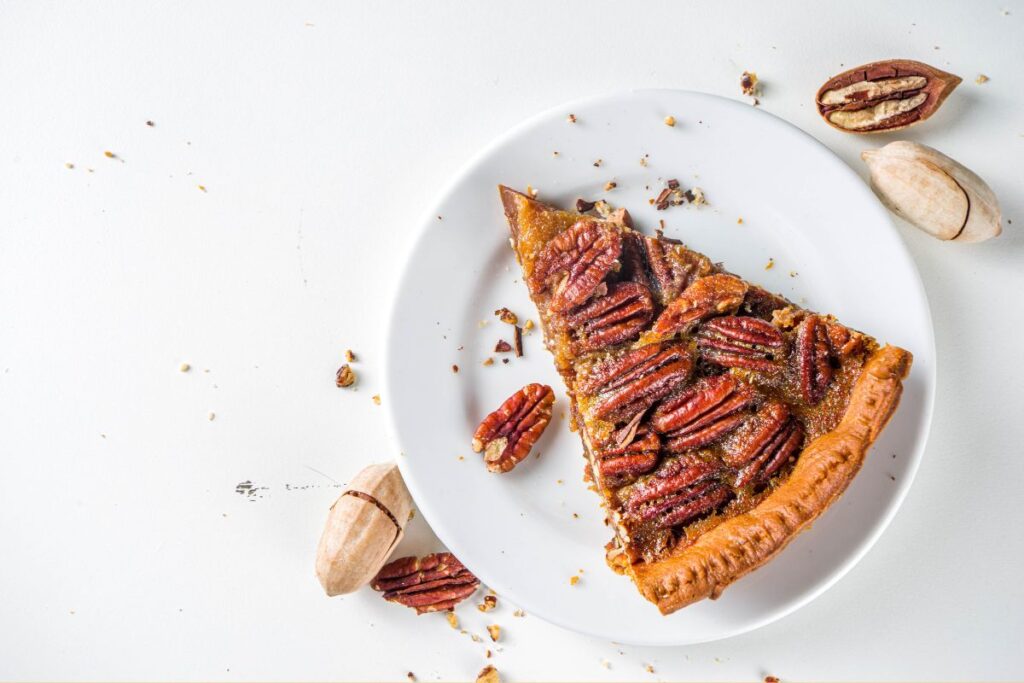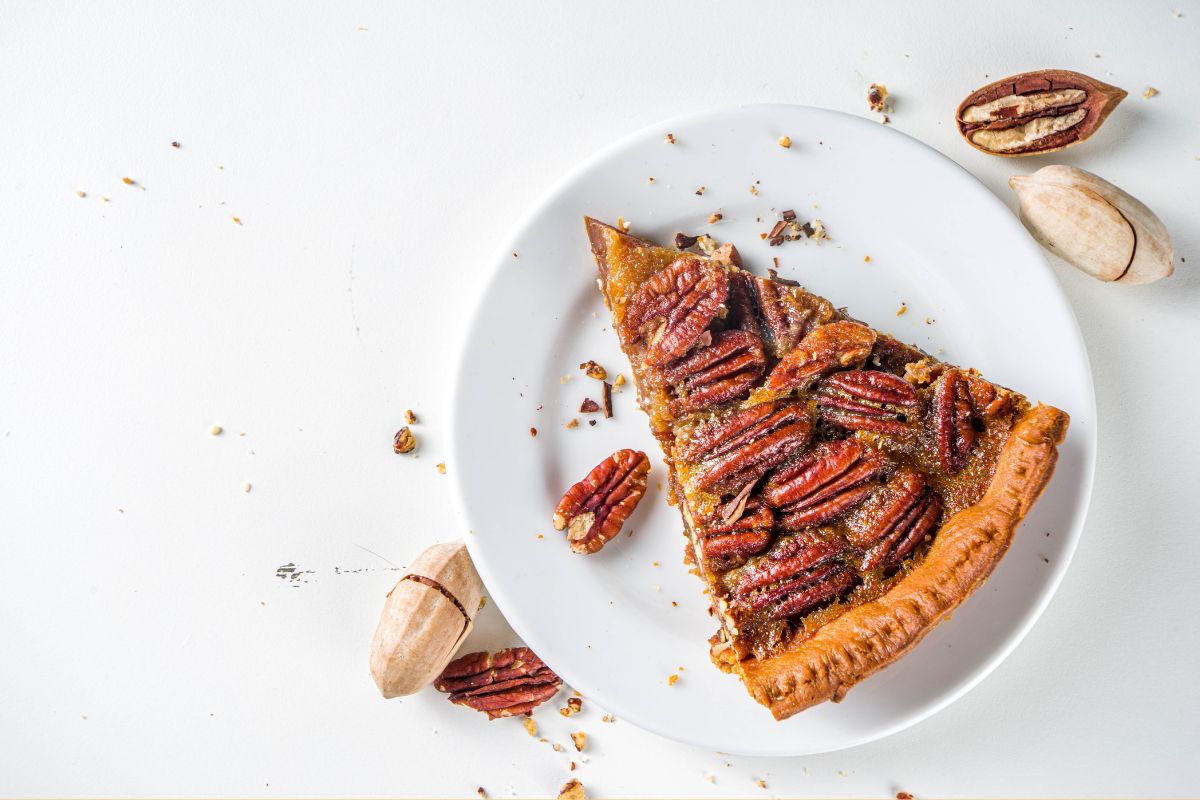 Ingredients
Crust Ingredients
1½-2 cups tightly-packed blanched almond flour (use 2 cups for a deep dish pie plate)
1 Tbsp flax meal
3 Tbsp water
Filling Ingredients
1 cup pitted medjool dates
¼ cup pure maple syrup
3 Tbsp tapioca flour
1 cup water
Pinch of sea salt
2 tsp pure vanilla extract
1 cup rough-chopped pecans
½ cup applesauce
Topping Ingredients
1 cup whole pecans
2 Tbsp pure maple syrup
Instructions
Crust Preparation
1. Preheat oven to 350 degrees F.
2. Mix the flax meal and the 3 Tbsp water together and let sit for about 10 minutes.
3. Place almond flour in a food processor and turn on. While running, pour in the flax mixture. Pulse until the flax is completely incorporated and the dough is sticking together. Drizzle in more water as needed. The dough should be soft and smooth.
4. Turn the dough out onto a sheet of plastic wrap. Press it together tightly and form a disc. Refrigerate for about 30 minutes.
5. Roll the dough in between 2 sheets of plastic wrap, then turn it out into a pie plate. Don't worry if it's not perfect. You will shape it when it's in the pie plate. Use one of the sheets of plastic wrap to smush the dough up the sides of the plate and level it down as best you can. The BEST way to do this is with something called a pastry and pizza roller. It makes everything even and smooth. It's very inexpensive and I highly recommend having one in your kitchen.
6. Flute the edges using your fingers or a fork, making any design you like. Dock the crust (poke it all over with a fork).
7. Bake for 15-20 minutes until the edges of the crust are golden.
Filling Preparation
1. Preheat oven to 350 degrees F.
2. Blend the dates, water, maple syrup, tapioca flour, salt and vanilla until smooth.
3. Transfer to a bowl and stir in the applesauce and the chopped pecans.
4. Pour into your prepared pie crust.
5. Decorate the top with whole pecans however you like. They should sit nicely on top. Push them in JUST A LITTLE when done to secure them in the filling.
6. Cover loosely with a foil tent and bake for 50 minutes until puffy.
7. Remove from oven and brush with the additional maple syrup. Return to oven for 5 more minutes.
8. Let cool completely before cutting.
100% online, learn at your own pace
Instructor led format
No prerequisites
Continuing education credits