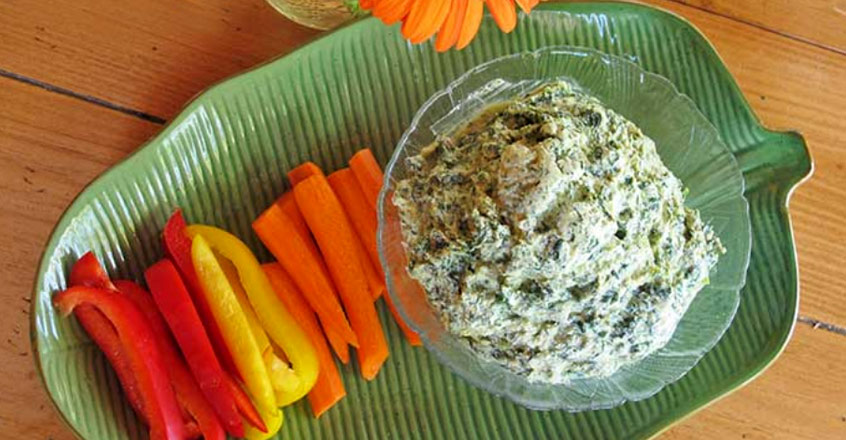 Do you have uncontrollable munchies sometimes? This dip is a satisfying snack that's good for you.
The recipe can be used in many creative ways. It makes a great lasagna filling. You can also spread it on a whole-wheat tortilla and add your favorite veggies like tomatoes, sprouts, watercress and green onion. Roll up the tortilla and you've got a delicious, filling wrap. If you leave out the spinach in this recipe, you'll have a different, tasty tofu dip. You could also swap out the basil for another tasty green herb or combination of herbs. Use your imagination and experiment to discover new variations. If you find one you love, I'd love to hear about it in the comments below!
*This dish was inspired by Julie Marie's recipe at Protective Diet.
What You'll Need
---
1 14 oz block firm organic tofu, drained and pressed (optional – it'll be a little looser if you don't press)
1 9-10 oz package frozen spinach, defrosted
1 cup packed basil leaves
¼ cup apple cider vinegar
2 Tbsp nutritional yeast (optional)
1 can water chestnuts, drained
How to Make It
---
1 In a food processor, blend tofu, apple cider vinegar, mustard, onion powder, granulated garlic, miso, and nutritional yeast on high until well blended.
2 Squeeze the water out of the spinach and add to the other ingredients in the food processor along with the water chestnuts.
3 Pulse a few times to break up the water chestnuts leaving some chunkiness.
4 Chill for a few hours and serve with veggies or baked tortilla chips.
Copyright 2022 Center for Nutrition Studies. All rights reserved.