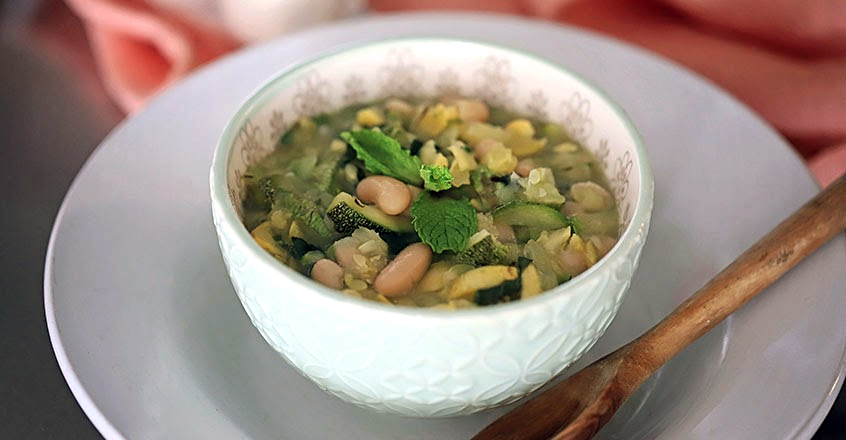 Ingredients
3 lbs zucchini and summer squash (5-6 medium squash)
4 cloves garlic, minced
1 sprig thyme
½ cup fresh basil
1 15 oz can cannellini beans, or 1½ cups cooked
2 Tbsp fresh mint
⅛ tsp salt (optional)
Instructions
1. Clean and trim the zucchini and summer squash. Cut into ½-inch thick disks.
2. Place the zucchini and summer squash in a medium pot. Add the thyme, garlic, and ½ cup of water.
3. Cover and cook over medium heat for about 40-45 minutes.
4. After the first 20-25 minutes of cooking, use a wooden spoon to stir and break up the zucchini and summer squash a little. .
5. Meanwhile, drain and rinse the beans.
6. Chop the basil and mint.
7. Once the squash is completely melted, find and discard the thyme stem.
8. Add the beans, basil, and mint. Use a wooden spoon or potato masher to mash the beans a bit.
9. Cook another 1-2 minutes, just enough to warm the beans.
10. Season with salt and serve.
11. Enjoy warm as a side or serve with whole wheat flatbread for a tasty appetizer.
Cooking Tips
1. This is a great way to use up extra squash from a bountiful garden. You can also use up other fresh herbs, like chives, chervil, parsley, and tarragon.
100% online, learn at your own pace
Instructor led format
No prerequisites
Continuing education credits