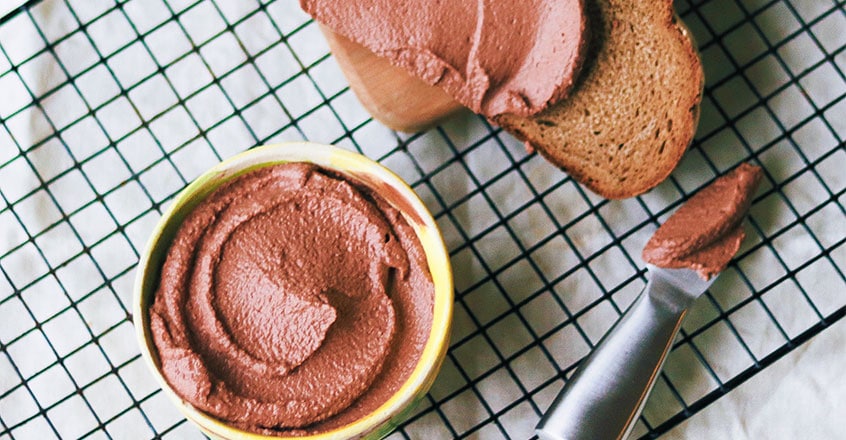 Ingredients
Plant-Based Bouillon
1 cup diced onion
1 cup thinly sliced celery
1 ½ cups thinly sliced carrots
1 cup sliced cabbage
1 cup sliced shiitake mushrooms
10 cups water
1 strip kombu seaweed
1 bay leaf
2 sprigs fresh thyme
2 Tbsp nutritional yeast
Vegetable Pâté
1 ½ cups sliced white bottom mushrooms
1 medium shallot, diced
2 garlic cloves, crushed
2 cups plant-based bouillon
1 bay leaf
5 parsley stems, chopped
1 thyme sprig
¼ cup cooked beetroot
¾ cup roasted walnuts
4 cups cooked lentils
2 Tbsp tamari
Salt to taste
Instructions
Plant-based Bouillon
1. In a saucepan, sauté onion for 2–3 minutes. Add celery, carrots, cabbage, and mushrooms, and cook for 3 minutes.
2. Add water, kombu, bay leaf, thyme, and nutritional yeast. Simmer for 35 minutes, avoiding boiling (kombu will become bitter at higher temperatures).
3. Let it rest before straining vegetables. Set bouillon aside.
For the Vegetable Pâté
1. In a heated skillet, sauté mushrooms, shallot, and garlic with a tablespoon of the vegetable bouillon. Add a pinch of salt.
2. Cook until vegetables are golden brown, mixing occasionally to avoid burning.
3. Add remaining bouillon, bay leaf, parsley, and thyme. Let it simmer until nearly all of the liquid is reduced. Remove the bay leaf.
4. In a blender, process the vegetable mixture along with the beetroot, roasted walnuts, cooked lentils, and tamari. Add salt to taste.
Cooking Tips
1. Serve on whole-grain bread or crackers.
100% online, learn at your own pace
Instructor led format
No prerequisites
Continuing education credits