Mac-nificent! Plant-Based Mac and Cheese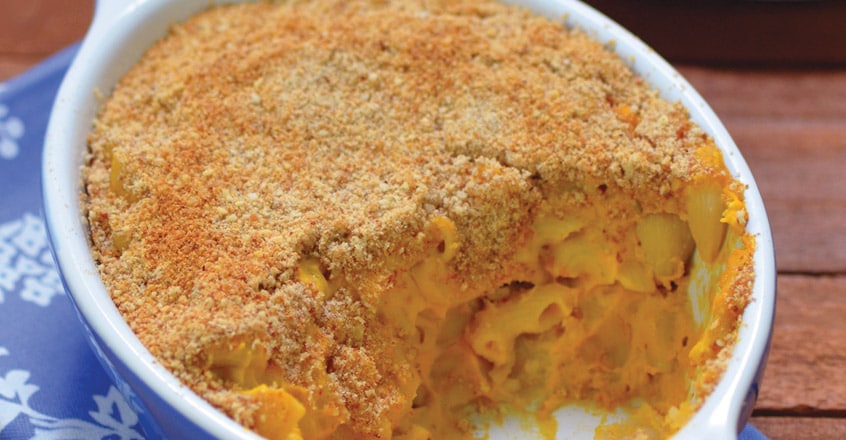 Reprinted from Plant-Powered Families by Dreena Burton (BenBellaBooks, 2015).
What You'll Need
---
VEGETABLES
1 medium-large yellow sweet potato (¾ lb; see tips)
2 small/medium carrots (about ¼ lb; see tips)
1 medium-large onion (see tips)
SAUCE
⅓ cup raw cashews (or another 2½ Tbsp tahini)
1 medium-large clove garlic
2 cups unsweetened nondairy milk, divided
3 Tbsp freshly squeezed lemon juice
PASTA
4½ – 4¾ cups uncooked pasta
TOPPING
½ cup bread crumbs of choice
¼ – ⅓ cup almond meal (see tips for nut-free option)
How to Make It
---
PREPARE THE VEGETABLES
1 Preheat oven to 450 degrees F and line a baking sheet with parchment paper.
2 Rinse/scrub the sweet potato, carrots, and onion, but do not peel! Place whole on the prepared baking sheet.
3 Bake for about an hour, until softened and roasted (if using carrot, it won't soften, but that's okay because it will be pureed).
4 Remove from oven and let cool slightly while preparing other ingredients. Reduce oven temperature to 375 degrees F to bake pasta.
MAKE THE SAUCE
1 In a blender (high-powered works best), add the cashews, nutritional yeast, tahini, tomato paste, arrowroot powder, miso, sea salt, mustard, garlic, 1 cup of the milk, and lemon juice. Blend until mixture starts to come together and is smooth.
2 Remove peels from sweet potato and onion (no need to peel carrot).
3 Add the roasted veggies and remaining 1 cup milk and water to blender. Puree until completely smooth.
ASSEMBLE
1 Pour the sauce into a baking dish (9" × 12", or 2 quart, roughly), scraping every bit from the blender!
2 Cook pasta until almost tender, then drain (don't rinse). Transfer pasta to the baking dish, and gently mix through to coat.
MAKE THE TOPPING
1 Mix the bread crumbs, almond meal, and sea salt in a small bowl, then sprinkle over the casserole.
2 Cover the casserole with foil and bake for 15–16 minutes (if you have chilled the casserole before baking, give it another few minutes).
3 Remove the foil and bake for another 5–6 minutes, or until the topping is golden. Don't overbake, as the sauce will continue to thicken as it stands.
4 Remove from the oven, let sit for a few minutes, and serve!
Cooking Tips
Sweet Potato/Carrot Note: If using orange versus yellow sweet potato, the mixture will be slightly sweeter, so you can use the full 1¼ teaspoon of sea salt to balance. Also, if using an orange sweet potato, omit the carrot (not needed for color), and just use the full 1 pound of orange spud!
Onion Note: The onion will become very mellow with roasting, adding a beautiful flavor that is not sharp or pungent.
Nut-Free Note: Substitute another 2½ tablespoons tahini for the cashews in the sauce, and omit the almond meal in the topping.
Copyright 2022 Center for Nutrition Studies. All rights reserved.