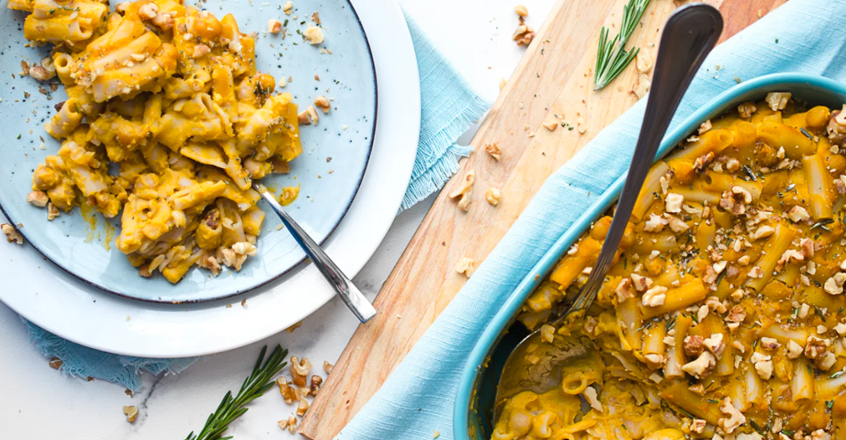 Ingredients
1 small yellow onion, diced
5 garlic cloves, minced
1 small squash, peeled, deseeded and diced (5 ½-6 cups)
3 cups low-sodium vegetable broth
1 Tbsp minced fresh rosemary
¼ tsp red pepper flakes
1 Tbsp lemon juice
½ cup walnuts (soaked in water for three hours)
½ tsp salt
1 pound whole wheat or brown rice penne pasta
Garnish Toppings
½ cup chopped toasted walnuts (optional)
1 tsp finely chopped fresh rosemary
Instructions
1. Preheat oven to 400 degrees F.
2. In a large saucepan sauté the onions in 3-4 tablespoons of water until the onions soften (4-6 minutes). Add the garlic and continue to sauté for another 2 minutes. Add water as needed, 1 tablespoon at a time, to prevent burning.
3. Add the squash, vegetable broth, rosemary and red pepper flakes. Bring the mix to a boil, reduce to a simmer, partially cover and simmer for 15-20 minutes until the squash is tender. Add more broth if needed but only enough to cover the squash.
4. Transfer the mix to a blender. Drain the walnuts and add to the blender along with the lemon juice, and salt. Blend on high until smooth and well combined.
5. Meanwhile, bring a large pot of salted water to a boil and cook pasta according to directions. Once cooked, drain and rinse under cold water. Shake off any excess water and return the pasta to the pot.
6. Add the butternut squash sauce to the pasta and mix well. Transfer the mix to a 9x13 inch casserole dish (or a deep 9x9 inch dish) and bake uncovered for 20-25 minutes or until the top is browned.
7. While the pasta is baking, toast the walnuts. Spread them on a baking sheet and bake for 5-8 minutes until fragrant. Watch closely as they'll burn quickly! Remove from the oven and once cool roughly chop them. Add the chopped walnuts to a bowl and mix in the additional teaspoon of finely chopped rosemary.
8. When the pasta is done, remove from the oven and let sit for 5 minutes. Garnish with the toasted walnut/rosemary mix. Divide among plates or bowls and enjoy!
Cooking Tips
1. This baked pasta pairs well with a simple green salad or steamed broccoli.
2. Fresh rosemary is key to this pasta. You can use 2 teaspoons of dried rosemary instead but the flavour and fragrance will not be the same.
100% online, learn at your own pace
Instructor led format
No prerequisites
Continuing education credits