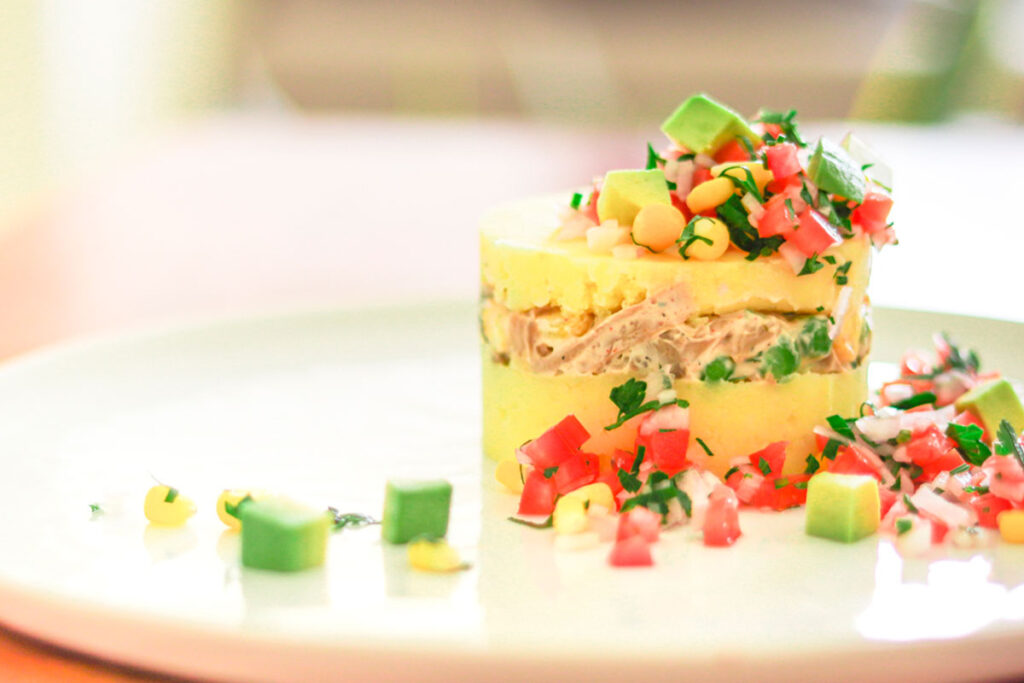 Ingredients
Mashed Potato Layers
5 medium yellow potatoes, cut into quarters
¼ cup yellow pepper paste (optional)
2 Tbsp low-sodium vegetable broth
Juice of one or two lemons
Salt to taste
Oyster Mushroom Filling
4 cups shredded oyster mushrooms
¼ cup low-sodium tamari
1 Tbsp nutritional yeast
1 tsp garlic powder
1 tsp cumin
1 tsp thyme
1 tsp smoked paprika
1 cup tofu mayonnaise
½ cup peas
¼ cup cooked corn
¼ cup finely chopped parsley
Juice of one lemon
Sea salt and pepper to taste
Topping
1 tomato, cut into small cubes
1 onion, cut into small cubes
⅓ cup chopped parsley
2 Tbsp corn
Salt and pepper to taste
Avocado slices
Instructions
Mashed Potatoes
1. Place the potatoes in a pot with enough water to cover. Boil for 20–25 min, or until the potatoes are tender. Drain.
2. In a bowl, mix the potatoes with the yellow pepper paste (if using), vegetable broth, lemon juice and salt. Mash until you have the consistency of a puree. Set aside.
Oyster Mushroom Filling
1. Heat a skillet over medium heat. Add the mushrooms and sauté for 3–4 minutes. Add tamari, nutritional yeast, garlic powder, cumin, thyme, and smoked paprika. Stir and cook over low heat for about 10 minutes.
2. In a bowl, mix mayonnaise, sautéed mushrooms, peas, corn, parsley, lemon juice, and sea salt to taste.
Toppings
1. In a bowl, mix the tomato, onion, parsley, corn, and salt and pepper to taste.
Assembly
1. To serve in individual portions, use a small round mold. Place a layer of mashed potatoes followed by a layer of the filling, and cover with another layer of mashed potatoes. Carefully transfer to a plate and remove the round mold slowly so that the figure is maintained. Lastly, cover with the mixed vegetables.
2. Alternatively, to serve in a large pan, follow the same steps: place a layer of potatoes, then mushroom filling, then another layer of potatoes. After removing the pan, add the toppings. Cut and serve with a spatula.
Cooking Tips
1. Add a few shredded nori sheets to the oyster mushroom filling for a more authentic seafood taste.
100% online, learn at your own pace
Instructor led format
No prerequisites
Continuing education credits