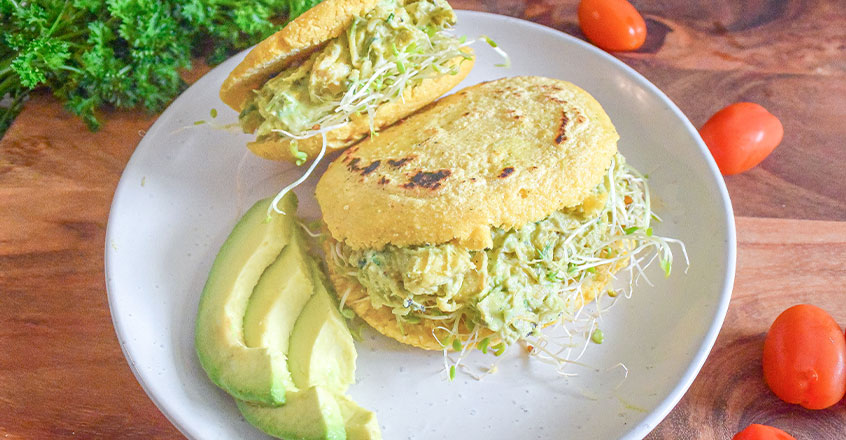 Ingredients
1 (14-ounce) can jackfruit, drained
¼ tsp garlic powder
¼ tsp turmeric
¼ tsp cumin
½ onion, diced
1 cup chopped cilantro
2 tsp plant-based mayonnaise
1 tsp white vinegar
1 avocado, pitted and peeled
Sprouts to taste
Salt and pepper to taste
Instructions
To prepare the filling
1. Place the jackfruit in a saucepan and add enough water to cover. Boil for 15 minutes.
2. Drain the jackfruit, rinse with cool water, and shred the jackfruit completely with your hands.
3. Heat a skillet over medium heat and add the jackfruit, garlic powder, turmeric, and cumin. Add a little water or vegetable broth, as needed, to prevent the ingredients from sticking, and sauté for 5 minutes. When finished, remove from heat.
4. Meanwhile, combine the onion and cilantro in a bowl.
5. In a separate container, add the plant-based mayonnaise, white vinegar, and avocado.
6. Mash the avocado with a fork until it becomes pureed and incorporated well with the mayonnaise.
7. Combine the three elements of the filling: the onion and chopped cilantro mixture, the mashed avocado mixture, and the sautéed jackfruit. Mix well.
To prepare the arepas
1. Heat the arepas and cut them lengthwise.
2. Fill the arepas with the prepared jackfruit mixture and add sprouts if you like.
100% online, learn at your own pace
Instructor led format
No prerequisites
Continuing education credits