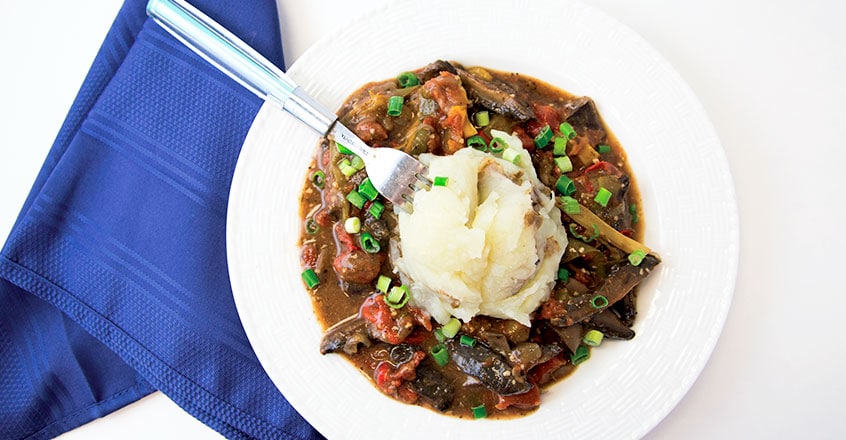 Reprinted from The China Study Family Cookbook (BenBella Books, 2017).
What You'll Need
---
⅓ cup whole wheat pastry flour
1 large yellow onion, thinly sliced
3 large bell peppers, seeded and thinly sliced
1 pound portobello mushroom caps, cut into ½-inch slices
1 28-ounce can crushed tomatoes
1 cup unsweetened plant-based milk
Sea salt and black pepper to taste
4 cups cooked brown rice or mashed potatoes
How to Make It
---
1 Sprinkle the flour in a small skillet and toast it over medium-low heat until it starts to turn brown and becomes fragrant. Set aside.
2 Sauté the onion, bell peppers, and mushrooms in a large saucepan over medium-high heat until the onion turns translucent and starts to brown, about 8 minutes. Add water 1 to 2 tablespoons at a time to keep the vegetables from sticking. Add the garlic, basil, thyme, and marjoram, and cook for another minute.
3 Add the crushed tomatoes and reduce the heat to medium. Cover the pan and cook for 15 minutes.
4 In a blender, puree the toasted flour, plant-based milk, and white miso. Add the mixture to the pan with the vegetables, along with the nutritional yeast. Season with sea salt and black pepper to taste, and cook until a gravy develops, about 5 minutes.
5 Serve over brown rice or mashed potatoes.
Cooking Tips
Toasting flour is tricky because it goes from fragrant to burned in a split second. Don't walk away from the stove for even a minute.
While the color of the three different bell peppers is preferred, when only green bell peppers are available, they can be used instead. But remember, we eat with our eyes as well as our sense of smell and our taste buds, so how a dish looks is part of how it tastes.
Copyright 2022 Center for Nutrition Studies. All rights reserved.