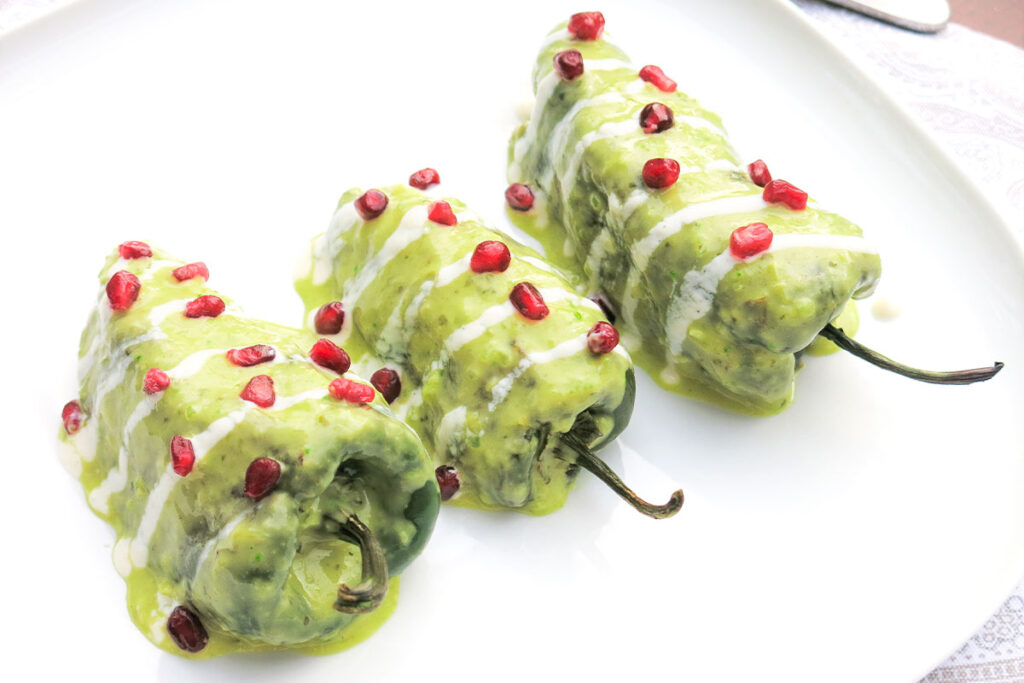 Ingredients
6 poblano peppers
Pomegranate seeds for decoration (optional)
Avocado salsa
7 tomatillos, quartered
1 ½ avocado, diced
10 sprigs of fresh cilantro, roughly chopped
3 green onion, white and green parts, roughly chopped
1 jalapeño, diced (optional)
Salt and pepper to taste
Soy sour cream
1 pack silken tofu
½ tsp garlic powder
½ tsp onion powder
½ tsp nutritional yeast
1-2 garlic cloves, crushed
1 Tbsp apple cider vinegar
Juice from one lemon
Salt and pepper to taste
Instructions
1. Preheat oven to 400 degrees F. Wash the poblanos and place them on a baking sheet. Roast them for approximately 30 minutes (flip as needed) until charred on all sides. Transfer them to a covered bowland let them steam for 20 minutes.
2. For the avocado salsa, add all the ingredients to a blender and blend until smooth. Set aside.
3. For the soy sour cream, blend all the ingredients until smooth. Set aside.
4. Clean the poblano peppers by rubbing the skin off with your fingers under running water. Carefully make a cut on one side and remove the seeds and veins. Leave the stem. Pat dry with paper towels.
5. Stuff peppers with mashed potatoes.
6. Place the stuffed peppers on a platter. Bathe the peppers with the avocado salsa and decorate with the soy sour cream and pomegranate seeds right before serving.
Cooking Tips
1. You can roast peppers directly over an open gas flame or electric stove.
2. If you don't want the spiciness, use Anaheim peppers.
3. If you are in a hurry, roast the peppers under the oven broiler until blackened and blistered, about 5 minutes.
4. Use gloves to clean the roasted peppers. If you don't have gloves, make sure you clean your hands right away after cleaning the peppers and don't touch your face.
5. Be careful not to roast the poblano peppers too much. If you do, the skin will get too thin and will break easily.
6. Try to decorate right before you serve them so the decoration will be pretty when served.
7. You can serve this dish cold or warm.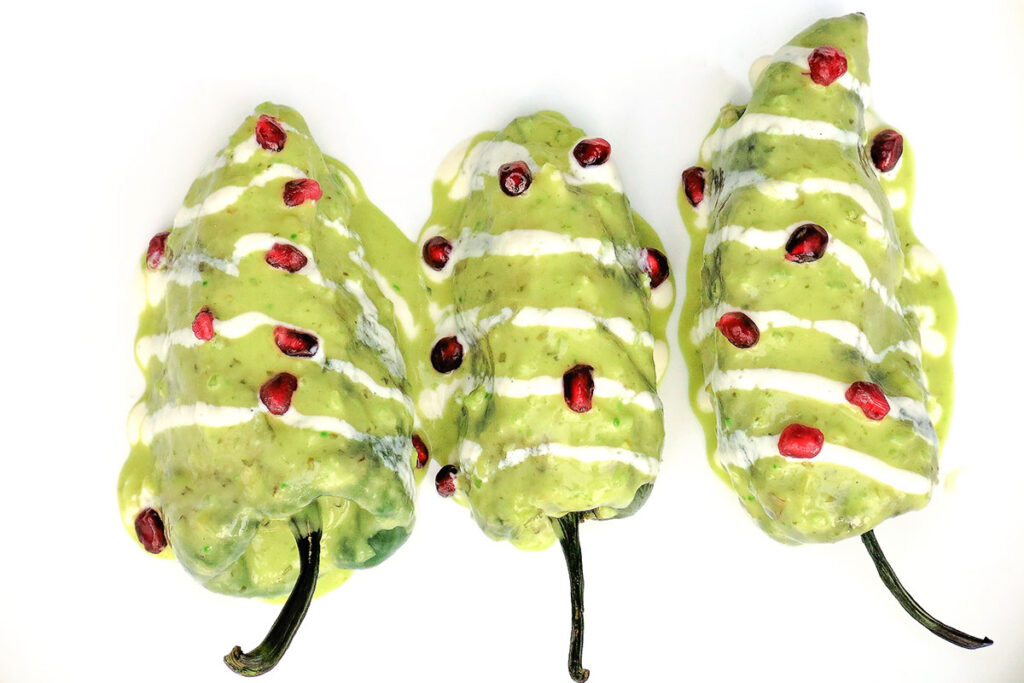 100% online, learn at your own pace
Instructor led format
No prerequisites
Continuing education credits