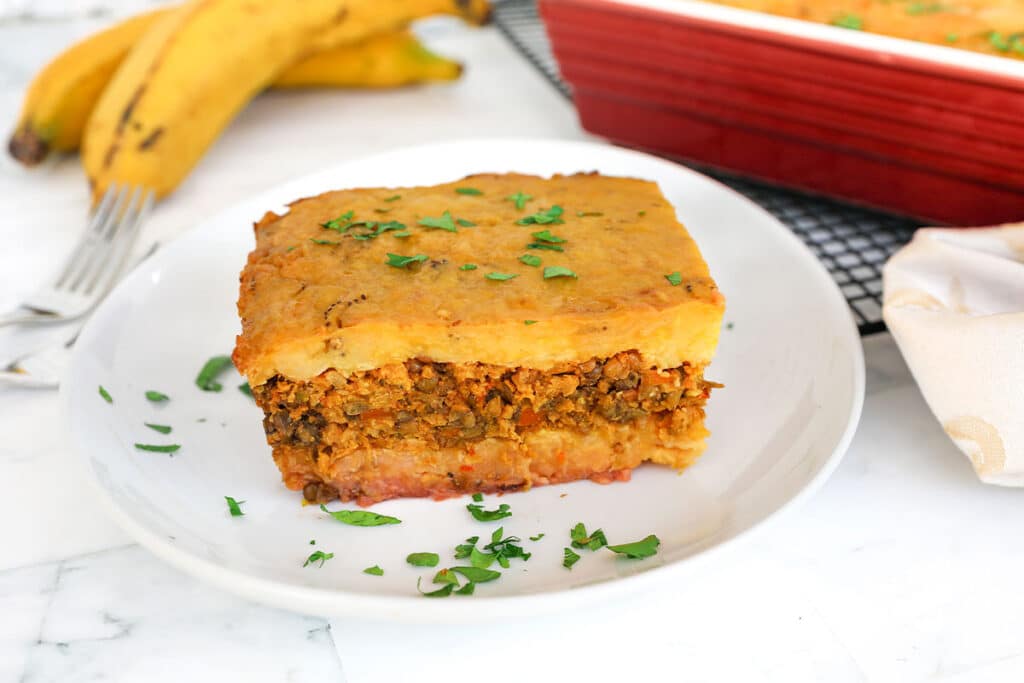 Ingredients
8 ripe plantains (yellow and soft)
½ cup diced onion
¼ cup diced bell peppers
2 aji dulce (sweet peppers), optional
6 garlic cloves, crushed
2 tsp oregano
4 cups cooked lentils, or 4 cups rehydrated chopped soy curls
2 Tbsp tomato sauce
2 culantro leaves, or ¼ cup cilantro, chopped
2 tsp Homemade Sazón
1 carrot, grated
Low-sodium vegetable broth, as needed
Instructions
1. Preheat the oven to 350 degrees F.
2. Cut about 1½ inches off the ends of the plantains and slice the peel lengthwise. Remove the peel and cut the plantains into 1½-inch-wide segments.
3. Place the plantains in a pot and cover with water. Boil for 10 minutes or until thoroughly cooked. Drain and mash with a potato masher.
4. Sauté the onion in a heated skillet for 2 minutes. Add the peppers, garlic, and oregano, and sauté for 3–4 minutes.
5. Add soy curls or cooked lentils, tomato sauce, culantro or cilantro, and Sazón. Sauté for 2–3 minutes. Stir in grated carrot. Add vegetable broth, as needed, to keep the mixture from sticking to the pan.
6. Spread half of the mashed plantains over the bottom of a square 8x8 pan.
7. Pour the cooked mixture over the mashed plantains, then cover with the remaining mashed plantains. Cover tightly with aluminum foil.
8. Bake for 15 minutes. Uncover and broil for an additional 5 minutes. Remove from the oven and let cool for 5 minutes before serving.
9. Cut in 4- to 5-inch squares and serve.
Cooking Tips
1. Serve with rice or quinoa.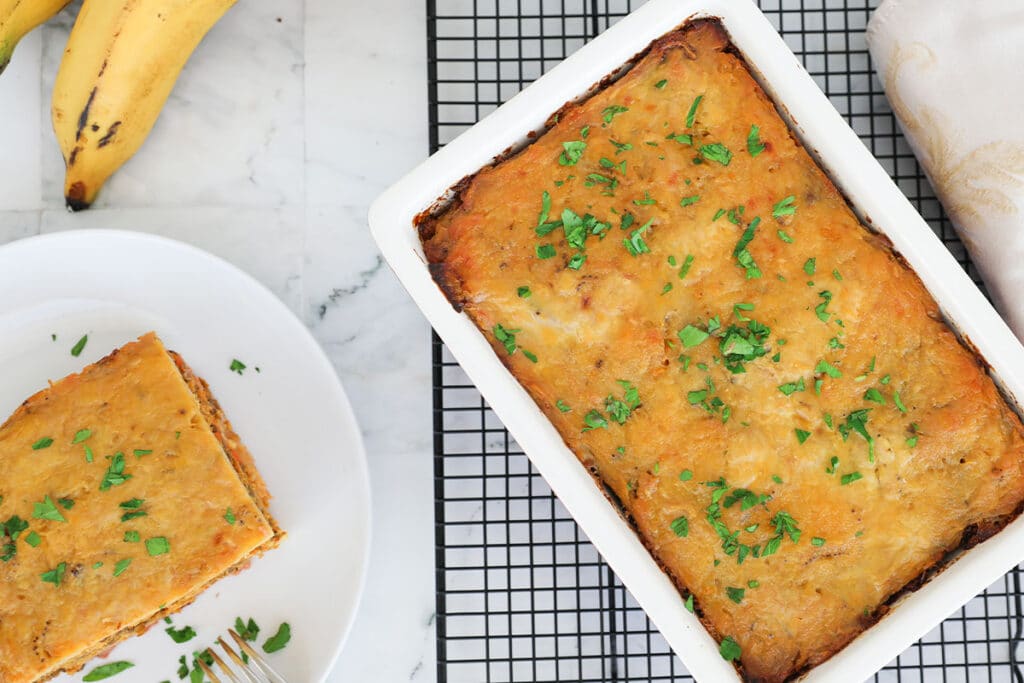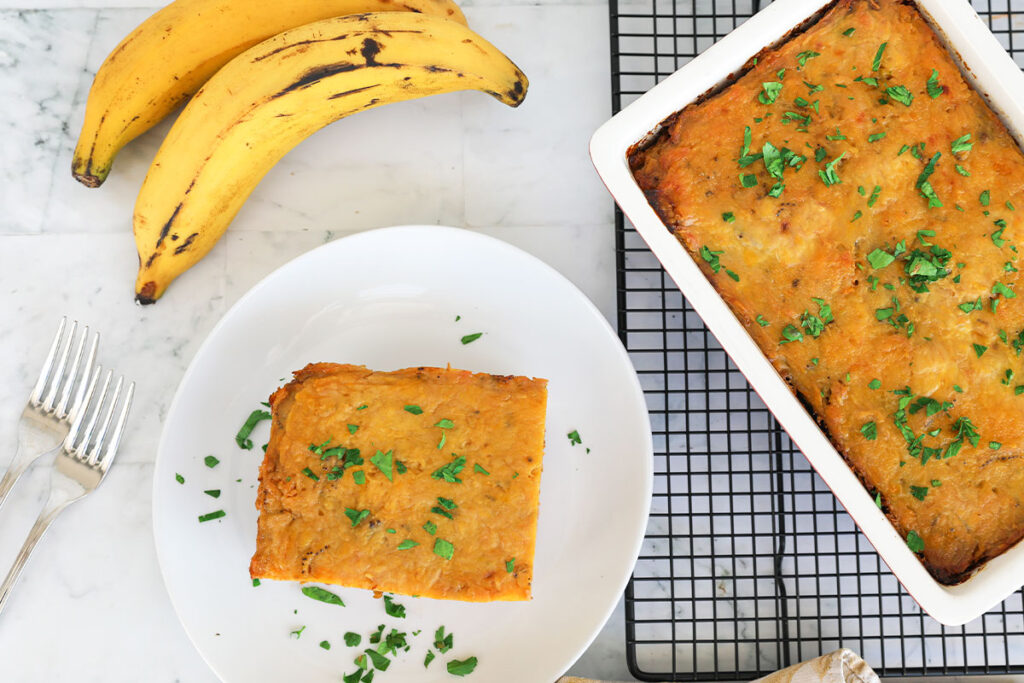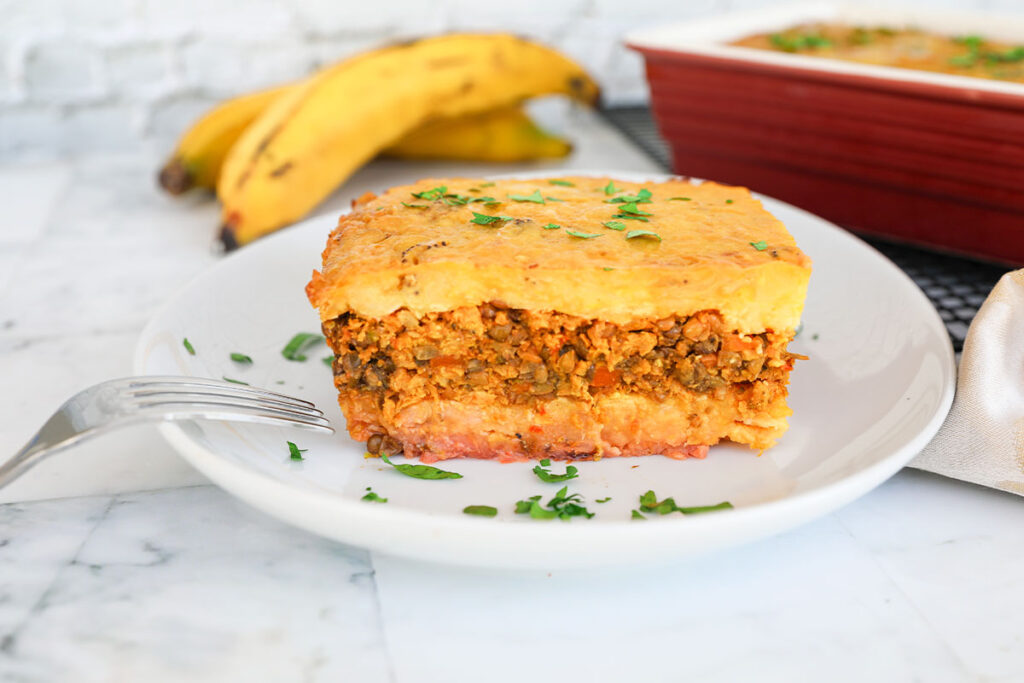 100% online, learn at your own pace
Instructor led format
No prerequisites
Continuing education credits