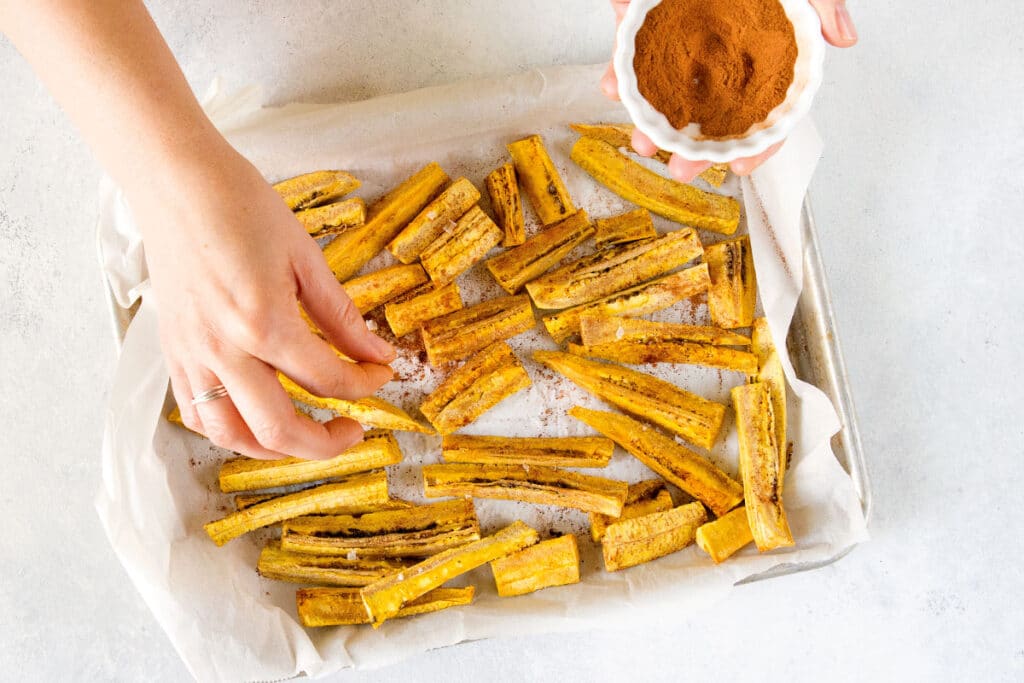 Ingredients
2 ripe (deep yellow to dark brown) plantains
1 tsp salt (only if boiling)
Ground cinnamon
Instructions
Oven
1. Preheat oven to 350 degrees F. Line a baking sheet with parchment.
2. Lightly slice through the skin of each plantain, from top to bottom, and then peel them.
3. Cut each plantain into three equal parts and then cut lengthwise into 1/4-1/2 inch slices.
4. Place the plantain slices on a lined baking sheet. Sprinkle with cinnamon.
5. Bake for 10-15 minutes, turn over plantains, and bake for an additional 5 minutes.
6. Serve warm.
Stove Top
1. Wash the plantains but do not peel them.
2. Cut each plantain (with its peel) into three equal parts.
3. Bring a large pot of water to a boil over medium high heat. Add the plantains and 1 tsp of salt to the boiling water.
4. Boil the plantains until the skins open. At this point, remove the pot from the heat and drain the water.
5. Peel each plantain, then cut into smaller pieces. Season with cinnamon and serve warm.
100% online, learn at your own pace
Instructor led format
No prerequisites
Continuing education credits