Ingredients
For the meatballs
4 oz. tempeh
½ sweet onion, diced finely
½ cup white mushrooms, chopped
3 cloves garlic, minced
2 Tbsp vegetable stock
1 Tbsp nutritional yeast
1 tsp tomato paste
¼ cup whole-grain breadcrumbs
¼ cup cashew parmesan (see recipe)
½ tsp maple syrup or date paste
¼ tsp salt
¾ tsp dried oregano
For the cashew parmesan:
1 cup raw, unsalted cashews
4 Tbsp nutritional yeast
½ tsp garlic powder
¼ tsp salt
Instructions
1. Preheat the oven to 350 degrees F.
2. Place tempeh in a food processor and pulse until it resembles crumbles.
3. Heat a skillet over medium high, add onions, and cook for 2 minutes, adding vegetable stock if necessary.
4. Add mushrooms, garlic, oregano, and salt, and cook for 3 more minutes.
5. Remove skillet from stove top, and add the mixture to the tempeh in the food processor, along with the tomato paste, 1 Tbsp nutritional yeast, and maple syrup or date paste.
6. Pulse until all ingredients are well combined.
7. Roll mixture into 12 balls and set aside.
8. In a medium bowl, mix breadcrumbs and cashew parmesan.
9. Transfer breadcrumb-parmesan mixture to a large plate, and roll each meatball around in the mixture until well coated.
10. Transfer meatballs to a nonstick baking sheet, and cook in the oven for 15-20 minutes.
11. Serve meatballs with marinara sauce, pasta, and top with cashew parmesan.
For the cashew parmesan:
1. Pulse all ingredients in a food processor a few times until well integrated and the consistency of parmesan is achieved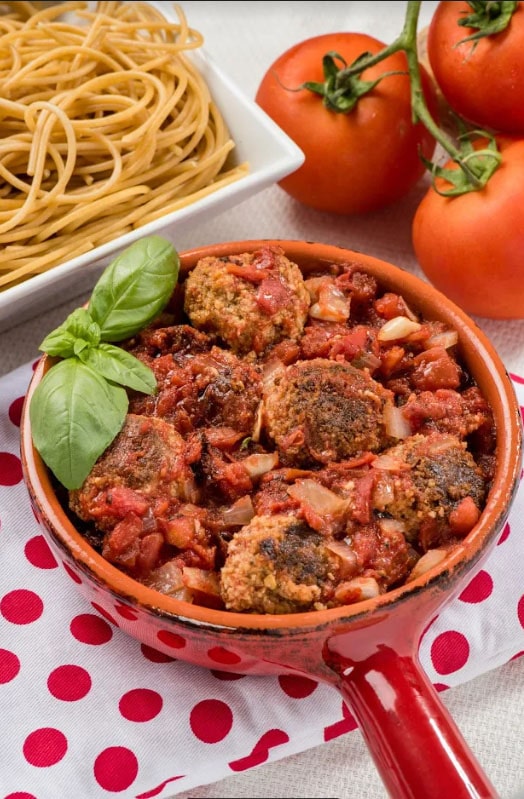 100% online, learn at your own pace
Instructor led format
No prerequisites
Continuing education credits