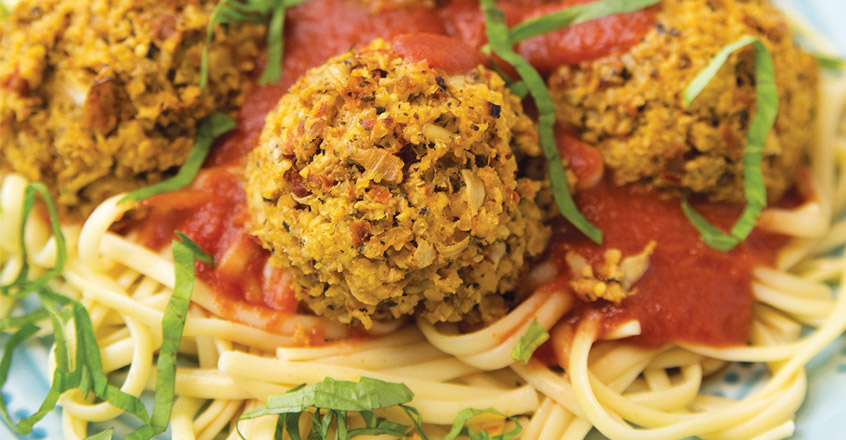 What You'll Need
---
1 small yellow onion, finely diced
1 tsp crushed red pepper flakes (optional)
¼ cup finely chopped sun-dried tomatoes
¼ cup finely chopped artichoke hearts
¼ cup coarsely ground toasted pine nuts or walnuts
1 tsp sea salt (optional)
1 lb whole-grain spaghetti
1 (28 oz) jar spaghetti sauce, heated
Chopped fresh parsley, for garnish
How to Make It
---
1 Preheat the oven to 375°F.
2 To make the meatballs, combine the water and millet in a small saucepan and bring the water to a boil over high heat. Reduce the heat to medium-low and cook the millet until it is very tender, about 20 minutes. If it is not tender after all the water is absorbed, add another 2 to 3 tablespoons of water and let it cook for another 5 minutes.
3 While the millet cooks, sauté the onion in a large skillet over medium-high heat until it turns translucent and starts to brown, about 5 minutes. Add the garlic, basil, fennel, and red pepper flakes (if using), and cook for another minute. Add the sun-dried tomatoes, artichoke hearts, and nuts (if using), and remove the pan from the heat.
4 When the millet is done cooking, add it to the pan with the onion mixture, add the sea salt, and mix well. Shape the mixture into balls using a medium ice cream scoop or a 1/3-cup measure and place on a nonstick baking sheet.
5 Bake for 15 minutes, turn over, and continue baking until the millet balls are lightly browned, about 15 minutes more.
6 To make the spaghetti, while the meatballs are baking, cook the spaghetti according to the package instructions and drain.
7 Transfer the cooked spaghetti to a large platter. Top with the meatballs and then the spaghetti sauce. Garnish with the parsley and serve.
Cooking Tips
Unlike traditional meatballs, these millet balls do not sit well in tomato sauce or gravy for any length of time. Be sure to add sauce to them just before serving so they don't fall apart.
For the millet to work as a binder (to hold everything together in a patty) in this dish, you need to almost overcook it. If it seems crumbly when you first make it, add 2 to 3 tablespoons more water to the pan, cover tightly, and let it cook for another 2 to 3 minutes. The millet should hold together when pinched between your fingers or pressed against the side of the pan.
Copyright 2022 Center for Nutrition Studies. All rights reserved.