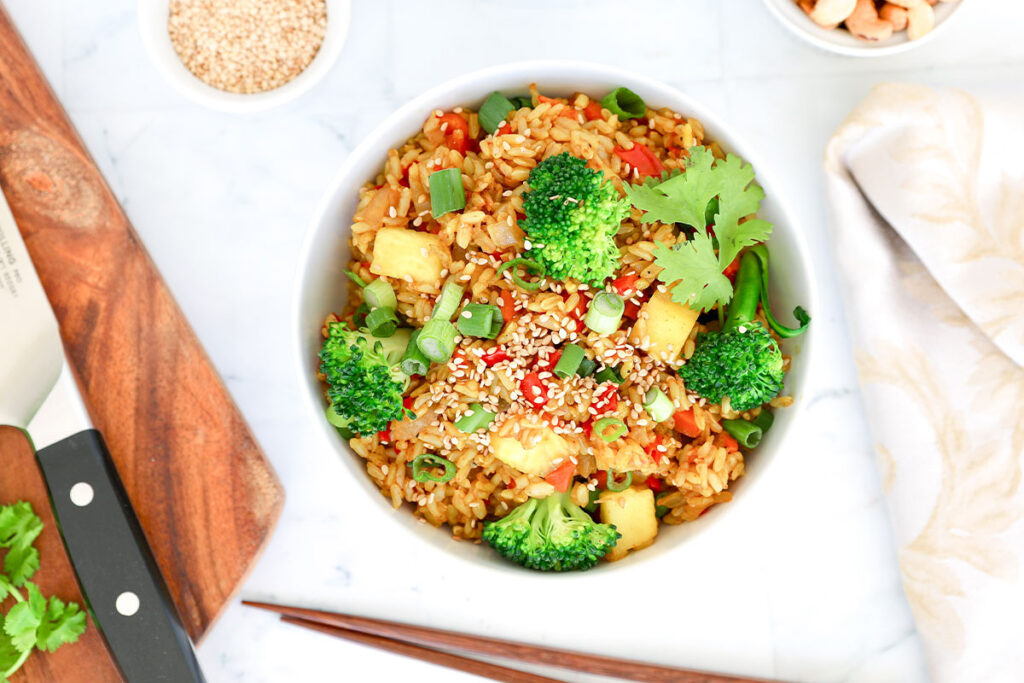 Ingredients
Rice
3 cups cooked brown jasmine rice, preferably leftover and chilled
½ cup diced onion
½ cup diced red bell pepper
½ cup diced carrots
½ cup diced grape tomatoes
4 garlic cloves, minced
¼ tsp ground turmeric
2 tsp curry powder
1 cup broccoli florets, blanched (see tips)
¾ cup fresh pineapple, cut in ½-inch cubes
½ cup sliced green onions, plus more for garnishing
¼ cup toasted sesame seeds
¼ cup roasted cashews (optional, see tips)
¼ cup chopped cilantro (optional)
Sauce
3 Tbsp low-sodium tamari
1 Tbsp coconut sugar or date paste
2 garlic cloves, minced
1 Tbsp Thai sweet or garlic chili sauce
Instructions
1. In a medium bowl, combine the sauce ingredients and set aside.
2. In a heated pan, sauté the onions for 3 minutes.
3. Add the bell peppers, carrots, tomatoes, garlic, turmeric, and curry powder and sauté for 3 minutes.
4. Add the sauce and the cooked brown rice and sauté for 3 minutes.
5. Add the broccoli and cook for another minute.
6. Add the pineapple, green onions, sesame seeds, cashews (if using), and cilantro (if using). Serve immediately.
Cooking Tips
1. To blanch the broccoli, bring a pan of water to a boil. Have a bowl of iced water ready along with a strainer. Cook the broccoli in the boiling water for 1 minute before plunging it in the bowl of iced water using a slotted spoon. Drain and set aside.
2. Add baked tofu or tempeh, or cooked edamame for a tasty variation.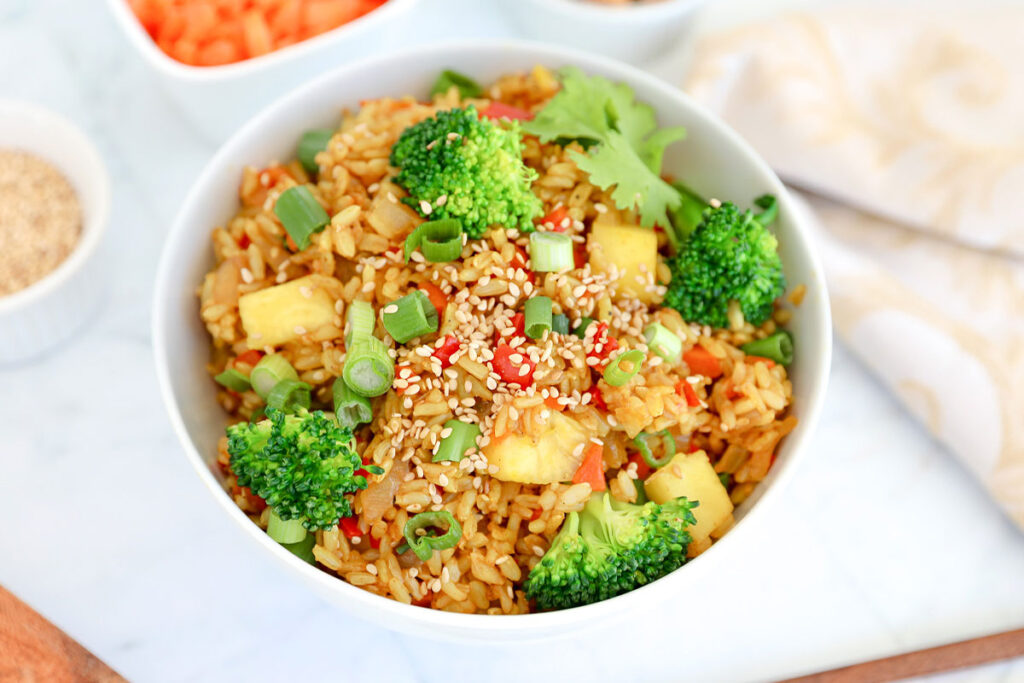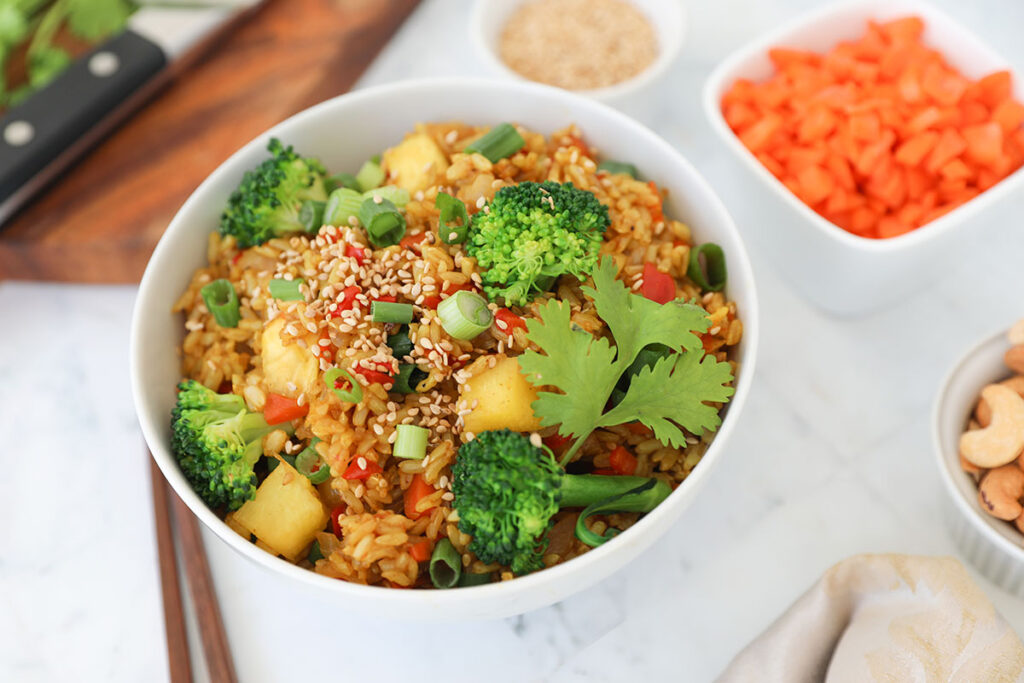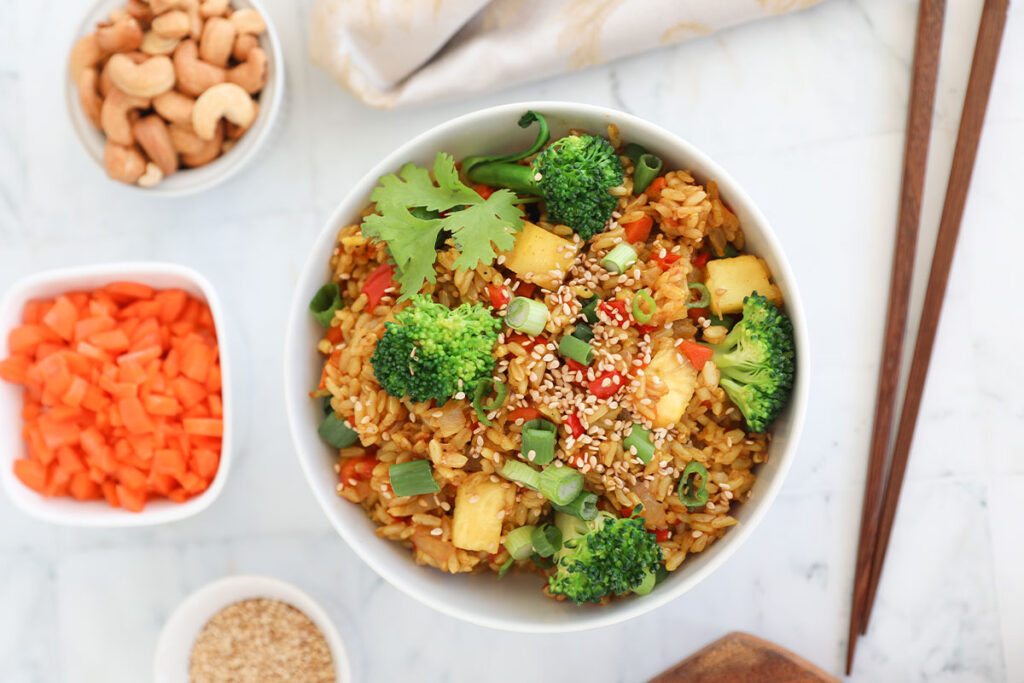 100% online, learn at your own pace
Instructor led format
No prerequisites
Continuing education credits