Ultimate Vegetable Teriyaki Stir-Fry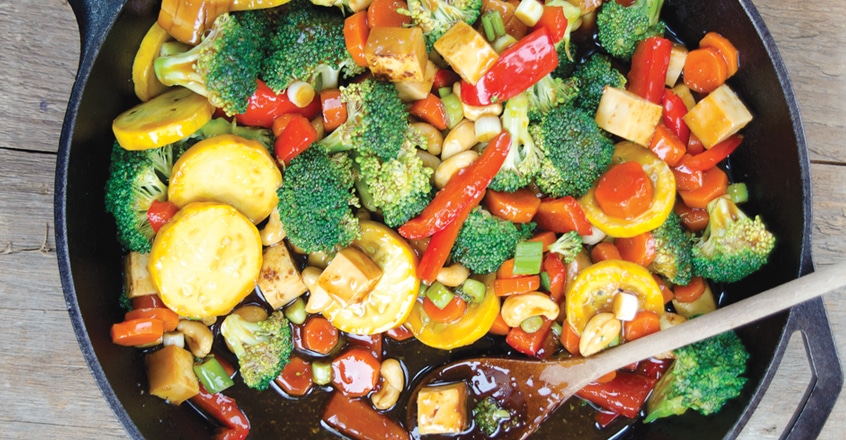 Reprinted from Plant-Powered Families by Dreena Burton (BenBellaBooks, 2015).
TERIYAKI SAUCE
1 Tbsp roughly chopped fresh ginger
3–4 medium cloves garlic, minced
⅓ cup tamari or coconut aminos
½–1 Tbsp freshly squeezed lemon juice
1 tsp blackstrap molasses
STIR-FRY
1 cup sliced carrot (in discs or half-moons)
1 cup sliced zucchini or green beans cut into bite-size pieces
4–5 cups broccoli florets
1½ cups red, yellow, or orange bell pepper, cored, seeded, and sliced (1 medium-large)
¾–1 cup cubed baked tofu or marinated tempeh (optional; see note)
½–¾ cup roughly chopped or crushed raw cashews (optional)
TERIYAKI SAUCE
1 Using a blender or immersion blender, puree all the ingredients for the sauce.
STIR-FRY
1 In a sauté pan over high heat, add 2–3 teaspoons of the water, carrot, and sea salt. Reduce heat to medium-high, cover, and let the carrot steam for a few minutes.
2 Remove the cover, return heat to high, and add the zucchini. Toss through to let sear slightly.
3 Then add remaining 2–3 teaspoons water, broccoli, and bell pepper. Toss through, cover, reduce heat slightly, and cook for 2–3 minutes, just until broccoli turns bright green (the veggies will continue to cook in sauce, so do not overcook).
TO ASSEMBLE
1 Add the teriyaki sauce to the vegetable mixture, and tofu or tempeh, if using. Toss to coat, and let the sauce come to a slow boil over medium-high heat.
2 Once the sauce has reached a slow boil and thickened, add the cashews and toss to combine.
3 Remove the pan from the heat and serve immediately over brown rice, quinoa, or soba noodles.
Cooking Tips
Tofu Note: My original recipe included a step to cook tofu. To save time, I now use prebaked tofu or Simplest Marinated Baked Tofu that I have prepared ahead of time.
Copyright 2020 Center for Nutrition Studies. All rights reserved.