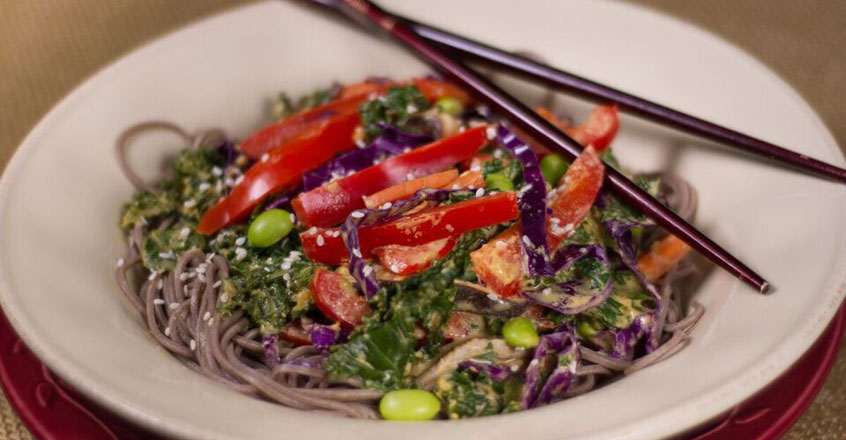 Ingredients
8 oz soba noodles
1 bunch kale, stemmed and chopped
1 carrot, peeled and julienned
1 cup sliced red cabbage
1 cup frozen edamame, thawed
1 red bell pepper, seeded and sliced
8 oz shiitake or other mushrooms, sliced
2 Tbsp sesame seeds, for garnish
Sauce Ingredients
¼ cup water
3 Tbsp tahini
¼ cup Hoisin Sauce
1 Tbsp apple cider vinegar
1 Tbsp sriracha, or to taste
2 garlic cloves, peeled
1 Tbsp grated fresh ginger
¼ tsp ground turmeric
Instructions
1. Cook the soba noodles according to the package instructions. Drain the noodles and set aside.
2. Combine all the sauce ingredients in a blender and blend on high until smooth and creamy.
3. In a large nonstick skillet over medium-high heat, sauté the kale, carrot, cabbage, edamame, bell pepper, and mushrooms in a small amount of water until slightly wilted and tender, about 8 minutes. Add the sauce to the vegetables and stir to mix.
4. Serve the vegetables and sauce over the soba noodles, garnished with the sesame seeds.
Cooking Tips
1. I love soba noodles for their strongly nutty flavor, but you can use any type of whole-grain pasta in this recipe.
100% online, learn at your own pace
Instructor led format
No prerequisites
Continuing education credits